Interesting winter hacks that might be more useful than you think!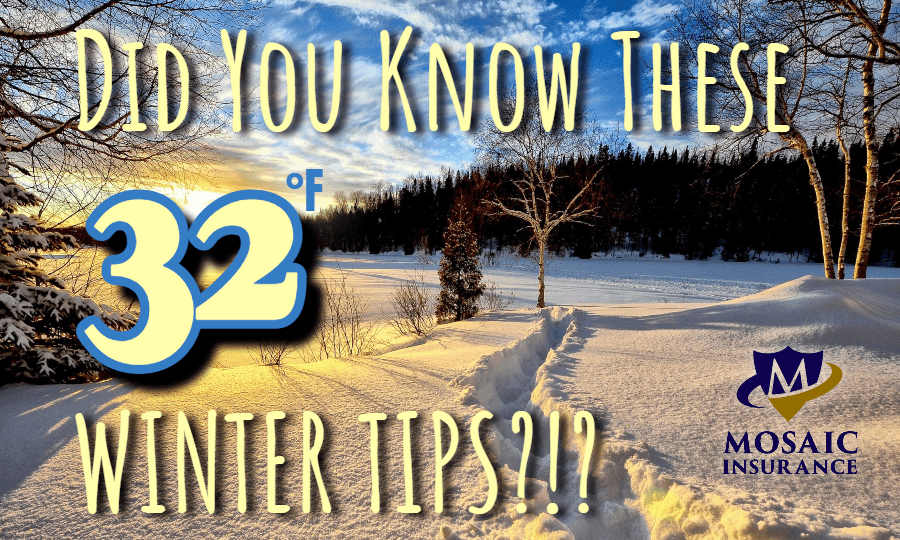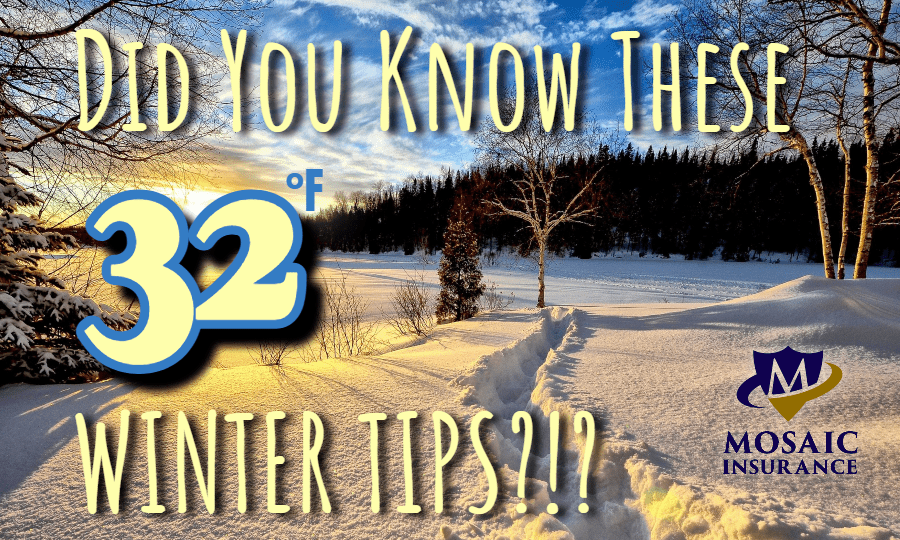 Since water freezes at 32 degrees Fahrenheit, it seems fitting to give all of you 32 random winter tips to add to your home and business toolbelt this fall and upcoming winter!
32 Quick Winter Tips:
Mismatched socks work great as windshield wiper protectors.

Plastic bags and pillowcases can help keep your side mirrors from frosting over!

Make sure your spare tire is good to go.

Look into purchasing a car converter socket plug in case you lose power.

Portable chargers with solar panels are also great for if you lose power!

Another lost power tip: you can get appliances like hotplates that operate on propane tanks like a propane grill does. (Bonus tip: it might be worth getting a generator depending on your location.)

The police department will NEVER call you claiming that you need to pay a fine or you'll be arrested, as Skagit County Sheriffs Office says here. Documents from police are always in hardcopy. These fake calls increase during the holidays. If someone calls you requesting payment, hang up and call your local department directly.

Keep decorations and blankets away from heaters, candles, and wax burners.

Sandbags in your trunk can help you get more traction on the road.

Fertilizer spreaders can work great for salting or sanding walkways & driveways.

Keep your car gas tank at least halfway full. No one wants to run out of gas in the cold and dark weather. Also, it will lower your chances of water residue freezing in your tank (which can damage your fuel pump).

A quirt of hand sanitizer can unfreeze your car key locks in a pinch!

Long hot showers can dry out skin. Try quick lukewarm showers instead.

Clay kitty litter can help your tires get traction if you get stuck in the ice or snow.

Forgot to put cat liter in your car? You can try putting one of your floor matts under your spinning tire to get traction.

A sock full of cat litter on your dashboard can prevent fogging.

It's said that rubbing half a potato on your windshield can prevent morning ice.

Test your car battery for free at places like O'Reilly's and Auto Zone.

Sunglasses aren't just for the sun—snow is bright too!

Eat vitamin D foods to help you get that essential sunshine vitamin during darker times of the year.

Curtains help keep in heat.

Cooking more with your stove and oven helps keep your house warm.

Don't stop on an icy hill if possible.

Make sure that your carbon monoxide detectors are working.

Walk like a penguin to avoid slips.

Cooking spray can get snow off of shovels.

Shaving razors can remove fuzz balls from old sweaters.

Stuff paper towels in wet shoes to help dry them.

Pool noodles help keep a boot's shape.

Use shower rings on hangers when hanging your scarves.

Honey can help with chapped lips.

Know what wind, snow, or flood claims are covered on your policy before storm season. Talk to your agent today about reviewing your insurance and seeing if you should update your coverage.

Save the PDF of the 32 winter tips here.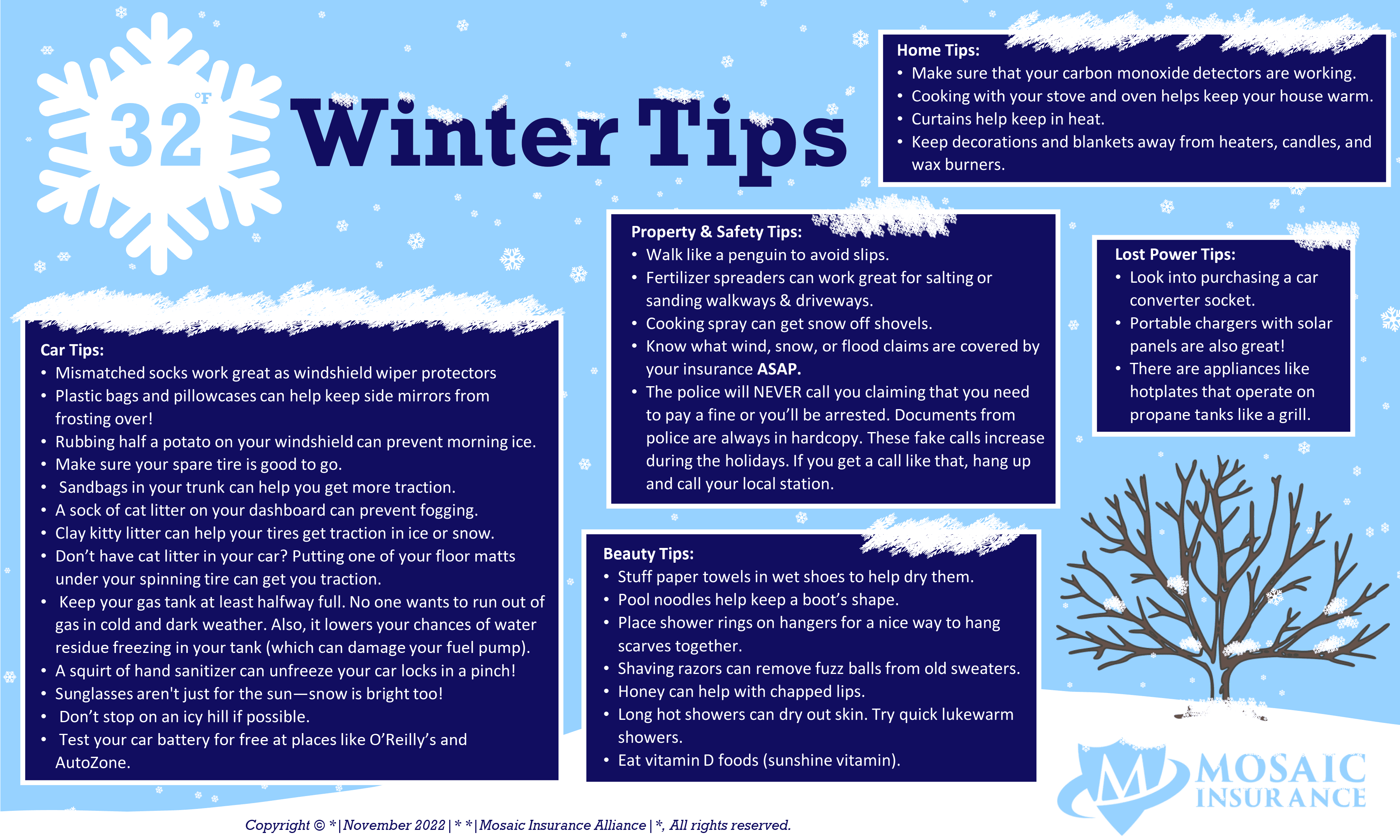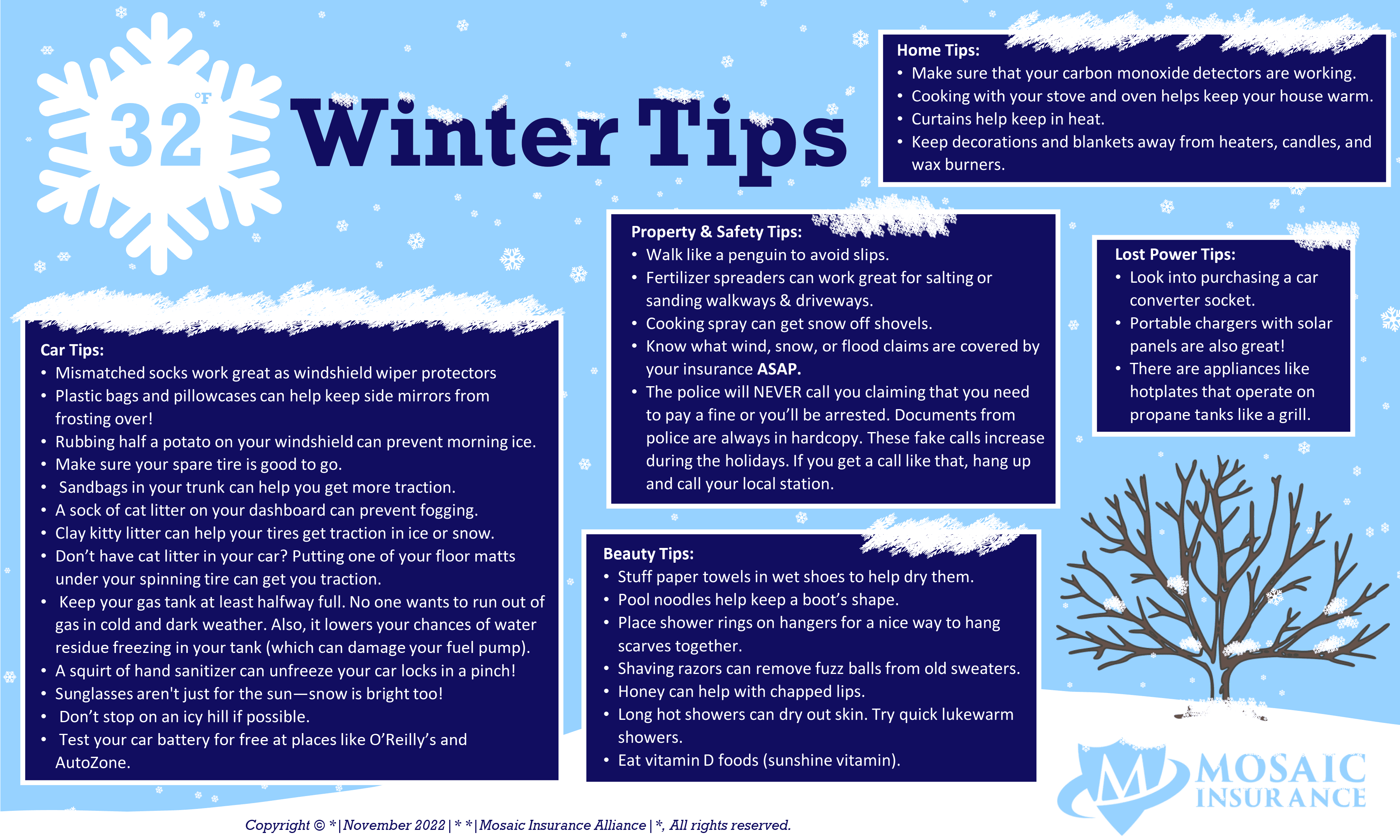 And, That's Not All!
Quick lists like the one above are of course nice for giving you a basic idea of some things to pay attention to. (They are also great for pinning on Pinterest and sharing with friends and family.) But, sometimes it is good to dig a little deeper. Below are blogs with some more tips that you might want to investigate if you are a new homeowner, are a new business owner, moved to a completely new area, or would like to have an extra safety precaution since we are supposed to have a pretty bad winter this year.
As Always, Talk to Your Favorite Insurance Agent!
Your Mosaic agent is ready to go over important fall and winter seasonal updates with you. You will want to make sure that your home insurance, car insurance, and commercial insurance is ready for high winds, possible flooding, snow, ice, heavy rainfall, theft, break-ins, and more.
It is important to know what your coverage will cover in the event of a claim, and what endorsements or new policies might be beneficial to you. Contact us today at our mainline, or contact your agent directly. (Not a client yet? No problem! You can call or email our main office, or fill out our Get a Quote Form, and we can assign you your own agent who will give you a free insurance quote.)
Resources: Community Health of Central Washington, AAA, Skagit County Sheriffs Office, Farmers Almanac, The Prepared, Bring Me The News, and The Krazy Coupon Lady.