Mosaic Insurance in Lynnwood has a starter pack checklist to help you over the next few winter months
Winter weather calls for having certain items on hand when you are at home and on the go. What items should you keep in your car and always have ready to use at home?
Lists vary depending on needs and lifestyle, but as a rule, the below items are good for you to have in-stock during the colder and darker times of the year.
What is Good to Keep in Your Car During the Wintertime?
Windows:
Window scraper
 Towels

Wipe down your windows
Cover your windshield at night to help avoid ice build-up

Windshield wiper fluid

Fill your windshield wiper reservoir
Have a backup jug in your trunk
Have some in a spray bottle to spray your side mirrors and other windows
Tires:
Tire patch repair kit

AutoGuide.com has some great tire repair kit examples so you can get an idea of what is good to have. They go over some of the pros and cons of different top car tire repair kits and where you can purchase them.

Tire inflation pump
Tire air pressure gauge
Tire chains
Car jack
Tire iron
Full-spare tire
Sandbags in your trunk for weight traction
Electronics:
Flashlight with backup batteries
Cellphone charger
Pre-charged battery ban
Other:
Vehicle manual
Jumper cables
Bottled water
Nonperishable foods
Blanket(s)
First-aid kit
Tow chain/rope
Seatbelt cutter/glass breaker tool
Gas can
Oil, transmission fluid, anti-freeze, and power-steering fluid
Tissues, napkins, and baby wipes
Roadside flares
Reminder: Conceal items the best you can in your car—your trunk, glovebox, center console, under your seats, etc. You don't want anything that will attract thieves out in the open—i.e., electronics, boxes, and bags.
What Else Should You Do to Help Keep Your Car Safe in the Winter?
Review your car insurance and make sure that you have what you need to be protected. For some examples on auto coverage to review, click here.
Practice good car maintenance by regularly checking and maintaining important items like:

Battery terminals
Fluid levels—oil, transmission fluid, anti-freeze, windshield wiper fluid, and power-steering fluid
Windshield wipers
Brakes
Emergency brake
Spark plugs
Realignment
Tire pressure, tread, and bolts
Heater and defrost
Lights

Turn signals
Brake lights
Headlights
Dashboard lights

Review snow, ice, and rain driving tips. For instance…
What Winter Items Are Good to Have Stocked Up at Home?
Lots of things can prevent you from getting to the store for important items—you get snowed in, your car is broken down, the roads are too icy to drive on, etc. Also, the stores could be out of a lot of items, especially with COVID going on. Not to mention, it is common for power outages to happen in the winter, and there are things that you will want to have if that happens. Here are some items to always try to keep well-stocked at home, especially during the colder months.
Candles, matches, and lighters
Bottled water
Water filter pitcher
Coffee and tea
Baby formula
Pet food
Cat litter and pee pads
Nonperishable foods

Emergency food kits
Granola bars
Cup of Noodle/Top Ramen
Instant macaroni bowls
Crackers
Chips and pretzels
Canned veggies
Canned tuna/chicken
Nuts
Seeds
Jerky
Shelf-stable milk
Protein shakes
Cereal
Dried fruit and veggies
Fruit snacks
Individual condiment packets—ketchup, mayo, mustard, etc.

First aid kit
Prescription drugs
Toiletries

Soap
Toilet paper
Toothpaste
Diapers and baby wipes
Feminine hygiene products

Lightbulbs
Dishwasher and laundry soap
Chopped and dry wood for fires
Blankets
Portable electric/gas heaters
Propane tanks
Instant heat packs
Tea kettle
Flashlights and batteries
Fire alarm batteries
Pre-charged portable battery banks to charge cellphones when the power is out. (There are some battery banks that have solar panels so you can recharge them during the day.)
Snow tools
Also, if your power ever goes out, a great thing to do is hop on your phone and report the outage on an outage map to help repair teams get to your location faster and restore your power. All you have to do is search your city and state with phrases like "outage map report," and then go to a city/PUD website and fill out a short report form or call a number.
How Else Can I Keep My Home Safe in the Winter?
Make sure that your home(s) has coverage, whether it be owner's insurance, renter's insurance, or landlord insurance in case you suffer damages, or someone gets hurt on your property. For some examples on coverage to review, click here.
Keep your driveway safe against snow, ice, flooding, etc. by following tips like these. Mud can also be dangerous.
Inspect for pests and take any necessary extermination measures.

Mice, rats, racoons, stray cats, etc. love getting into things and destroying property. They also look for warm places during the winter. Any location that is promising for food and shelter, they are there. Keep your property clean so you do not attract them, and take safety measures to keep them out like poison, traps, fences, maintenance to walls/doors/windows, frequent inspections, etc.
Be extra cautious and take the needed safety measures when approaching animals and using poison and traps.

 Maintain…

The roof so that it has no leaks and is sturdy (cave-ins aren't fun).
Heaters
Generator
Windows and door seals
Insulation
Pipes—do they need lagging?
The hot water tank—is it working efficiently? Is it leaking?
Porch, driveway, and sidewalk—are they safe to walk on?
What Are Some Other Winter Items to Consider?
There are endless amounts of precautions you can take to help you be safer on the road make your home a safer place to be. We are always gathering new ways to help our clients with everyday life tasks. For an ongoing list of life hacks, visit Mosaic's Pinterest page. You can also go to our blog landing page and see what new and old items we have that can help you out, including our blog posts about holiday safety, how to cut energy costs, and how to save money in the winter.
Save this infographic for a yearly reminder. It will go perfectly alongside your November grocery list!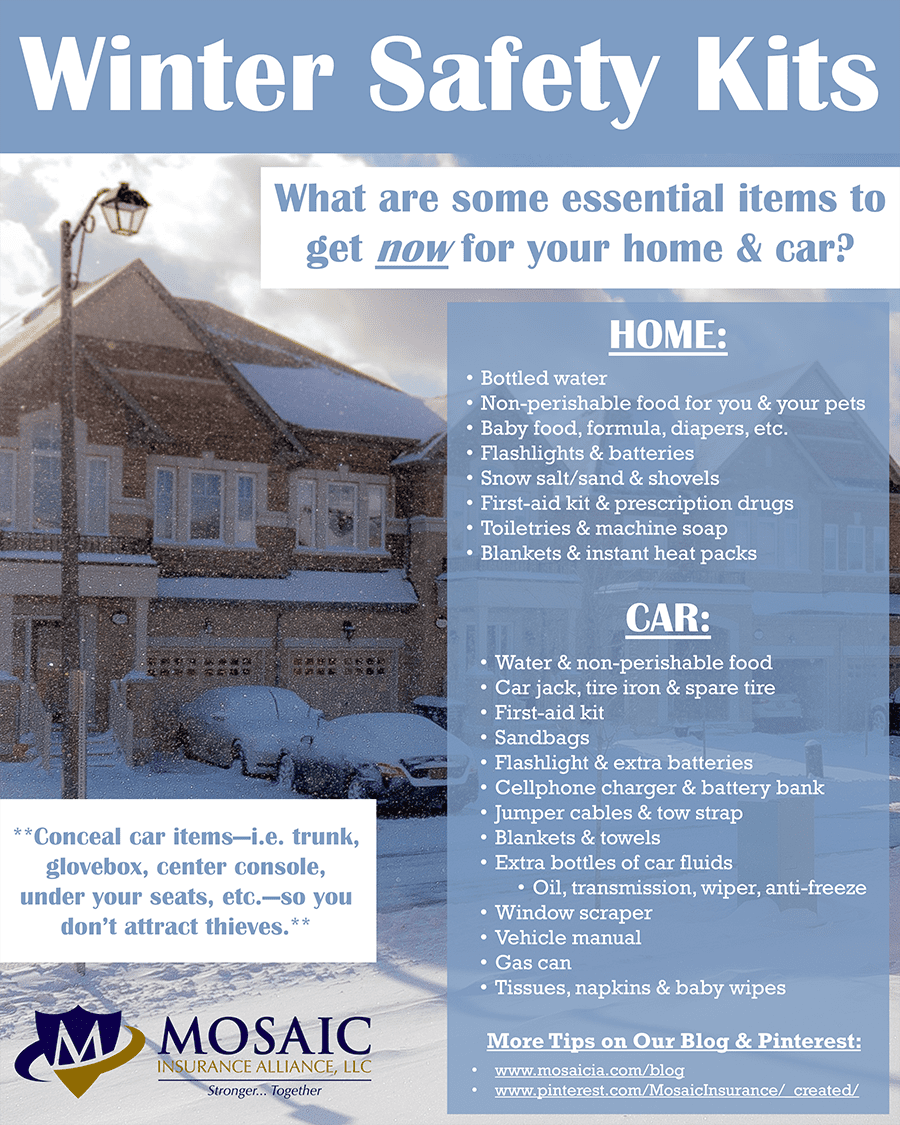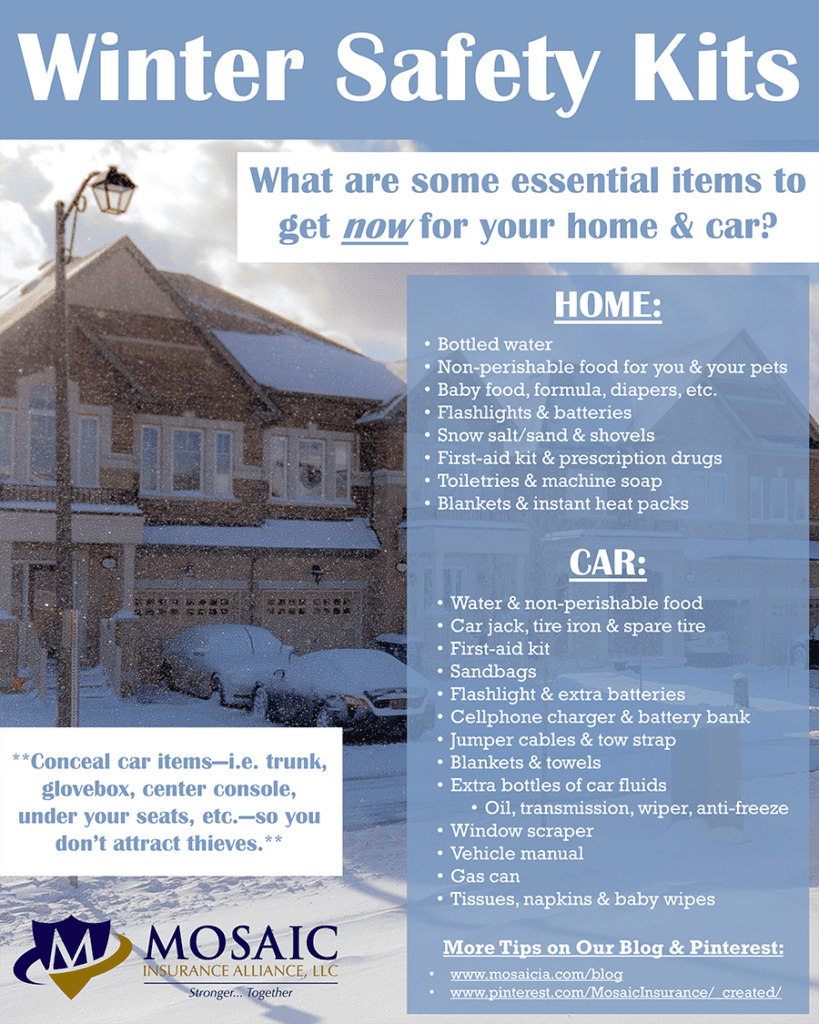 If you have any questions or content ideas to help spread safety awareness, don't hesitate to reach out. You can call us at 425-320-4280. Our Marketing Manager, Meagan Baron, can be reached at 425-247-0208 or Meagan@mosaicia.com . We wish you all a happy and safe winter. Here's to the upcoming new year!