Make sure that your vacation home, everyday home, & business is ready for seasonal insurance updates, safety measures, entertaining the kids, & more!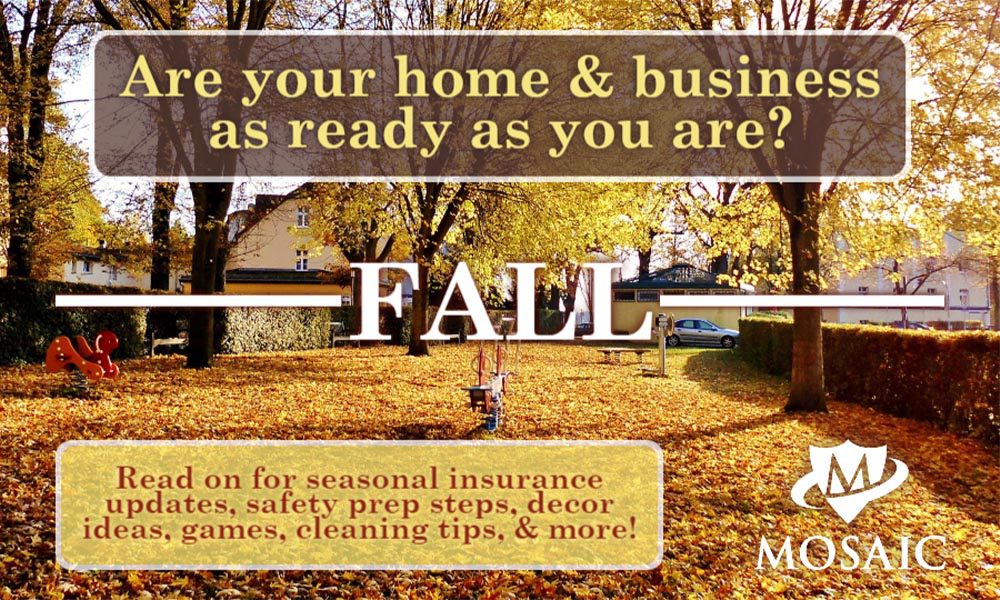 The next three months await different holidays, traditions, weather, and insurance needs. We are sure that you would agree that autumn is very different than summertime. While summer is about beaches, staying hydrated, helping avoid wildfires, making sure your home insurance covers your trampoline/pool, and the like, autumn is about is about pumpkin patches, Halloween, staying warm, helping avoid slips from falling leaves, making sure you are prepared for increase rainfall, and so much more.
Our blog here is to give you some fresh tips and important reminders on preparing your vacation home, everyday home, and/or business for more rain and wind, darker weather conditions, slippery walkways, bored children, and the upcoming cold and icy winter.

How to Get Your Vacation Home Ready for Offseason
Is your vacation home or summer home ready for you to leave? Before you leave your summer home in the early fall, make a to-do list, adding items such as:
Deep clean the kitchen and bathrooms.
Dispose of all perishable foods.
Remove all garbage.
Close and lock all windows and doors.
Install motion activation cameras inside and outside.
Unplug appliances and electronics.
Let your alarm company and the local police know that you will be gone.
Have a trusted person in the area do routine sweeps while you are gone or hire a professional home watch service.
See about hiring a yard service or inspection service.
If you have some other sort of vacant property like a secondary home or rental home, make sure that it is ready for the upcoming fall and winter months too. We have your next steps right here.

Some Insurance Policies to Review in Autumn
We have a savable PDF here of the coverages below. Also, if you have any questions on these item, your agent is always ready to help you!
Car Insurance
Home Insurance
Business Insurance
Seasonal Cleaning & Décor
Who says that deep cleaning is only for the spring? Giving your house a nice deep cleaning is a refreshing start to the new season!
This home maintenance infographic is handy all times of the year! Print it off and hang it on your fridge, save it as a PDF to your phone/computer, bookmark the page, set it as your screensaver—whichever helps you remember the different areas of your home to clean and the supplies to get the job done. If you go to this blog post, you can get an extended version of the PDF.
Even though this is a spring-themed cleaning list, it gives a list of things inside and outside of your home to cross off as you clean anytime of the year. The blog that this cleaning checklist comes from has some handy tips that still apply in fall—including how to get rid of pests like ants, protect against wind damage, get rid of moss, and prevent mold and mildew.
Another cleaning list can be found in this blog post. It talks about how to declutter your house, inspect your car, clean a dirty sponge, clean your coffee machine, and more.
Deep cleaning is not just about getting things sparkling. It is also about replenishing storage for different life necessities, whether it be…
Restocking the pantry for hotter meals.
Replacing tattered colder-weather items like faucet covers.
Upgrading security systems.
Making sure that doors and windows are sealed properly.
Inspecting your fence for wood rot and broken boards.
Topping off your car fluids and making sure that your backup parts and emergency toolkits are plentiful and in good shape. (View our step-by-step car guide from our car maintenance blog post.)
Making sure you do not have any lost pets and wild animals keeping warm from the cold in your car or house. (View tips on what to look out for and precautions to take.)
Does your house feel like home? One of our clients, Rene' Porubek, is a relator and her website is full of all kinds of tips to make you feel right at home. Here is her blog post about decorating your house plants to match your style. (She also has blogs on closet curation, HOA basics, and real estate market updates.)
Do you have a Pinterest account yet?!? If you don't, check it out for yourself now and feel the magic. For example, you can type in something like "fall décor" and get all kinds of ideas you'll probably love to save—or "Pin." (And, then you can follow our account for all kinds of life tips!)
After You Get Your Home Ready for Fall Weather, Get Your Kids Ready for It!
Colder weather can easily mean very bored children.
We have 87+ active indoor games, tips to develop a homework schedule, and things that you can teach your kids that they won't learn in a classroom here.
Get pumped for Halloween the entire month of October! Our postcard has some easy home activities like treat dart toss and candy scavenger hunt, and you can find more at ApartmentGuide.com. (If your kids/teens love video games, check out GeekMom.com!)
If your kids are inside more, that means that your house can get dirty faster. Look up some different ways for your kids to help you clean that is more fun than a simple chores list. We'll help you get started:
Here are some more ways to help keep your house clean, brought to you by a mom of 5
Get them out of the house now and then with something fun and productive like early Christmas shopping for their family and friends. That way you all get to get out of the house, and you can split up present cost over multiple paychecks. If you start early enough, you can also have them make most of their gifts (which will also help entertain them and help them discover new crafts and hobbies). Google and Pinterest have tons of ideas on gifts that kids can make, like these 40 gift ideas and these 45 gift ideas.
Other Helpful Tips for Fall
How to drive in the rain:
Be extremely aware of your surroundings.
Don't use cruise control.
Take turns slowly and be extra cautious on hills and bridges.
Do not use your high beams.
Be cautious of upcoming puddles and try to safely avoid them if you can.
To help avoid hydroplaning, slow down beforehand and firmly grip the wheel as you drive through it. Do not hit your brakes or gas abruptly.
Read about what to do if you start to lose control of your car, the road floods, and how to prepare your property here.
How to save money in the winter:
Go with an independent agent so that you can get stable coverage at competitive prices. (We also make sure to look for possible discounts to help you save more!)
Keep record of all your spending—bill money, necessity money, and fun money. Knowing what you are spending and where you are spending it can help you prioritize, pinpoint where the high points are, and figure out alternatives. For example, if you see a high point in your water bill, you can inspect for leaks, dripping faucets, sprinkler issues, etc.; or you might take an alternative measure like turning off the shower while lathering. Another example would be if you see that your PUD bill is through the roof—perhaps your fridge is not working properly and you need a new one; or, you can take alternative measures like installing LED lights throughout your entire house, turning off lights when you leave a room, and installing power strips that can cut off power easily to electronics not currently in use.
Buy items when they are on sale and buy in bulk.
Pay yourself first. Your savings account deserves an "allowance" too. Giving your savings account a little something from each paycheck really does add up!
More money saving tips here.
We also have more ways to cut energy costs here.
How to get prepared for windy season:
Keep your yard as clean as possible.
Inspect and repair your roof at the beginning and end of the season, as well as after each storm. Consult a professional if needed.
Inspect other areas of your property, such as your fence, trees, and shed.
If you know a storm is coming, try to move items inside, such as patio furniture, and park your car in the garage if possible.
Read more in our blog post.
How to weatherproof your home for fall:
Prepare for more wind. Inspect all of your large plants and trees now and determine if they are safe if a windstorm were to happen, inspect all large plants and trees after a windstorm, have a place for outside décor and furniture to be easily picked up and tucked away before a storm, inspect your fence for broken boards and wood rot, park cars in garages if possible, park cars away from big trees, and restock your power outage items and food.
Get ready for more rain and mud. Put towels or matts down at every doorway to wipe feet, have a designated shoe area for shoes to dry out and not get tracked around the house, place a shoe brush block outside your doors so that leaves can be taken off shoes before coming inside, pay attention to your yard and see where the squishy parts are, consult a professional if you see a lot of pooling in yard areas and you are worried about floods in unwanted places like your garage or basement, inspect window and door seals after heavy rains to ensure that they are all functioning, and make sure everyone in the house knows where the mop is kept so messes can be cleaned up ASAP.
Be prepared for more darker weather during more hours of the day. Some steps to take include installing pathway lights in your front and back yards, replacing porch light bulbs, installing night-time cameras (or changing the light setting on current ones), and getting errands done earlier so you can avoid driving in the dark.
Restock your garden shed with items to help against plant debris, such as a rake, shovel, and leaf blower. Also, make sure that you have snow salt/sand and a snow shovel now so that you are ready for winter. The time to buy these items are not after you get snow. The store can easily be sold out. Also, even if the store does have a full stock of items, you might not be able to get to the store after the snow hits…because your driveway needs shoveled in order for you to get out.
Know what common weather for your areas is (and the resulting damages that likely occur). In addition to watching the morning and night news daily, one way to do this is to follow local news stations and community support groups on social media like Facebook. That way you get updates sooner so that you can prepare. Another way is to look up local tips from news sources and government websites here and there every month. For example, if you are in the Everett, WA area, these Everett Public Works tips might be helpful to you since they regard things that commonly happen in your city and nearby cities.
How to weatherproof your home for the other 3 seasons can be found here. (Save the infographic too!)
With the Pretty Comes the Ugly

Fall is often seen as one of the most beautiful times of the year. All the changing leaves bring a spark of color everywhere around us, and the crisp air gets us excited for hot beverages and upcoming holidays. But not everything is pretty…as you know from reading the above items. Stable insurance can help the ugly times be, well, less ugly. Reach out to us to today about what personal or commercial coverage can help you during fall season. Our team of independent insurance agents know what updates to look for and how to place carriers based on coverage needs and financial needs.