Important safety tips for the winter holidays
How do you prepare for the holidays? If the insurance world has taught us anything, it is to be prepared. Expect the unexpected. Ask the questions that you need to ask in order to be safe.
Having an extra cushion in your safety net during the festivities will help protect you, your family, and friends.
Here is a guide to make sure that your holiday safety check is good to go so that fun can be your next focus:
You can save, share, and print this handy holiday safety 101 tip guide! Download the PDF 

here

.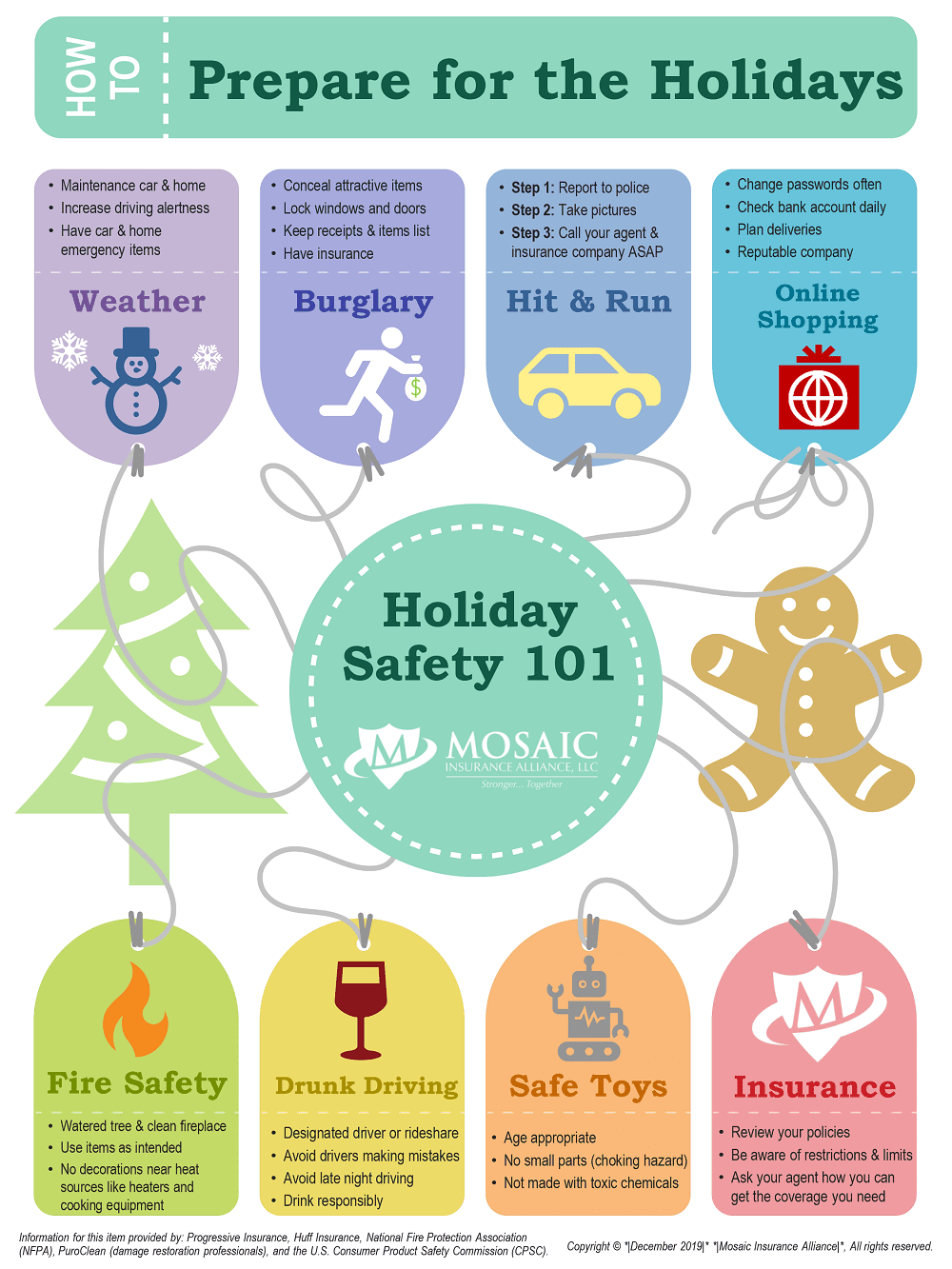 1. How to Prepare for Weather Conditions:
Keep in mind the current and likely future weather conditions. Know what is typical for your location during this time of year and surrounding months.
Your Car and Driving: Your car will drive differently this time of year. Listen to your vehicle so that you know what it needs
Give it plenty of time to warm up before driving. If you do not give it enough time, you could do serious damage to your vehicle and/or your car can stall in the middle of the road and cause an accident. Winter car warm up time varies by different factors, such as your vehicle (make, model, year), outside temperature, and how long it has been sitting. Check with a professional for a recommended warming time—your car manual is a great place to start.
Keep in mind that brakes work differently on wet and/or icy pavement. If you drive a lighter vehicle, or one that is front heavy, putting sandbags in the back can be a big help to avoid sliding.
Make sure that your headlights are working properly. Do you have backup bulbs in case one burns out? Are they bright enough?
Are your tires ready for the winter? Check air pressure, tread, and bolt tightness. Consider having chains in case you need them.
Plan your driving routes accordingly. Make sure it is safe to travel on the same roads you did in warmer months. For example, if you live in the Pacific Northwest, there are hills everywhere and it is crucial to take in account the darker lighting, colder temperature, and increased rain this time of year.
Have a car maintenance kit in your car. Good items to carry with you: a spare tire, tire wrench, flashlight, jumper cables, road flares, instant heat packs, ice scraper, important fluids, screwdrivers, etc. Every car is different. Pack what you think would be plausible for your car to need. For example, if you have a big truck or SUV that burns oil, having a backup jug in your car is a good safety measure.
Have a safety kit and emergency kit in your car. If you or someone who is in your car often has a medical condition, make sure that you have the necessary medicine and equipment (i.e. epi pens, candy for diabetics, etc.). Also, have other common items like band-aids, wipes, gauze, tape, tweezers, and a blanket. Packing a car phone charger is also a good idea in case your phone dies. Winter increases your chance of getting into a car accident and breaking down for long hours at a time. It is common to be away from stores when you break down, so have items on-hand. You never know when you might need something.
Be even more alert. Pay attention to your surroundings—sights, smells, sounds. In addition to making sure that you are being cautious, keep in mind that other drivers might not be. Drunk driving also increases this time of year and distancing yourself from a driver who is making mistakes can help you avoid an accident.
Your home: Is your yard, driveway, sidewalk, and inside your home ready for rain, snow, wind, poor lighting, cold temperatures, and more? Do you have the lightening you need to see your driveway and avoid trips? Are there any slip hazards? Do you have emergency items like candles, non-perishable foods, a snow shovel, snow salt, blankets, medicine, and first aid kit?
2. Christmas Thieves—How to Protect Your Home and Car Against Burglary: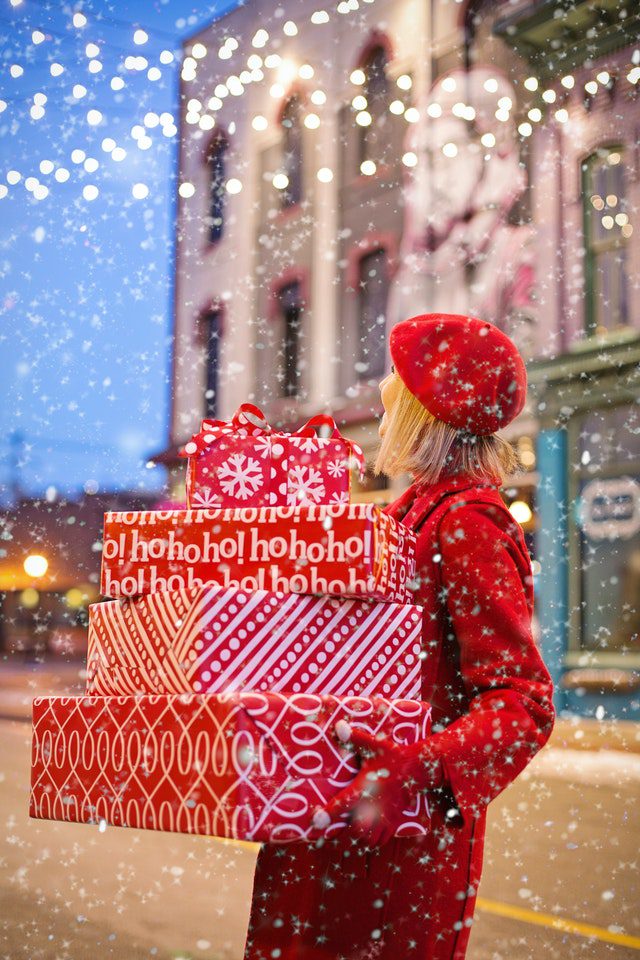 Presents and family vacations attract criminals. So does the darkness that allows them to sneak around better. What can you do to make sure that your car, home, and business are safe?
Have multiple safety plans, such as:
Not keeping items in your car that will attract passerby. If you are making multiple stops on a shopping spree, keep things in the trunk or hidden in places like under the seat or a cover. Never leave things in your car for long periods of time. Also, hide the items before you go to your next destination so that thieves do not see you hiding the items.
Having curtains and blinds in your home. If you cannot see into your home from the outside, there is less to attract a thief inspecting the area.
Leaving ceiling lights on in your home when you are gone. If thieves think there is someone home, they are less likely to break in.
Enabling your car and house alarms. Alarms attract attention and tend to scare thieves away before they do more damage or take anything. Most home alarms also call the police, which can help alert you sooner than later if you are not at home at the time.
Always locking all your doors and windows for your car and home. Make sure that no windows are left open unattended. Use window and slider door sticks to help make them more secure.
Keeping track of expensive items and gift receipts. If someone does steal something, having a list of expensive items and their receipts can help you write a police report and get reimbursed by your insurance.
Having the right insurance policies. Have the coverage that you need in case you suffer damage and/or theft. Sometimes precautions cannot avoid a hazard—insurance is your backup plan.
3. What to Do if Your Car Gets a Hit and Run in a Store Parking Lot:
People are running around and are in a hurry. And there are lots of cars in the parking lot…These factors increase your chances of a hit and run significantly. Inspect your car before leaving the store. If you are ever a victim of a hit and run, follow these steps from Huff Insurance:
Step 1: Call the police and file a report right at the scene. Sometimes police will not show up at the scene. Make sure that you are given a report number. Your car insurance company will require you to have a police report.
Step 2: Take photos of the damage at the scene.
Step 3: Call your independent insurance agent and your insurance company to report your claim ASAP.
4. How to Practice Safe Online Shopping:
Holidays = more online purchases. Help protect yourself by taking precautions like:
Changing your passwords often and not having automatic logins. Make sure that you have an updated and secure password for important things like your bank account and store accounts like Amazon. Phones have all kinds of apps that are hooked up to your bank account. Same with your computer. If you were to lose your phone or have it stolen, you could be subjected to someone using your accounts. If someone breaks into your house, your computer could also give them the means to have your credit card number.
Set up bank alerts for unordinary purchases. Did you know that you can have your bank account alert you if you have a charge over a certain amount, or if it is outside of your normal habits like stores that you do not usually go to?
Check your bank account daily. Contact your bank immediately if there are charges that you did not do on your account.
Plan deliveries. Request that expensive deliveries must be dropped off only when someone is at home to accept it. Route deliveries to a locked PO Box or to the post office for pickup. Plan your schedule so that someone is home around the expected delivery time. Have a concealed area on your porch that delivery drivers can use so that passerby are less likely to see it. Life Lanes from Progressive has a great article about "porch pirates" that you might find useful.
Be aware of who you are purchasing from. Do research on the site to ensure that it is a real company with good customer service and return policies intact.
5. Winter Fire Safety Tips:
Winter has the most fires of any season. And, Christmas day has over two times more open-flame fires than any other day of the year according to the U.S. Fire Administration (USFA). On top of that, there is usually more at stake when there is a holiday fire…Since people tend to have more expensive items in their house like presents, USFA has observed that holiday fires crate three times more property damage than an average fire. Another scary thought: A fire can be started with almost anything.
Busy schedules, family gatherings, increased clutter, and holiday cooking can make the house hectic. To help avoid fires this season, here are some good safety measures to take:
Christmas Tree Care:

 Make sure that your tree is not near a heater or the fireplace. PuroClean, a Professional restoration company that specializes in fire damage, states that your tree should always be at least three feet away from any heat source.
Use lights that do not have overheating problems or cord damage.
Keep your tree well-watered. According to the National Fire Protection Association (NFPA) and the U.S. Consumer Product Safety Commission (CPSC), a dry Christmas tree "can catch fire and burn faster than a newspaper"—it will be ingulfed in flames in approximately 10 seconds. They also encourage to water your tree daily, noting that a well-watered tree can be ingulfed in flames as well, but the process is slower. Watch the video of their experiment here.
No matter how much you water your tree, it will start drying out after about one month, according to PuroClean. They advise you take yours down after the holidays to minimize fire risks.

Don't leave open flames unattended or uncontained. Make sure that you do not leave candles near flammables and that your fireplace has a protector screen to avoid traveling sparks. Also, make sure your chimney is clean and ready to be used.
Use items only as they are intended. If you are using fireworks for New Year's, use them as instructed. Don't overload your outlets and extension cords with decorations. Pay attention to your portable and stationary heaters. Make sure decorations are not turned on past the recommended time by the manufacturer.
Do not have decorations near cooking equipment or candles. According to NFPA, cooking equipment is involved in 1 of every 5 home decoration fires (19%). And, PuroClean states that candles during the holidays are four times more likely to lead to a fire than any other time of the year.
Use decorations with care. Flame-retardant or flame-resistant decorations are recommended by fire safety professionals. Also, PuroClean recommends that if you have a metallic tree, do not use electric lights because faulty lights can lead to the tree being charged with electricity and create a fire or electric shock accidents.
Check for damages. Make sure that no decorations have damaged wires, broken bulbs, bent plugs, or other damages before you use them. And, periodically give them a check to make sure that they are still doing good. PuroClean notes that two thirds of fires caused by holiday lights are due to electrical failures and malfunctions.
Have working fire alarms, a fire extinguisher, and make sure your family knows fire safety. If a fire occurs, it is important that everyone in the house knows where the extinguisher is and how to use it, and that they know other safety measures like evacuation and the outside designated meeting area. For more fire safety tactics, visit our other blog about how to fireproof your home.
An infographic series of helpful winter tips in English and Spanish can be found on the NFPA website here.
6. December is Drunk Driving Awareness Month:
Practice safe drinking and take precautions to avoid drunk drivers. Spread awareness with your loved ones to help them be safe as well.
Drink Responsibly:
Have a designated driver or use a rideshare service like Uber
Eat food and drink water with alcohol
Limit yourself to a reasonable amount of alcohol
Take Precautions to Avoid Drunk Drivers:
If you know someone who is going out drinking, help them line up a safe ride home. Share this blog post with them to help them get prepared too!
Avoid driving late at night if you can
Be more alert on the road than usual
If a driver around you is swerving or acting aggressive, do your best to distance yourself (change lanes, keep a bigger gap between you two, take a detour, etc.)
7. Buy Child-Safe Toys:
Be sure your child has safe toys to play with. Important things to consider, especially with young children, include:
Age-appropriate
No small parts (avoid choking hazards)
Not made with toxic materials
8. Review Your Insurance Policies
Holiday mayhem can lead to you needing to reevaluate your property insurance and liability insurance. Making sure that your policies have the right coverage for the season will help protect you. Current weather can be a huge factor in determining if you need to update your policies.
Review your current policies with us and see if you need additional coverage. Common areas to focus on this time of year include:
Car insurance: In addition to making sure your car is able to drive safely this time of year, it is important to make sure that you have the coverage that you need to protect yourself against a potential car accident, vandalism, hit and run, etc.
Home insurance: Make sure that you have the coverage you need in case someone gets hurt on your property, you have a house fire, someone robs your house, a pipe bursts from the cold and your house floods, etc.
Business insurance: People are in a hurry this time of year, which can increase the chance of an accident. Holiday stress can also create higher chances of irrational behavior. Is your property covered, whether it be your building, equipment, or land? Do you have theft insurance intact, including employee theft? Do you have liability insurance that will protect you if an employee or customer gets hurt on your property or by your product?
How is your safety plan looking now? If you have any questions about your policy, don't hesitate to reach out to us!
Mosaic Insurance wishes all of you a very happy holiday. Let's end 2019 with a grand celebration and welcome 2020 with excitement!