Money Saving Tips During the Winter Season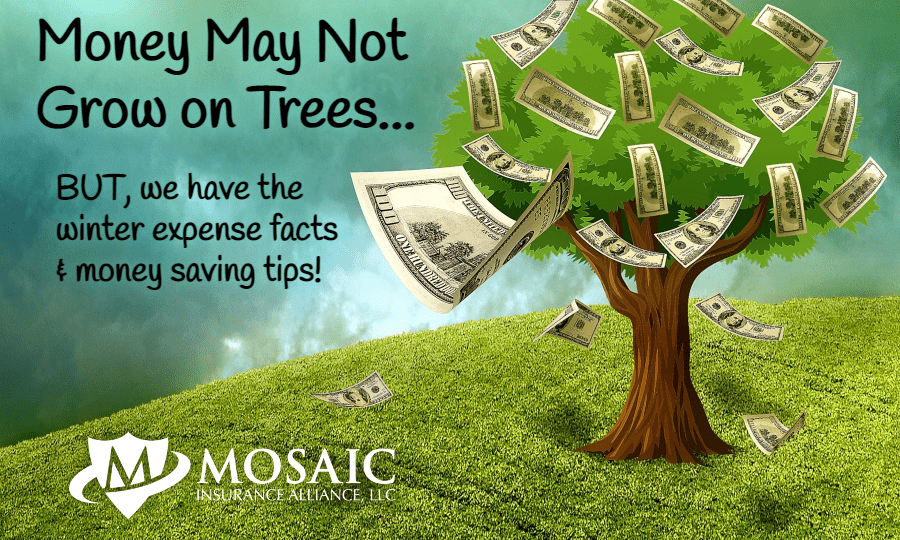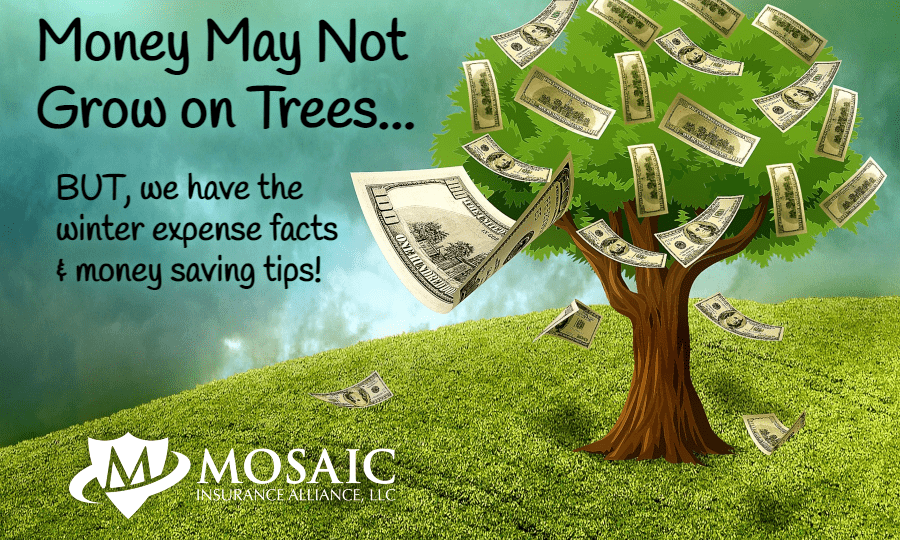 Winter can take a toll on your wallet. During the winter months, your chances of getting into a car accident and needing auto and home repairs spikes. Plus, you can't forget all those holiday expenses!
In addition to wanting to make sure that your car insurance and home insurance policies are ready for potential damages, accidents, and thefts that are common in winter, you will want to know common winter expenses and ways to save so that you are prepared and have sufficient funds in case the unexpected happens.
Common Winter Expenses Include:
Prepping your house and car for the weather can add up. You want to make sure that your property and car are safe and ready for the colder, darker, wetter weather. On average, accidents and needs for repairs happen more in the fall and winter than they do in the spring and summer. Colder seasons also tend to need more safety precautions. Also, it is important to keep in mind that the costs for being prepared are cheaper than not taking safety precautions and having to pay for damages that could have easily been avoided.
Higher water bills and power bills. With the colder and darker weather, you tend to use more electricity and water. People tend to have more lights on during winter, as well as leave them on for longer amounts of time. There is also an increase in heater activity and amounts of hot showers/baths. Also, people tend to be at home more in the winter since there are less outdoor activities, which increases power and water usage for daily items like sinks, toilets, dishwashers, washer machines, dryers, electronics, and cooking instruments.
Your car is using more gas. Have you noticed that even though winter gas is cheaper than summer gas, that you are spending more money overall? Are you having to fill up significantly more often for the same amount of driving? This is because fall/winter gas is not as efficient. It does not burn as clean as spring/summer gas, and it results in you getting less miles per gallon. Also, in winter, you are warming up your car longer before you drive. You can read more about seasonal gas facts here.
Holiday expenses. We just went through the holidays, buying gifts and celebration food. Possibly even having some travel expenses in there as well.
Tips for Saving Money: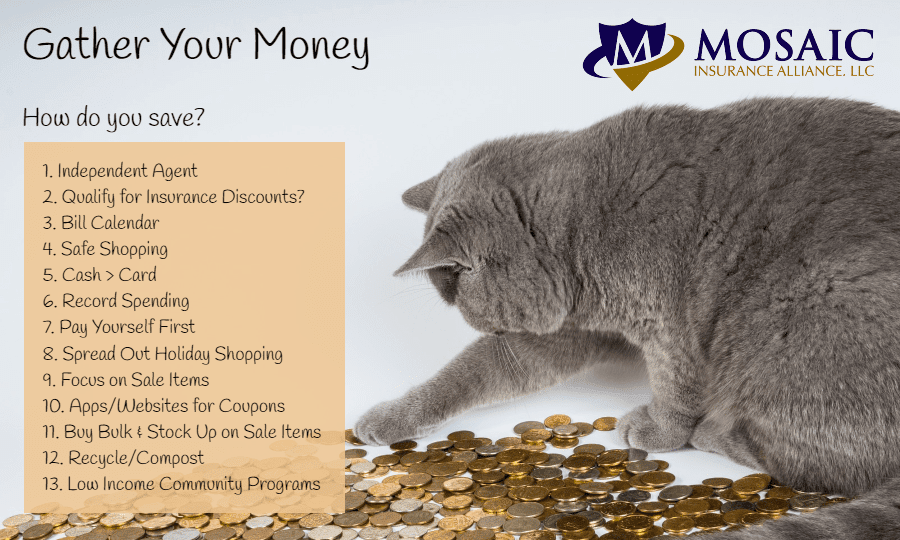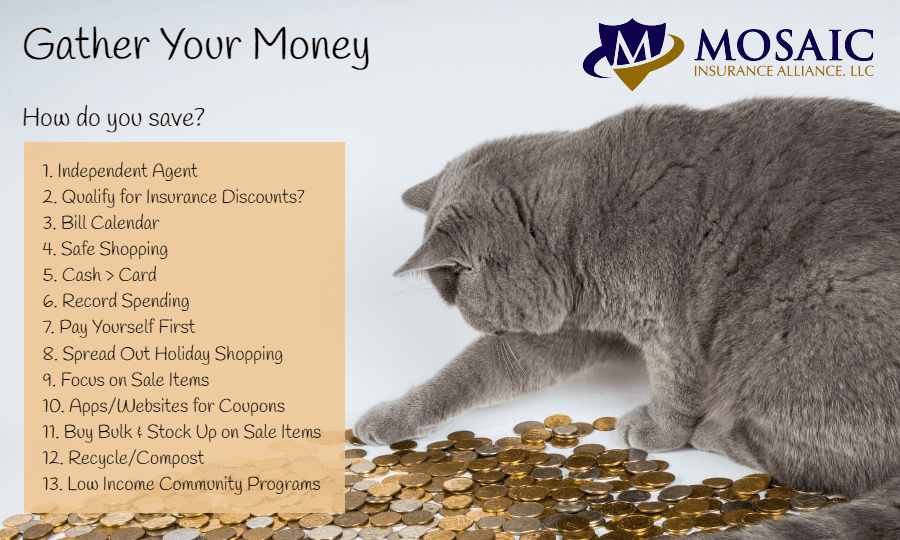 Look into getting an independent agent. If you do not currently get insurance through us, give us a call. You might find that one of our agents can get you a better price and better coverage.
See what discounts your car insurance carrier can provide you. Your independent agent at Mosaic can help you with this process. Common savings include low mileage and good student discounts. Many carriers also have the option to use car trackers that can end up giving you a discount based on your safe driving habits. Give us a call for more ways you can save money on your car insurance—you'd be surprised and what ones are out there! For example, did you know that one of our carriers, PEMCO, has a discount program for teachers and University of Washington grads?
Keep a calendar of your bills. Keeping in mind when bills are due, and which paycheck pays each bill, can be a huge help. A list of all your bills in one place with due dates and amounts/average amounts can help you plan your spending accordingly, as well as not get a bad surprise when you realize a bill is due and payday is a while down the road. An electric calendar with set reminders is even better. The last thing you want are late fees that could easily be avoided.
Practice safe shopping. Make store lists, don't shop when hungry, and use a calculator as you go. Shopping sprees can be fun, but they can also be scary when you hear your total at the cash register. Lists will help you stay on course, not being hungry will help you avoid buying more food than you set out to get, and a calculator will help keep you within budget.
Use cash over card. It is harder to depart with physical bills than to slide a card, so it will help decrease impulse purchases.
Record your expenses. The more you know about how much you spend in different areas in your life, the more you will (1) stop yourself from making impulse buys, (2) think of ways to reduce costs, and (3) have money when you need it for emergencies and bills.
Pay yourself first. Right when you get a paycheck, deposit some into your savings account. Even if it is just $20. Spending money in a savings account is harder for people to do than a checking account. You might find yourself figuring out new ways to not dip into that money. It will decrease your impulse shopping and with most banks you can even get interest.
Shop for the holidays throughout the year or over the course of a few months. Do it a little at a time. That way, you can get great deals, you are taking less out of paychecks at a time, and you are not scrambling around last-minute to get something for everyone on your list.
Focus on buying sale items. Look for sales every time you are at the store, especially after holidays and season changes. Many stores have discount areas for food and other items. Also, fall/winter items decrease significantly when spring/summer starts, and vice versa. For example, if you think you might want a new winter coat for next year, the perfect time to buy it is when it starts getting warmer outside this year and stores are trying to get rid of their stock.
Do stores and restaurants you go to have apps and/or website deals? Many store websites and apps (like grocery stores) have extra savings like discounts and coupons. Many stores are also on places like Groupon and have killer deals like reduced costs and free gifts.
Buy in bulk. When you buy big quantities of items, they tend to be cheaper overall.
Stock up on sale items that you will likely need when they are cheap—dishwasher soap, laundry soap, shoes, food, etc. Focus on food that can be frozen or is not easily perishable.
Recycle and compost. This frees up space in your garbage can. Also, you could investigate turning in things like cans for discounts/money. One of the places that buys recycling in the area is West Seattle Recycling, INC.
If you are low income, you can look into all kinds of community programs that can help you get food, clothes, help with bills, etc. For help in your area, visit government websites like Washington State Department of Social and Health Services.
Here at Mosaic Insurance Alliance, safety is top priority. When you prepare your house, car, and property for the weather, you are creating safer conditions for you and your family. When you are creating an action plan to be more financially stable, you are making sure that you have what you need to get yourself in the safest situations possible. You can also put that money you are saving to good use, like getting expanded coverage on your car and home, or looking into life insurance policies. We hope these money saving tips help you get to where you want and need to be!
We make it our mission to provide you coverage and information you need to make your life safer and easier. If you are ever interested in getting personal and/or commercial insurance to better protect your assets, give us a call at 425-320-4280, or fill out our Get a Quote Form!
If you are interested in learning more about something you think that we could help you with, send our Marketing Manager, Meagan, an email at Meagan@mosaicia.com .