Home Coverage, Auto Insurance, Snowmobile Policies, and More!
The first day of fall is on September 22 and the hot weather will be ending soon. In upcoming months, we will be seeing more wind and rain, followed by ice and possible snow once winter kicks in. What do colder climates and weather conditions mean for the safety of your home, car, property, business, etc.?
Each season we have different things to worry about. Being aware of our surroundings and common conditions that we face in our locations help us stay safe and protect our assets. When it comes to fall and winter, there are some insurance policies that you should review to make sure that you have a good action plan in place.
In the Pacific Northwest, it is not uncommon for us to see high winds, icy roads, lots of rain, and occasional snow. All those things can affect our car, house, property, and business. Additionally, since Washington does not have very extreme weather conditions compared to other states, we have less widespread practice for things like home preparation and driving in the snow. The average person and city roadworker also tends to have less of the necessary equipment to protect against extreme weather conditions (i.e. snow tires for driving and snowplows for road clearing). Not to mention, Everett, Seattle, Bellevue, Lynnwood, and practically every other city in Western Washington, is FULL of hills. Hills + Icey/Wet Pavement = Higher Chances for Car Accidents. So, what can you do to help protect you? Be educated, take precautions, and get insurance that will protect you if the inevitable happens.
People have been known to get into multi-car crashes and even go through houses, store buildings, and garages if they slide on icy or wet pavement when driving in the fall and winter. If something like that were to happen, you'd feel better knowing that you not only reviewed your car insurance beforehand, but also your home insurance, business insurance, and property insurance. But what other insurance would be good for you review this time of year? Read on for more insurance tips for colder weather.
Some Common Fall and Winter Insurance Policies You Should Review: 
1.       Car Insurance: Mosaic will help you get coverage based on your needs, driving habits, geographical location, budget, etc. Some coverage protection options that are great to review for the fall and winter months include:
c.       Uninsured and Underinsured Motorist Coverage
d.      Personal Injury Protection (PIP)
e.       Towing
In addition to reviewing automobile insurance options like those above, you will want to refresh on some safety tips (like these ones for snow and wind), as well as some car maintenance action steps to take to help your car be safer and more reliable.
2.       Homeowners Insurance: As an independent insurance agency, Mosaic is always ready to help you go through the steps to help you get your house protected. Your Mosaic agent can help you explore coverage options that are good to review in fall and winter, such as:
a.        Homeowners Liability Insurance
b.       Homeowners Property Insurance
c.        Landlords Insurance or Renters Insurance
Besides helping you with coverage policies, we have tips to help keep your home safe and get your prepared for possible scenarios. For example, we have tips for weatherproofing your home, which is great for tips against rain, mud, leaves, windstorms, snow, ice, and frozen pipes. It also mentions the need to inspect your heaters, porches, hot water tank, roof, and outdoor lighting. For additional home maintenance tips, you can also view this blog post, which mentions fire safety precautions, pest control, plumbing inspection items, vacation prep, things that are injury hazards, and more. Last but not least, we also have some life hacks for holiday season safety, where you will find a safety 101 overview during holidays like Christmas—i.e. preventing burglary, what to do if you are hit by a hit and run driver, ways to safely shop online, ideas for getting safer toys, tips to avoid fires, red flags that you might be driving near a drunk driver, etc.
3.       Business Insurance: If you own your own business, you know that you worked hard to get it where it is today. That being said, you want to get insurance that will help protect your investment and allow you to focus on growing it. Getting the right insurance is essential. Also, getting what you need in a timely manner is important for your busy schedule. A Mosaic agent can have a talk with you about what you need and develop a coverage plan in a timely manner.
a.       Commercial Property Insurance
b.       Commercial General Liability Insurance
c.       Workers Compensation Insurance
For some more helpful content your business can use these upcoming months, view our blog posts about employment practices liability insurance (EPLI), employee lawsuits, and 10 workplace safety rules.
4.       Snowmobile Insurance: Having fun in the snow should be just that. Don't waste time contemplating if you have the right insurance. Mosaic can help you get snowmobile coverage before the season starts so that you can get out into that fresh mountain air. We can tailor coverage to your specific needs.
Ask us about our coverage options, such as:
·         Collision
·         Comprehensive
·         Property Damage
·         Bodily Injury Liability
·         Uninsured Motorist Protection
And, if you happen to have custom snowmobile equipment, we also have additional snowmobile insurance coverage you can get. On top of that, depending on your insurance situation, you may be able to get discounts for completing rider safety courses or by being a member of certain riding associations. A Mosaic Insurance agent can review your needs, design the right policy, and determine if you are eligible for a discount.
If interested in getting a free quote for one or more of the above insurance policies, you can fill out a Get a Quote form, and one of our teammates will get in touch with you soon!
Do You Love Checklists as Much as We Do?
Mosaic Insurance has a handy infographic below that condenses the above information so that you can quickly review topics to discuss with your insurance agent. You can save the picture or PDF to your phone/computer as well as share in email, text, and social media to your loved ones. To access the PDF, click on the image below, or click here. To save the image, hold down the image on your phone (or right click on your computer) and hit "Save image" on the menu that pops up.
 If you like the checklist below, you might also like our lists for ways to save money in the winter and tips for cutting energy costs—after all, prepping your house, car, and office building for the winter months can make expenses add up!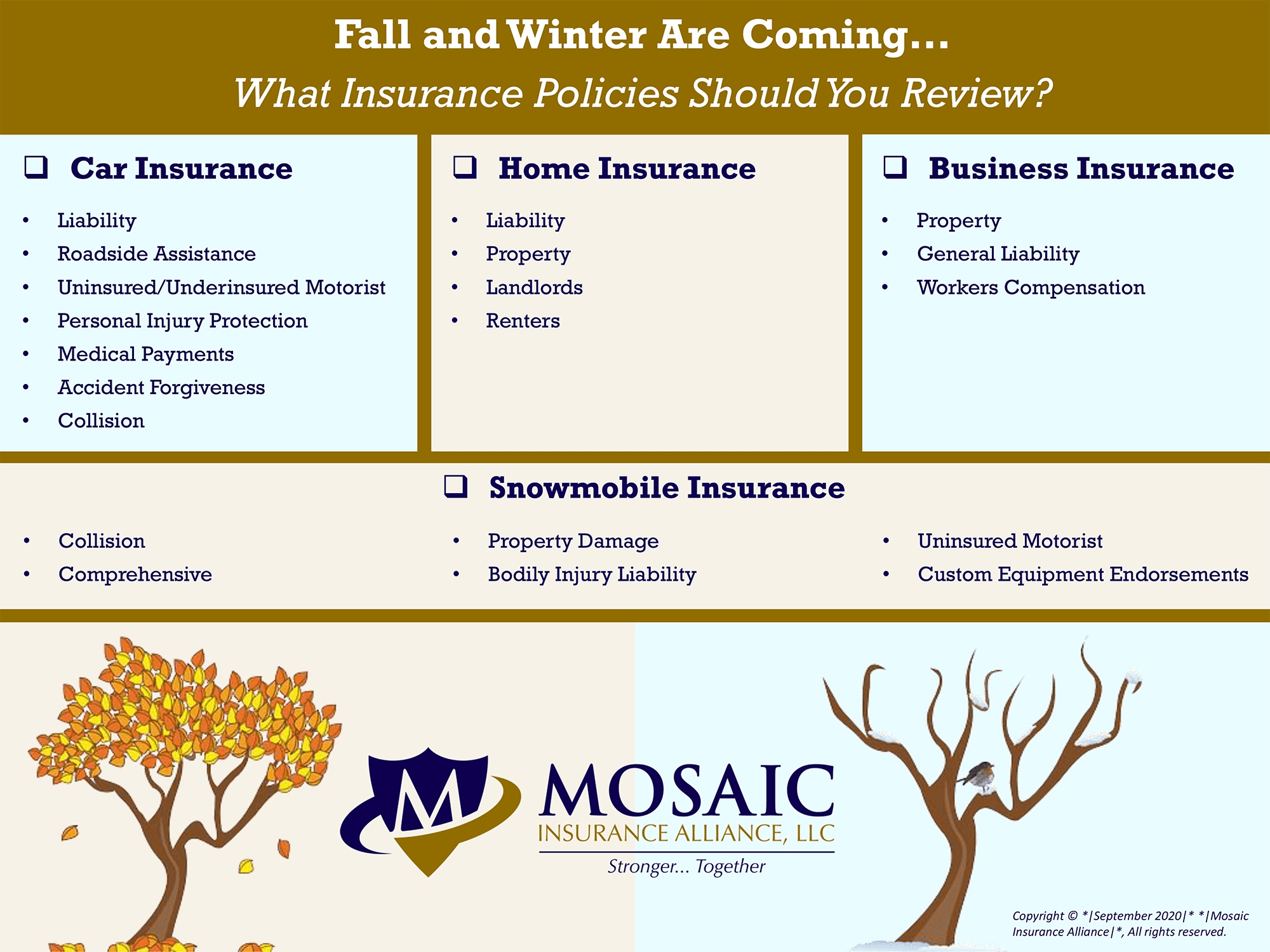 When Is a Good Time to Contact Your Insurance Agent? 
In addition to reviewing and discussing your insurance policies with your agent at the start of each new season, you will want to speak to your independent insurance agent whenever you make significant changes/purchases. Also, if you ever have a question, reach out to us! Mosaic Insurance is here to help you with all your insurance needs. After we review your policies with you, we will reach out to your carrier(s) with updated information to see what specific requirements you need for your unique circumstances. You can rest assured that we will help you complete the needed steps to protect what matters most to you. 
Reach Out to Us Today to Begin Your Insurance Review! 
Contact your Mosaic agent via phone or email. To view their direct phone number and email, visit our staff page here. You can also call our mainline at (425)-320-4280, or email our departments at info@mosaicia.com (personal insurance), commercial@mosaicia.com (business insurance), and cannabis@mosaicia.com (cannabis insurance). We are ready to take the next steps and answer any of your questions!