Are you ready for wind gusts of 50 mph and higher?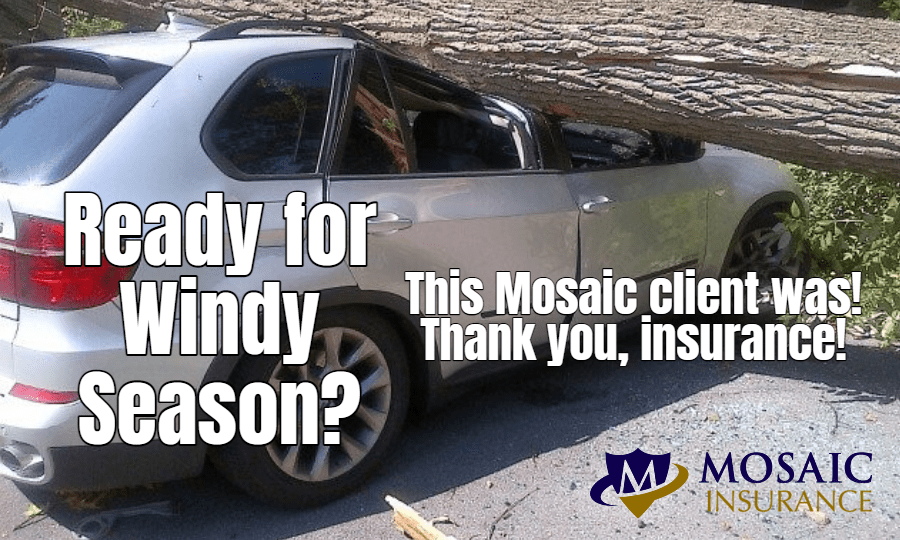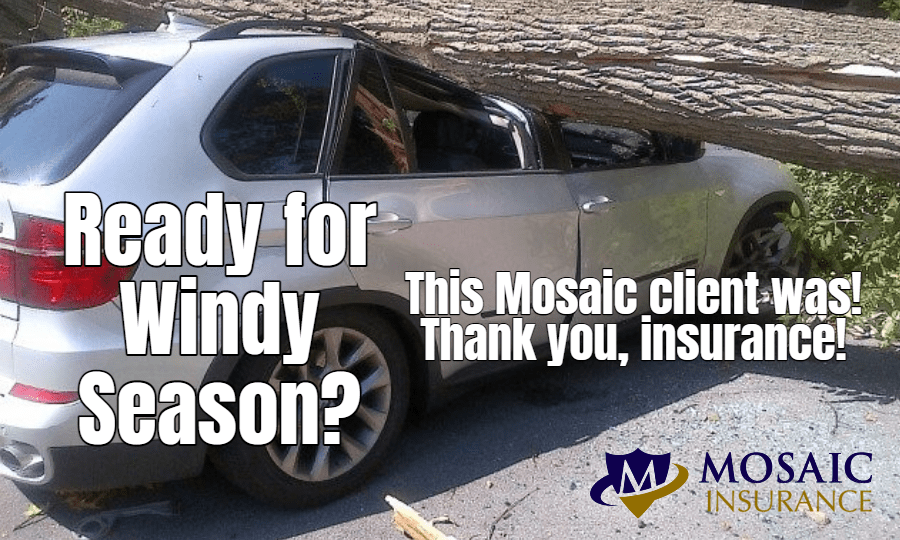 Leaves are starting to go away, but Fall is not going to depart quietly before winter takes over.  All its power in full blow is just around the corner—bring on the windy, wet, cold season! …That is, if your house, car, and property is ready for it. In addition to making sure your home insurance, car insurance, and property insurance is up-to-date and has the necessary coverages, are you getting your home, car, and yard ready for windstorms, rainstorms, and the upcoming freeze?
So much can happen in just one night with heavy windstorms. The Seattle Times observed that we had colder than usual weather for October, and that last year in December, we had a handful of windstorms that really left their mark—gusts of 53 mph (an average day in the Seattle area has winds of 1-4 mph). Also, Weather and Climate notes that January has the most wind on average for the Seattle area. To top it all off, remember the snowstorm that hit the Pacific Northwest around Valentine's Day this year? We could be looking at some heavy wind, rain, snow, and other weather these upcoming months, so let's get prepared!
Mosaic Insurance Alliance wants you to have some tips so you can be as safe as possible, and we will be here ready to help you with a free quote on insurance so you can have a backup plan in case those statistics are inevitable, like the situation that Lindsay faced. Lindsay is a Mosaic Insurance client whose car (pictured here) was totaled by a tree that fell in her driveway…only a few days after she bought it. But luckily she was covered and had the insurance that she needed to get reimbursed for her losses.
Wind damage can be brutal and can happen to anyone, anywhere at any time. Are you prepared, or are you going to be in financial troubles if a windstorm takes out your car and/or damages your home or property? Mosaic is here to help you get the insurance coverage you need to protect your property and finances, as well as provide you with some information on common things that could happen so you can avoid those storm damage statistics.
What wind damage is common?
Wind damage to your home and other property can vary depending on many different factors, including wind speed and frequency; current roof condition and setup; geographical location; other weather conditions like rain; items in your yard like trees, fences, and decorations; etc. The list can go on and on. If you are looking for a general list of things to be aware of, common damages like the ones below are mentioned in claims:
Damage to shingles, ranging from being bent, to completely missing and/or tattered like split or uplifted. Additionally, a common factor for failing shingles is from sealant strips that become destroyed from wind and other things like time and improper installation.
Objects that have be thrown into or fallen on top of items like roofs or cars. All kinds of items have been reported. Frequent examples include trees, decorations, and other yard objects. Wind is known for not only knocking things down, but also throwing objects from the ground up into the air. It doesn't have to be a twister or hurricane to be dangerous and do some damage.
Trees uprooting, causing major damages to things like your driveway/sidewalk, house or car, neighbors' property like their fence, or worse—a person or pet there at the wrong time. Even if the tree does not uproot and fall completely over right away, it could damage cement, which may need to be fixed to avoid a tripping hazard (and lawsuit). If your tree(s) uproot, we recommend calling a professional like a landscaper ASAP to inspect and see if removal needs to happen and repairs need to be done to surrounding areas.
Does your house have a roof with lots of curves/slopes/points? Damages commonly occur on roofs with edges and peaks after a heavy windstorm because they are more likely to not seal as great during installation, as well as lose their seal and catch in the wind during a storm.
Wind can do silent damage over the years. If you inspect your roof and see worn spots or creases at the top of your shingles, they have most likely suffered from wind damage a while ago and you may want to look into getting advice from a specialist.
What can I do to protect myself from wind damage?
Try to keep you yard as clean as possible. Don't leave items all over the place that could be picked up by the wind. Pay special attention to your porch, front and back yard, and driveway. Things like bicycles, yard decorations, flag poles, etc. can be thrown around and end up through your wall, smashed into your window, on top of your roof, slammed into your car, etc.
Investigate on a regular basis! Take a look at your home, yard, plants, shed, fence, etc. to see if there is any damage that could result in something falling over or breaking off. You don't want something else to get damaged because they are in the line of fire when your shed collapses, tree falls, fence crashes down, gate or door flies off the hinges, rotted wood from your balcony gives away…You'd be surprised the horror stories we hear about the power of wind. Our main point? Keep all your property well-maintained, and if you see an issue, fix it ASAP!
Consult a professional. Having someone inspect your roof, any big trees in your yard, the foundation of your home, your plumbing, and other areas routinely can help you salvage problems before they get out of hand, have less costly repairs, and avoid further damage.
Give your roof some TLC. Have it cleaned yearly and if you need to replace any pieces or patch any leaks, have a professional do it with good-quality materials. Additionally, a professional is good to have inspect your roof because he/she can help you determine which types of shingles and sealant would be good for your area. Shingle tabs (3 shingles formed together) are the most common items to be damaged from wind, according to Safeco Insurance. They also note that the most resistant shingles are laminate/dimensional shingles. A professional can help point you in the right direction on which types of shingles and sealant is best for the heat, cold, moisture, wind, etc. in your neighborhood year-round.
Coverage. Coverage. Coverage. It is no shocker that we would recommend solid coverage. Things happen, and we advise you to get the coverage that you need based on what you own, where you live, common hazards you might face, and more.
A storm damage restoration contractor can help you answer construction questions and pinpoint areas in your home that need work so that you can be prepared for the weather ahead. We know that things happen no matter how prepared you are physically, and that it is important to be prepared financially as well. Mosaic Insurance Alliance can help you determine which coverage is best for you and get you policies for your car, home, personal property, business property, etc. that you can help protect your financial future.
Call us for a free quote, or fill out our form and we will contact you! Let's get you the house insurance, auto insurance, and property coverage that you need to best protect yourself if something were to happen.