Animals on your farm are also assets to your agribusiness.
It is not just about insuring your equipment, machinery, and crops.
Ranching and farming is a big investment. Livestock plays a large role in that investment. You want to protect what you have worked so hard to build. Livestock insurance helps you do just that. Reach out to Mosaic Insurance Alliance in Lynnwood, WA at 425-320-4280, or email commercial@mosaicia.com, and see how we can help you get the farm coverage that you need.
Being an insurance broker since 2010, we have access to numerous top carriers in the field, including ones that you can see here. Over the years, we have acquired connections, expanded our industry knowledge, and mastered business insurance steps that will get you the coverage that you need at competitive rates. We are also licensed in multiple states.
What animals does livestock insurance cover?
Types of animals vary from carrier to carrier. The following are common animals that are covered with this type of insurance:
Cows
Pigs
Horses
Sheep
Goats
Chickens
Alpacas
Llamas
Ostriches
Bison
Why get farm animal insurance?
Farm animals are a financial asset, and sadly, as we know, they do not live forever. We would love it if our animals all lived to a ripe old age, but accidents can happen without warning. Insurance helps you get prepared for the unexpected. When a loss of a farm animal happens, the emotional pain that follows can mix with financial stress, resulting in a heavy burden that can break a business and result in bankruptcy.
Here at Mosaic Insurance Alliance, we know that farm animals provide your farming business with a source of love as well as a source of income. We also know that if a claim happens that renders your critters injured or deceased, your company is not only impacted financially, but also structurally. Having livestock insurance on your farm animals helps ensure a higher level of security for the mechanics and financial stability of your farm. If you have a barn fire for example, and all your cattle are tragically killed, a livestock insurance policy would help replace your expensive financial loss. Making your livestock investment whole is important since livestock loss tends to impact other areas of your business, such as your ability to produce product for your client, which in turn can result in a damage to your reputation as well as you not being able to pay your farm suppliers or your farmhands. A loss like that also eats up a lot of your time, taking away attention from your other projects. Livestock loss essentially can create a domino effect.
Some common livestock losses.
Having insurance professionals on our team with over 30 years of experience, we have seen and heard of a lot of claims in the farming industry. Additionally, we know what steps to take to acquire stable coverage for said losses—you can view our interactive graphic here for some examples of which specific farm coverages help protect against certain types of loss.
Common causes of loss that our clients face with livestock include:
Fire
Blizzard
Flood
Smoke exposure
Earthquake
Building collapse
Sickness
Predators
Escape
Theft
Accidental shooting
Injury in transit
If you work with our independent agency, you have a professional insurance broker in your corner who will (1) get you the right coverage at competitive rates, (2) be there if you ever have coverage questions throughout the year, and (3) be ready to help you figure out a solution if you end up having an issue with a future claim.
How much does it cost to insure livestock?
Livestock insurance prices are determined on various factors, including but not limited to:
Location
Types of animals insured
Animal quantity
Claim history
Give us a call, and we will give you a free insurance quote and help you figure out the cost of livestock insurance for your specific situation. Your Mosaic independent agent will shop around and determine which carrier is a good fit for you. We are open Monday-Friday, 8:30 am–5 pm Pacific Standard Time.
What else is important to know about livestock insurance?
Policies vary from person to person.

Provide your agent with as much information as possible so that your insurance is tailored to your needs.

Contact your insurance agent whenever there is a change with your animals—sickness or another impairment, death, sold, new addition, etc.

If you boarder someone else's animals, you need to tell your agent immediately when they do your insurance quote. If you are thinking about it in the future, give your agent a call and figure out what needs to be done to ensure that you are covered.

Changes to your situation can drastically impact the ability for a loss to be a covered claim. Many carriers have specific guidelines that you must follow in order to be ensured. For example, if you board another's bull, and it attacks your cows, you might not be covered for those injuries or deaths because you either (1) did not tell your agent that you were boarding the bull, and/or (2) your insurance carrier/policy does not allow bulls and/or animal boarding.

Factors can affect more than one of your insurance policies. Bull boarding, for example, can impact not only your livestock insurance policy, but also your farm property insurance policy and your house insurance policy (if you live on the property).

It is a good idea to talk to your agent before a change is made. (Before you house someone else's animals, before you buy a new animal, etc.) This will help you understand how your coverage will be impacted before the fact, as well as ensure that you will get the coverage that you need immediately before a loss can happen.

Purchase price is usually the insurance value of each animal.

Performance level of the animal and the value of its offspring can also impact the insurance value of an animal.
What other farming insurance can we help you with?
Livestock insurance is just a fraction of coverage that you will want to consider for your farm. View our additional farm insurance options and reach out to us for a free quote whenever you are ready. You provide us with information about your farm, and we do the footwork!
You can also see some of the main farm coverages that we provide for our clients below. If you are curious about a coverage not on this list, give us a call!
Farm Dwelling Insurance
Farm Structures Insurance
Farm Auto Insurance
Farm Liability Insurance
Farm Umbrella Insurance
Peak Season Endorsements
Peak season endorsements includes:
Increased commodities during harvest
Inland marine insurance during transportation of large farm equipment
Intake of foreign objects during harvest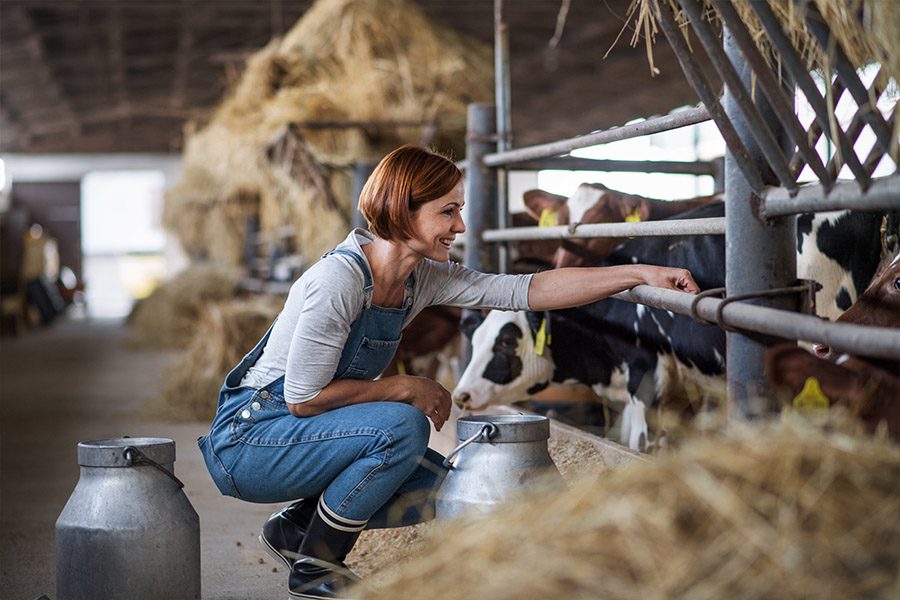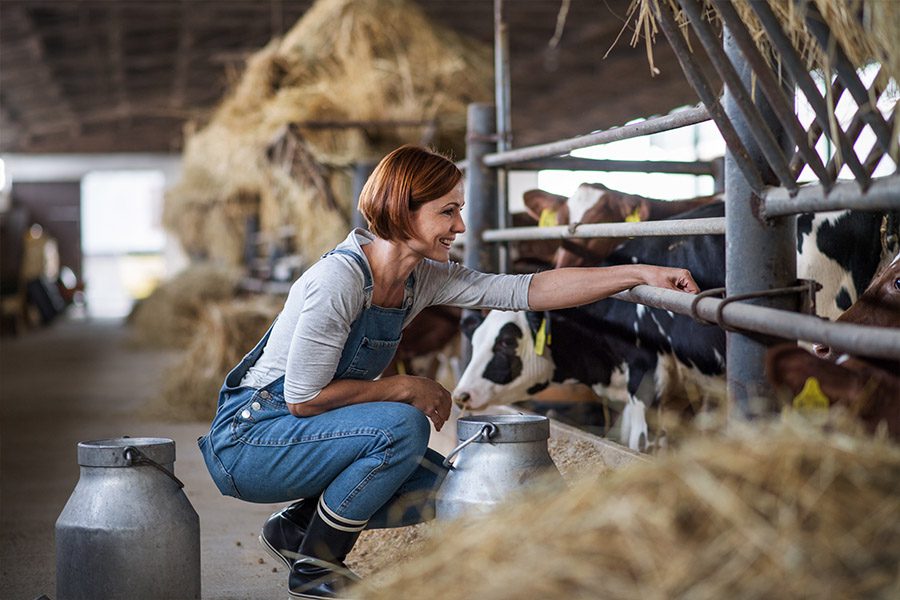 Get Started Today
As an independent agency, we are here to help you find the right Livestock Insurance coverage.
Get a Quote
  Livestock Insurance Quote Request
As an independent agency, we are here to help you find the right coverage.
Get a Quote
It only takes a minute to get started.
Fill out the form, we'll be in touch.

Review options with an agent.

Get the coverage you need.
Would you rather discuss this in person? Get in touch with an agent today!