We have a list of some participating carriers & ways you can take advantage of telematic discounts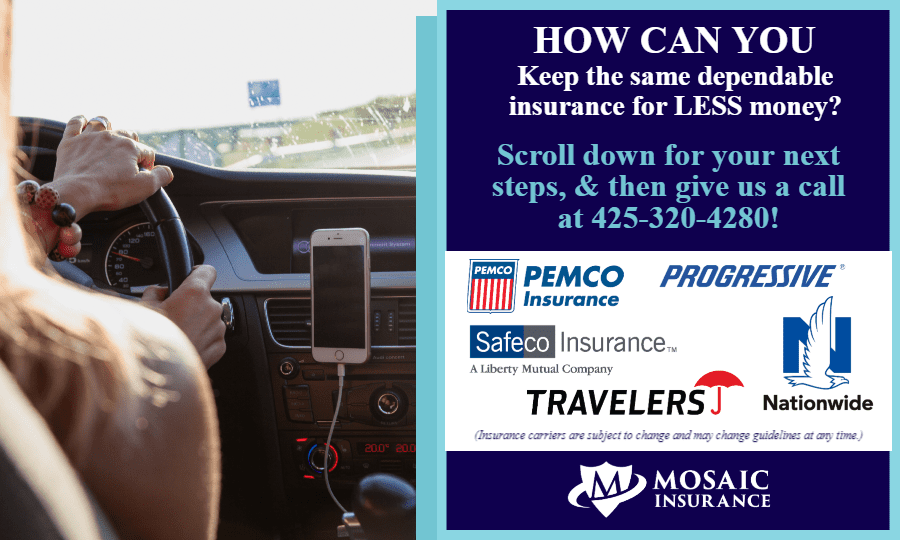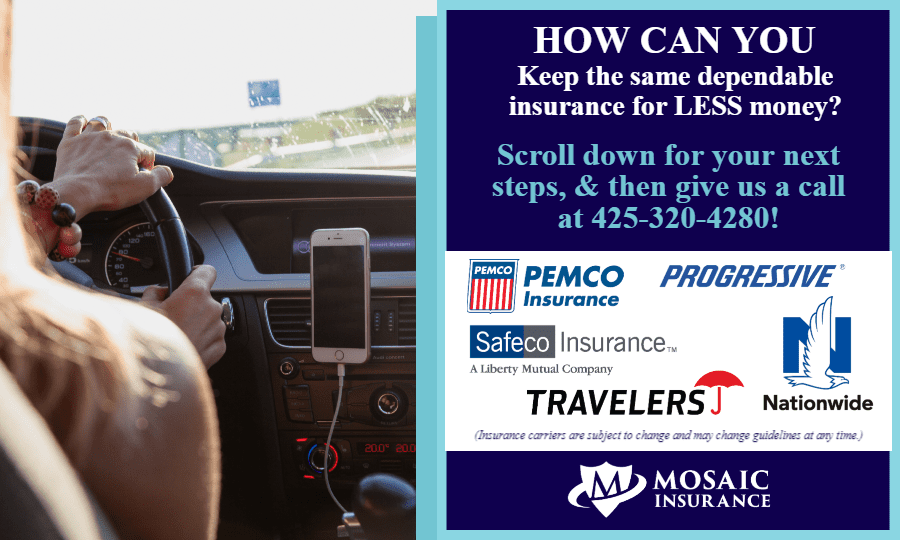 How can you keep the same dependable coverage for less money? You can decrease your car insurance premium by participating in telematics and getting a reward discount for your good driving! So, instead of Googling "cheap car insurance," see what Mosaic Insurance has to say below about how you can save money from being a good driver. (The end of our blog also has other money saving tips!)
What Is an Insurance Telematic Discount?
A telematic program is when you install an app on your phone or plug in a device under your steering wheel to review your driving habits—braking behaviors, acceleration tendencies, daily mileage amounts, traffic trends, areas you visit, commuting schedules, phone usage, and the like.
It's basically like when you took driver's ed, except instead of an instructor being there in the passenger seat to give you props on your driving—and recommendations on how to get better—your car is telling a system how you are doing.
Most carriers have an analytics section on their app where you can review how you are doing and tips on how to improve.
And, if you happen to have the app tracker instead of the device plugin, there are ways to tell the app that you are not driving while you are a passenger in someone else's vehicle.
Also, if you are wondering how long a telematics program is, lengths can vary. Typically, carriers have programs that last around a month, but some carriers have programs that are 6 months.
A telematic discount is the reward that you can get for your good driving score after your program ends.
We have some carriers that give up to a 20% discount to good drivers who complete their program.
A 20% discount tends to save our clients around $400 yearly. It just depends on how much you are currently paying for your coverage.
Some insurance carriers have a grading system that will give you up to a certain percentage off. So, that means that you do not have to be 100% perfect to get a discount.
We want you to know before the fact that if clients do very poorly in the program, there is a chance of a coverage cost increase with some carriers. Most of our clients who try telematics do not have this happen. Call us and ask us about what your options are, and how things will work for you—we will not keep you in the dark when setting you up with the program.
Other Than Saving Money, Why Do a Telematics Program?
You can learn what you need to work on to help improve your driving skills. Improving your driving skills can help you avoid accidents, tickets, and injuries to yourself, other drivers, pedestrians, and animals.
Avoiding accidents and tickets can also help you avoid premium increases after you have a claim.
Telematics can keep you more alert to your surroundings because you are focused on improving your driving. Not only can this help avoid a claim and help you develop better habits, it can make you more aware of your car itself. When you focus on braking and accelerating in a safe way, you are listening to your car more. This can help you catch a problem that it is having and help you seek maintenance repairs or services before it becomes a big issue.
If you have a teen driver, this can be a great teaching tool to help them avoid injuries, accidents, and tickets.
If you have a teenage driver, this can also be a way for you to see if your teen is using their phone while driving.
Which Insurance Companies Have a Good Driving Discount?
Mosaic Insurance has a number of carriers who have a telematics program to reward clients like you for your good driving habits.
Some of our carriers who have good driving discount programs are:
Safeco
Progressive
PEMCO
Travelers
Nationwide
Nationwide has a program that specifically is divided into two subcategories—SmartRide and SmartMiles. SmartRide is about your good driving score, and SmartMiles is about how many miles you are driving (see more about the low mileage discount, or Pay-Per-Mile, here). You can also see more about Nationwide's program in our blog post with a handy graphic.
What Are Some Other Common Discounts?
Instead of Googling "cheap car insurance," ask us about car insurance discounts! And, while you are at it, ask us about other discounts for all of your insurance needs.
To get an idea of common discounts that we give to clients, check out the list below. (Please keep in mind that not all carriers offer these discounts and that carriers can change guidelines at any time.)
Bundle Home & Auto: Getting both coverages with the same carrier can save you money! Another name for this insurance discount is multi-policy discount. It's fast and easy. Just ask your agent. Ask about an umbrella policy while you're at it too. An umbrella gives you more coverage for a minimal increase. Some of the insurance companies that Mosaic writes with who have multi-policy insurance discounts are Allstate, Progressive, Nationwide, and Travelers. Also, some of our carriers who we write umbrella insurance with are Progressive, Allstate, Safeco, Arrowhead, CNA, Encompass, Kemper, MetLife, PEMCO, and Travelers.
Anti-Theft Discount: Some carriers reward you for having security cameras, alarms, and other theft deterring features on your home.
Good Student Discount: A good GPA could save you bucks! (Textbooks aren't cheap.) Typically, you need to have a GPA of 3.0 or higher—ask us for carrier specifics.
Paid-In-Full Discount: Paying all of your car insurance premium in one payment can result in a discount with a handful of our carriers. Some of our carriers that have been known to offer this discount are Progressive, Allstate, and Travelers. Give us a call today if you would like to learn more about this.
Automatic Payment Discount: Auto pay billing discounts are offered by some different carriers, including Progressive, Liberty Mutual, and Safeco. Ask us about a free quote and see which of our carriers allow for this discount that might be a good fit for your coverage needs and financial needs. We are ready to help you explore options!
Electronic Delivery Discount: Did you know that digital discounts were a thing in insurance? Some insurance carriers offer a discount just from simply going paperless. You can switch bills to electronic delivery by visiting your insurance company's website and going to your account settings. You can get contact information and website links to many of our carriers here. If you have any problems adding this service, you can ask your company's support IM feature, or give them a call. You can also reach out to your Mosaic Insurance agent for guidance and to ensure that the discount has been applied to your account after you switch.
Longevity Discount: Having the same carrier for a minimum of 3 years allows you to qualify for many carriers' loyalty programs, resulting in a discount. Mosaic is a brokerage, so your agent can help you get another carrier, but in most cases, it makes sense to stay with the same carrier. Your agent will help YOU make that decision.
You can view more ways that independent agents like us can save you money in our other blog post here, as well.
Don't Forget!
Also, don't forget that carriers are always thinking of new discounts and ways to reward their loyal customers! It's our job to keep you informed of those items.
If you are our client, please make sure you respond to our renewal appointment request emails so that the renewal process goes smoothly, and so that you will see updates on discounts and other important items.
We are ready to help you in any way that we can! We know that financial stability is an important thing for people and businesses to have—that is why we tell our clients about discounts and why we provide money saving tips like these in addition to insurance savings. If you have any questions, would like a free quote, or would like to explore your different options to save money or get different coverage, call us, email us, fill out our quote form, or send us an IM on the website here (bottom right corner). Talk soon!