Know the risks of cheap insurance…There are safer ways to save money!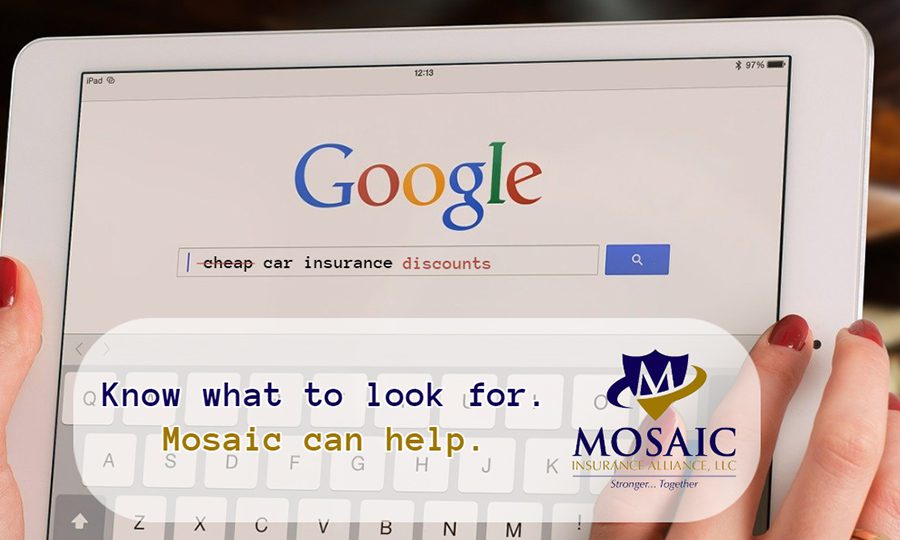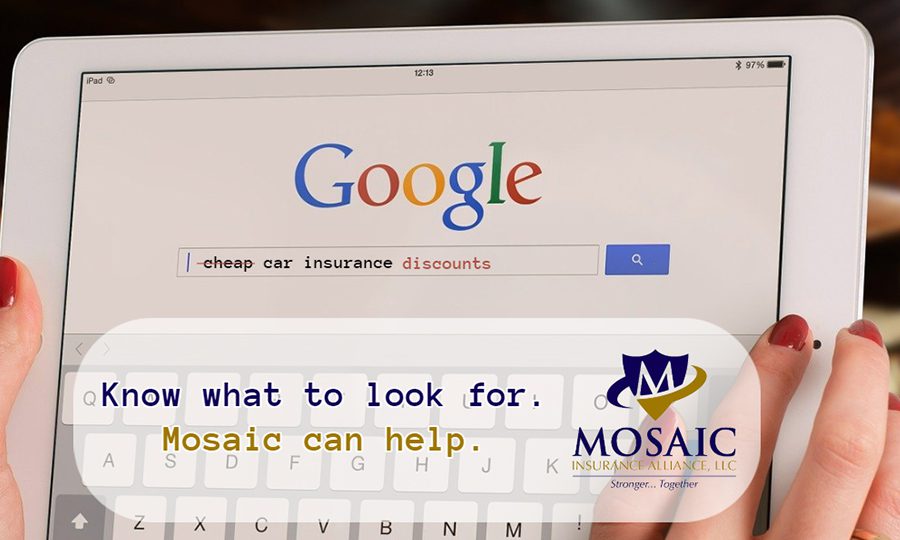 You've probably looked up "cheap car insurance" at least once in your lifetime. Saving money is awesome, but Mosaic Insurance Alliance believes that getting cheap quality coverage just to save some money on premium is not worth it. Especially since there are ways that we have helped countless clients save on their insurance premiums and not sacrifice coverage value.
Don't get us wrong—it is possible for you to get the same savings and discounts elsewhere…if you know what to ask at the right moment, or you happen to get a generic salesperson with an active attitude who has extensive knowledge of the current programs. (Someone you will probably only get to talk to once, since calling a carrier's mainline sends you to one of the many existing employees.)
When you work with an independent insurance agency, you are assigned to one main point of contact. While it is possible that you might talk to others on our team when your agent is busy—or you have additional needs that someone else on our team can help you with—you for the most part have one person with a direct phone number you can call. (Yes, that's right—no more long holds, pressing endless buttons to direct your call, dealing with a robot, and hearing elevator music!) In addition to being able to easily reach your agent, he or she will have knowledge of the industry and is trained to be ready to jump on opportunities at the right moment. And, that knowledge and fast action is how you have an increased likelihood to save money when working with an independent insurance agency like us.
When you work with Mosaic, you are talking on the phone to an insurance professional who feels it is important to build a relationship with you. You are the priority, not the insurance company. Your agent will take the initiative to figure out which insurance company is the best fit for you, determine what important endorsements should be discussed based on your situation, search for saving options, ask you if you qualify for a savings opportunity like a good student discount, and ask you if you are interested in other carrier programs that can save you money. You do not have to bring up items that are beneficial to you first. We bring that to the table automatically. Our wonderful team of independent agents also remain in the loop regarding new carrier products and services so that you are able to benefit from the new breakthroughs. You can view some of the carriers that we write insurance with here, including but not limited to, PEMCO, Progressive, Safeco, Nationwide, Travelers, Allstate, and Foremost.
How Can Going with Cheap Insurance Put You at Risk?
You get what you pay for. Sure, you can get some good deals on quality products, like when a top brand clothing store has a doorbuster deal for their new location. But usually, when something is extremely cheap, it is because it is cheaply made. Getting the cheapest insurance out there can come with risky consequences, like:
High restrictions on what is a covered claim.

Low claim limits, which can result in you paying out-of-pocket for covered damages that exceed the set value of what your policy will cover.

High deductibles tend to come into play when you have a low premium. A deductible is the amount that you as the customer pays when you have a covered claim—it can be a set amount, or it can be a percentage of the total insurance policy amount. So, if you were to get into a car accident, for example, and it results in damages of $2,000, and you have a deductible of $500, you pay the $500 and your insurance company pays the rest of the $2,000 (or up to your coverage limit) if it is a covered claim. The higher your deductible, the more that you have to pay before your insurance company will pay.

Extra fees are common when you deal with a cheap insurance company.

It can be a fight to get a claim covered. Afterall, if price is the only thing that was on your mind when you are looking for insurance, it is not surprising that the same thing goes for the company that you are doing business with. Cheap insurance companies are more likely to argue about what the value of your property was before the claim, and it can be like pulling teeth trying to get things settled.

Poor customer service is not uncommon and can go far beyond the resistance of covering a claim. Many people have noticed that working with these types of companies can be very frustrating and unhelpful when renewing policies, adding other drivers, filing a complaint, understanding what your policy covers, understanding what you need in your situation, etc. Bottom line? Typically, less of their time is spent making sure that you get what you need.

Customized items are not typically treated as such. Quality insurance companies tend to keep in mind the condition of your car, home, etc. before a claim happened. For example, if you kept your car in pristine condition since you bought it brand new from the car lot 25 years ago, and you upgraded it regularly with new technology, a quality insurance carrier is likelier to take that into consideration, and even ask you about it. A poor-quality insurance company is likely to just stick you with a replacement car/reimbursement that is equal to one they found that is the same year and model…one that had no upgrades and went through the wringer. Our teammates have heard some horror stories from clients about previous companies that were all about the budget.
How Can Mosaic Help You with Your Insurance Savings and Other Coverage Needs?
As mentioned, we actively search for how you can save money. When you are a new client, we shop our different insurance carriers and see what fits your needs at competitive prices. We know that "needs" mean both coverage needs and financial needs. When you are a current client, we still look for ways you can save when it comes time for your renewal. In other words, we do not leave you high and dry after we have already "won you over." You remain important to us throughout the years. Getting close to you and building a relationship with you is important to us. If you ever need anything during your policy period, we will be more than happy to help you and see what new options, promotions, etc. can benefit you.
Some ways we have helped our clients save money on insurance includes:
Good driving reward programs (also known as safe driver discounts)

Good student discounts

Low miles

Anti-theft discounts

Home safety upgrade discounts

Bundling home and auto

Umbrella policies

Letting our clients know that carriers reward loyal customers

Adjusting your claim limits so that they are stable and practical

Classic car insurance instead of standard car insurance for a classic vehicle

Placing you with the right carrier based on various factors like prior claims and current risks
Interested in any of the above? Give us a call! And remember, these are just some of the items that we look into when we do a free consultation for you. Get the full experience by reaching out to us. The insurance industry is always changing!
Also, don't forget—the cost of insurance changes for all kinds of reasons—claims, tickets, a spouse added to your policy, young drivers added to your policy, new state laws, etc. For example, Washington recently banned credit scoring as a rating factor for insurance premiums, which has resulted in many people seeing a significant increase in insurance prices. It is a temporary order, but there is always a possibility that it will be renewed. And, in the meantime, your premium might have been drastically affected. That is why it is always good to know your insurance options, be in the loop on possible insurance savings, and have an independent insurance agent who knows how to do all of that and more.
Mosaic is ready to do more for you.
Give us a call at 425-320-4280. You can also send us an email at info@mosaicia.com, or reach us by the chat feature here on our website. We also have a get a free quote form. You can also ask us about scheduling a video call. Don't you just love having options? We know we do!
We look forward to talking with you!