What is the value of an independent insurance agent (and getting your own policy)?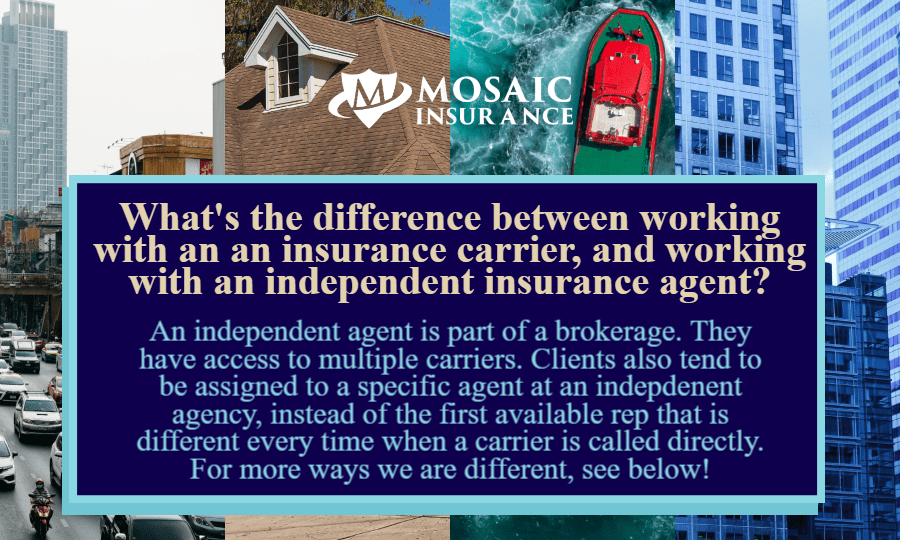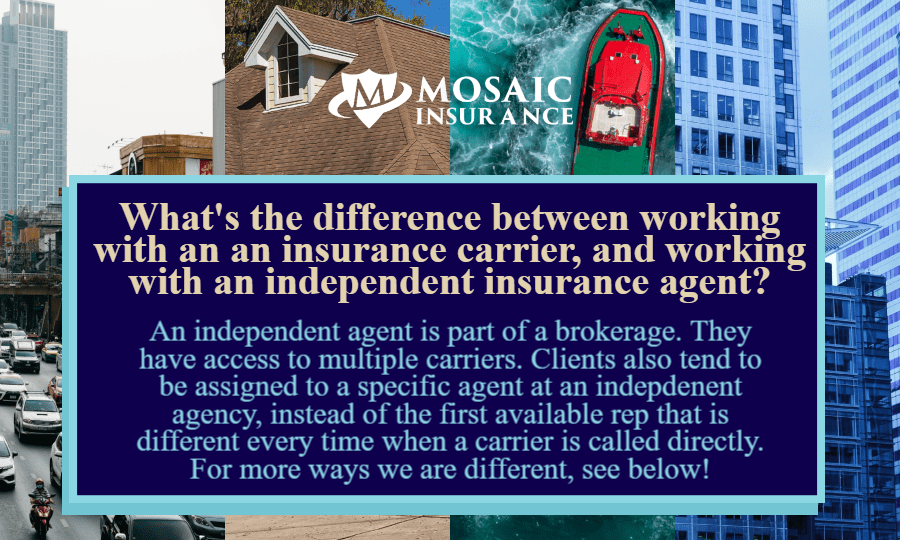 Why is it good to be independent? "Independent" can mean a person who has their ducks in a row. It can also be a word to describe a certain type of insurance agent. We mean both in this sense. Working with an independent insurance agent can help you get onto the road of successful independence. How? See below.
Do You Really Need Your Own Insurance Policy?
Why should you get your own insurance policy? There might come a time in your life when you need to get your own policy in order to have a covered claim. Also, getting your own policy means that you will get coverage that is tailored to your needs. Having stable coverage can help improve your chances of having a covered claim in the event of a loss.
Common reasons why people get their own insurance policy are:
They can no longer be on their parents' insurance.
They had a recent divorce.
Their spouse recently passed away.
When you are a young driver, going out onto the road of independence is more than just going to college, getting a job, and moving out. It is also about taking over other adult duties like paying bills in your name, being in charge of your medical insurance, and getting your own home and auto insurance. Insurance tends to be the last thing that people think about when describing the steps to new independence after high school…But it is still important. And insurance remains important throughout adulthood. We will guide you through your insurance needs as your life changes, whether it is because you need your own policy again now that you are getting a divorce or had your loved one pass away, or because you had a major life change like you just bought a home, you now own other items that need to be insured like a boat, or you want to explore life insurance options because you just got married or had a baby.
What Is an Independent Agent and Why Would You Ever Want to Have One?
An independent insurance agent is someone who works for an insurance broker, selling insurance products of various types from various insurance carriers. Mosaic Insurance Alliance is an independent insurance agency, also known as an insurance brokerage. As an independent insurance company, we write with over 50 insurance companies, we write all kinds of insurance policies for personal needs and commercial needs, and we write in various states. You can learn more about how we are independent here, as well as in our brochure
There are so many reasons why Mosaic loves being an independent agency. View our archive of 19 reasons why we (and others) love what we do here. You can also get to the PDF of 19 reasons to work with an independent insurance agent by clicking on the picture below. Additionally, you will find more explanation to the 19 reasons below this graphic.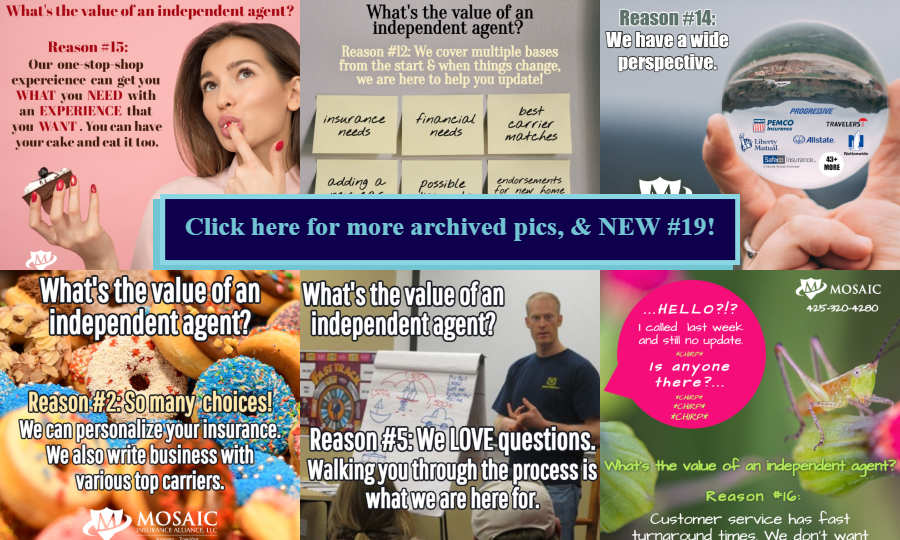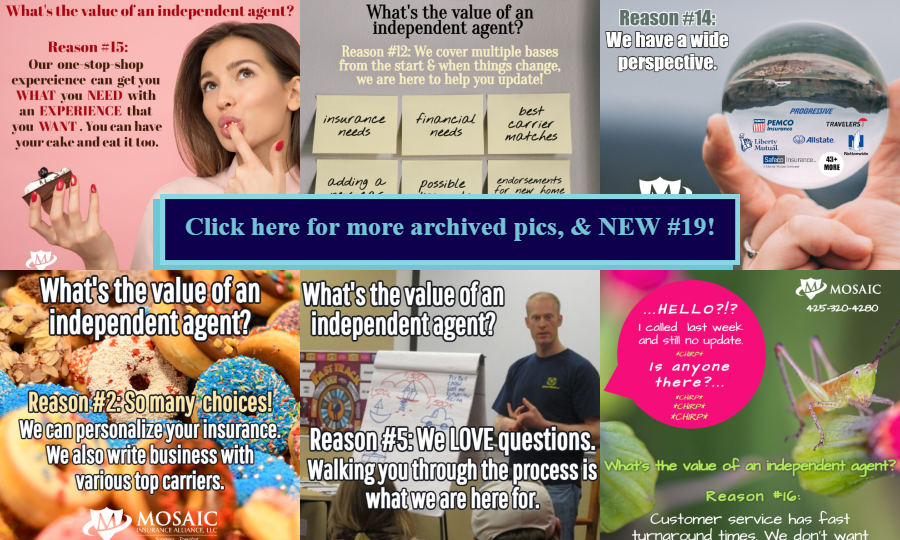 Why work with an independent insurance agent, reason #1: we do the footwork. Our customers find comfort knowing that all they need to do is chat with us about their situation, and then we do the nitty-gritty. They get to sit back and relax as we provide them with items like reliable coverage, different carrier options, and possible discounts. When our customers are happy, we're happy!
The value of an insurance broker, reason #2: you have more choices at your fingertips! We have the ability to personalize your insurance amongst a wide range of carriers. We also can help you with policies that are with different carriers, aid you in getting personal and commercial insurance, and possibly help you across different states. We are licensed in: WA, OR, AZ, & ID (personal insurance); WA, OR, AZ, ID, CA, CO, MT, NV, TX, & AK (commercial insurance); WA, OR, AZ, NJ, CA, CO, MT, NV, TX, & AK (cannabis commercial insurance).
How working with an independent insurance agency can help you, reason #3: we treat you the way that we would want our family treated. You are like family. We would not be here if it were not for you. Our professional agents have knowledge of the industry and experience in circumstances that you might face. Each day since 2010 when we opened, we have aimed to treat prospects and clients the way we would want our family or friends treated. As our online reviews show here and on Google, relationships and reliable protection are a must for us.
Why you might like working with an independent insurance company, reason #4: you will talk to real people—you'll not have to wait on hold and deal with robot menus. Automated menus serve a great purpose, but they can also take you down the rabbit hole and tend to be frustrating. Being on hold for very long lengths at a time, and hearing repetitive elevator music while you wait, is not very fun, we know. When you call Mosaic, our awesome teammates answer the phone and direct your calls. If your agent is not available right at that moment, setting up call backs are fast and easy. You do not have to be told they are not available after 5 minutes of pushing so many buttons and waiting on hold for an additional 15 minutes. Also, if you need immediate assistance, we of course will do whatever we can to see if another teammate can assist you. We are people just like you, so we know how busy life can be.
How an independent insurance agent can help you #5: we love insurance questions, and we're ready to give you answers. Your Mosaic agent is here to answer any questions that you may have. Working with an independent agency means that we devote time to not only your insurance, but you as an individual. We're here whenever you need us. If you need more clarity on your policies, options, requirements, etc., call us. You can find your agent's direct contact information here. Also, in addition to answering questions, we love sharing information with our clients through publications of tips and news. Check out our archive for a collection of life tips, important insurance news, coverage-specific insights, and more.
The benefit of working with an insurance broker #6: we do not work for the insurance companies—we work for you. Mosaic is an independent agency. We work for you, looking at the different carriers we do business with and figuring out which carrier is a best fit. When you work with us, we will create policies that meet your coverage and financial needs. We are proud to say that our clients always come first.
How working with an insurance brokerage company can be beneficial to you #7: filling out tons of online applications is a thing of the past when you work with us. With Mosaic, you come to one place to get quote comparisons with different insurance companies. No more hunting down different carrier websites and filling out endless forms for you! We like one-and-done things, don't you?
Why you might like working with an independent insurance company #8: we have the connections. Being professionals in our field for numerous years, we have built relationships with different people in the industry. Our connections benefit our clients, whether it is something like having access to more knowledge on a topic, or the ability to find better insurance or rates than those that you found in your search.
Benefits of an insurance agency #9: you'll receive the right mix of savings, quality, and service—what we like to call the sweet spot. Having money is definitely something to reach for. Having quality coverage is a great goal. Getting great service while you shop is a score. It is all about the sweet spot—aiming for the best of ALL worlds. Mosaic is an independent agency that essentially does a balancing act for you. We look for possible savings, we customize insurance that meets your coverage and financial needs, and we help our clients like we are getting insurance for our family or friends.
Pros of working with an insurance agent #10: you will have someone in your corner to guide you in the right direction regarding coverages that vary state-to-state and carrier-to-carrier. Our team of insurance agents keep in the loop on new state regulations and coverage options. As an independent insurance agency with over 50 carriers, our team also knows the ins and outs of policy differences. This allows us to better place you with a carrier. We also help direct you on how to report a claim if you need guidance in the next steps before you contact your carrier to report your loss. (See some claim story images here, which are part of the blog post Mosaic Insurance in Lynnwood, WA Has Some Claim Story Pictures That Might Surprise You!)
Benefits of working with an independent insurance agent #11: giving you a fast turnaround is our daily goal. Not having to talk to robots and avoiding long phone holds is great. So is having just one agent assigned to you. If you work with one of our independent insurance rock stars, you'll be able to experience fast turnaround times because of our one-on-one setup that allows us to connect with you on a deeper level and make the communication process easier. While some things might take some time now and again, getting things done for you as soon as possible is always our daily goal. We will also keep you in the loop and let you know that we are working on getting you what you need.
Ways that an independent insurance agent can help you #12: we cover multiple important items with you from the moment we meet you, and we are also here to give you updates as things change over time. Our insurance process has many working parts. Some of the steps we take to help ensure that our clients are having a good quoting experience are pictured in the PDF on slide 13. What do you value in your current insurance person or carrier? If you cannot think of 5 things right away, give us a call!
Why you might like working with an independent insurance company #13: we have the ability to expand and seek out all kinds of partnerships. Mosaic's independent insurance agents always have the room and means to grow. We have different carriers we can quote you with, various endorsements to help expand your coverage and meet your needs, various partnerships that help us get insurance at competitive prices, and more. We also love that we write insurance in different states, and that we help a new local charity each quarter with our referral program. We are ready to help you, your family, your friends, and the local businesses that you love.
Why people like working with independent insurance agencies, reason #14: we have a wide perspective. Not working for the insurance companies, and instead working for you, means that we have a wider perspective in the insurance industry for finding what can work for your personal and business situation. Also, writing in multiple states, and writing with many top insurance carriers in the country, gives us insight to all kinds of aspects and availabilities in the insurance industry. Find out what else we have to offer by talking to your very own independent insurance agent!
What clients say they like about an independent insurance agent #15: our one-stop-shop experience can get you what you need with an experience that you want. Basically, you can have your cake and eat it too. Who'd want a delicious cake under their nose that they couldn't eat? The "You can't have your cake and eat it too" saying has been debunked in our world of insurance. We are more than happy to serve you all that you can eat. Our personal lines and commercial lines clients have told us over and over again that they love our insurance personalization opportunities, whether it be the ability to personalize their insurance policy, choose amongst different carriers, apply different discounts, or talk to a real person who can make changes that fit their needs and desires. We are ready to serve you too!
Why working with an insurance agent might be beneficial to you, reason #16: our customer service has a fast turnaround time. We don't want you to hear crickets either. Nothing is more aggravating than having a problem with a company and trying to figure out which department to talk to…Getting bounced from person to person and repeating your story just to hear crickets for days is not cool. It doesn't have to be that way with insurance. You are assigned one insurance agent when you work with Mosaic. They know you and your account. If you have a problem, question, feedback, etc., you do not have to investigate. Just call up your favorite Mosaic teammate. Their top goal is to help you get what you need in the way that you want.
Something that people love about independent insurance agencies #17: you will get the relationship that you want. We love making you happy! If you'd like to feel like you're talking to a friend about your insurance, we'd love to get to know you and get you the coverage that you need. If you'd rather just call and get the insurance you need without socializing, we'd also love to meet you and get you the coverage that you need. Having an independent agent means that you can easily have the business relationship that works best for you.
Why some people and companies like working with insurance brokerages #18: we do not have carrier bias. We choose whichever insurance company is best for you. We take a look at our carriers, and we see what is best for you based on your coverage needs and financial needs.
What's the value of an independent agent #19: we make it easy and simple to add coverage or transition you to your own insurance policy. Working with Mosaic Insurance Alliance gives you the one-stop-shop experience. We can help you with coverage amongst different carriers, get you personal and commercial insurance, help you with you life changes like adding a teen driver or getting your own policy, and help you with a wide range of coverage for all the other different aspects of your life. Give us a call at 425-320-4280, or email us at info@mosaia.com or commercial@mosaicia.com.
That's all of our insurance lifelines for now. Follow us on social media for future splashes! We are on Facebook, Instagram, Twitter, LinkedIn, and Pinterest. Also, if you ever have any questions, we have a frequently asked questions (FAQ) page, and you can always call us up or send us an email
.