Via their 2020 referral program, Mosaic helps a local nonprofit that in the Pacific Northwest that helps seniors 
Thank you to each and every one of our clients who helped us raise $770 for Lynnwood senior facility, Homage! For each referral you sent to your loved ones, Mosaic Insurance donated $10. Thank you so much for taking the time to give kudos to your favorite independent insurance agent and giving us the opportunity to help those you care about get protected.
Homage dedicates their time to not only helping the seniors who live at their facilities, but also the seniors who are in the community and are living in their own homes. Their team is dedicated to helping people get the resources that they need to continue living entirely on their own and/or living outside of facility care with loved ones. Some of their services include: Meals on Wheels, Wellness Classes, Minor Home Repairs, Multicultural Services, and Dial-A-Ride (DART).
In addition to unconditional support and desire to help their clients achieve their goals and dreams, Homage loves sharing stories of all the people that are part of their community. For example, to help spread support and awareness, Homage features Make Your Mark stories and pictures for one of their Senior Companion Programs. This program allows seniors in the community to become a companion of one of Homage's seniors, helping their patients meet others they can relate to. Like Peggy who is pictured below, this buddy system allows one-on-one interaction with 2-4 seniors a week who share similar interests. In this program, the volunteer will also help the Homage patient with daily living tasks so that they can stay in their homes. More details here.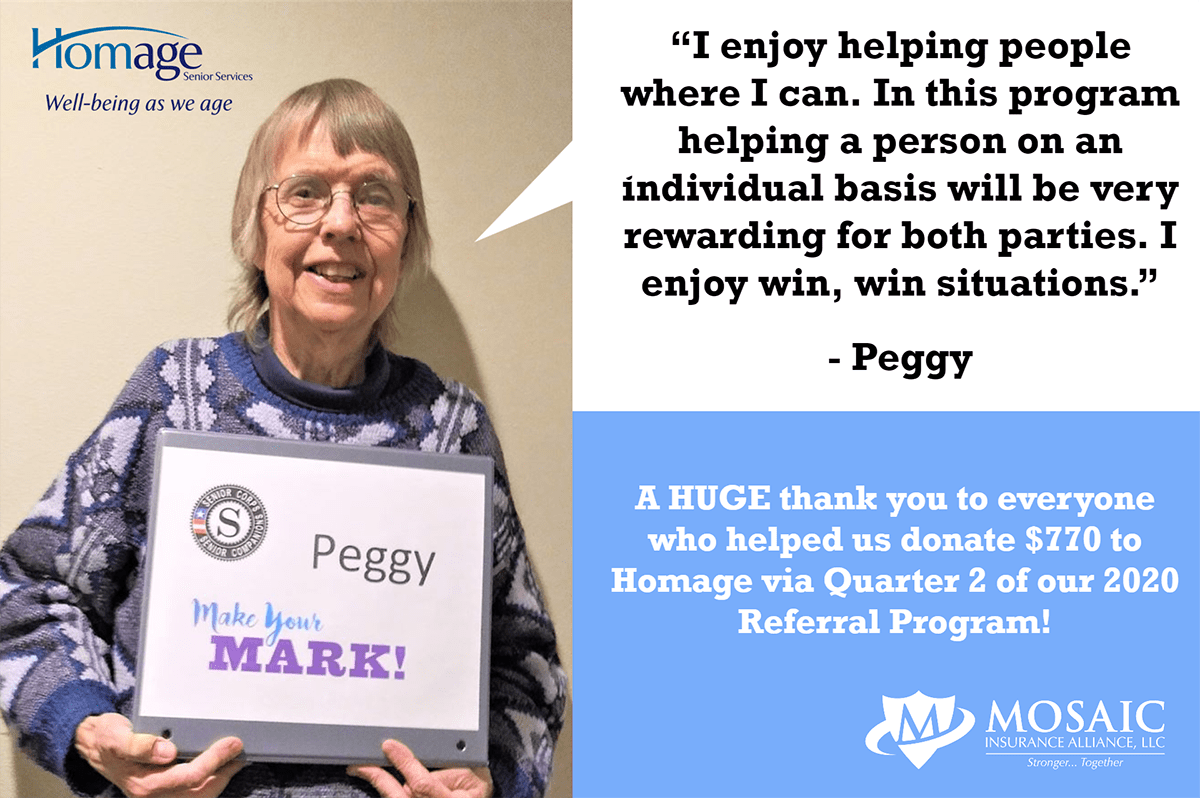 Mosaic's referral donation to Homage will help the nonprofit with services and programs like the Companion Program. With the recent coronavirus shutdown for the last few months, Homage has had their community and funds impacted significantly, as well as their volunteer hours, so every bit helps. If interested in volunteering, Homage has recently reopened some of their volunteer services, and they have found new virtual ways of community service.
Do you think that this charity is just awesome, and you want to stay connected? To connect with Homage, you can visit their website and following them on Facebook, Twitter, Instagram, and LinkedIn.
Our next charity of the quarter (July 1-September 30) is Domestic Violence Services of Snohomish County located in Everett, WA. Mosaic donations will go towards items like shelter, clothing, food, transportation, etc. for children, teens, and adults affected by domestic violence in our community.
Quarter 4 will be here before we know it! If you think there is a charity that would be perfect for our referral program, we are all ears! Please let us know what local charity you think need help currently. We are looking for a Snohomish County charity for the fourth and last quarter of our referral program (October-December 2020). Our Marketing Manager, Meagan Baron, can be reached at (425)-247-0208 or Meagan@mosaicia.com .
Let's pay it forward one referral at a time! Thanks again to the wonderful people at Homage, and our amazing clients, for making this possible and spreading awareness to the great cause.