Mosaic Insurance has answers to common questions & a PDF of hard facts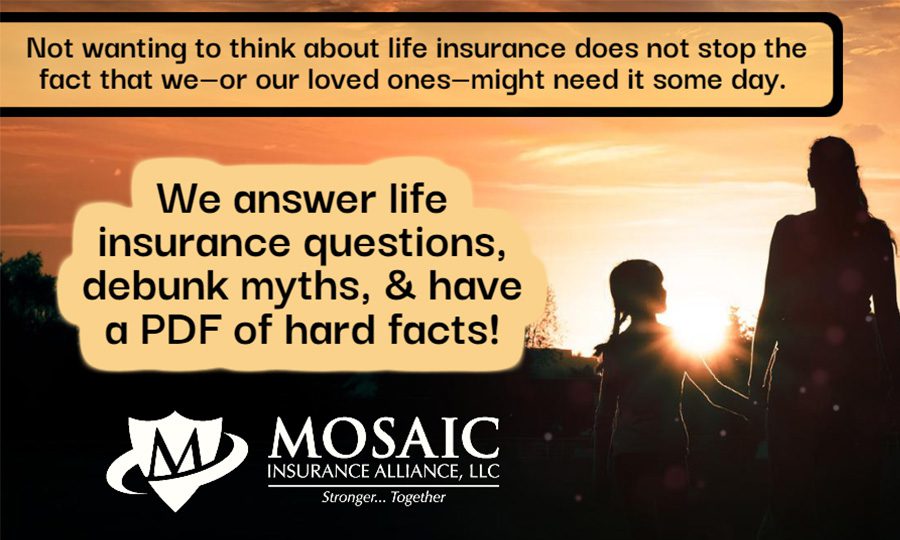 We know that life insurance can be the big elephant in the room. We don't want to have to think about what would make us need it. But, not wanting to think about it does not stop the fact that we—or our loved ones—might need it some day. Below are some nice nuggets of information to start with. And, we are here if you want to learn more!
What Do I Need to Know About Life Insurance?


Life insurance can be an essential part of financial and legacy planning. If you are wondering if life insurance is worth it, or what information is important to know, read my bullet points below.
How much does life insurance cost? The average cost of a life insurance policy ranges from $35 to $55 per month. The true cost varies by the type of insurance, the coverage amount, and personal factors. Contact me directly to discuss what your factors are.
When shopping around for coverage, you may come across various products that fall into two main categories: term life and permanent life. Understanding the essential differences between these two main types of insurance can help you make coverage decisions according to your needs and goals. I can help you. Call me or email me.
Insurance is more affordable than you think. Term life insurance is typically the cheapest form of life insurance because it has no cash value and only covers you for a specific number of years.
There is another option to get life insurance for a very minimum price—through your work. However, getting life insurance solely through an employer has serious drawbacks. The coverage is largely inadequate and it's contingent of your employment. You can't take it if you switch jobs.
Age isn't the only factor used to set your rates. Life insurance premiums are also based on your health, driving records, habits, hobbies, and more.
Risky habits and hobbies will cost you. Risky habits life skydiving or smoking often lead to higher rates. However, there are life insurance companies that are better for former smokers than others—ask me about them!
An online survey conducted in January by LIMRA, a non-profit research group that educates consumers about insurance, found that the COVID-19 pandemic is lifting the likelihood to buy life insurance for many consumers. Almost 1 in 3 (31%) say they are more likely to buy because of the pandemic.
I am ready to talk to you more about life insurance, address any concerns that you might have, and answer all of your questions. I speak both English and Spanish fluently. Give me a call at 425-212-1814, or email me at Claudia@mosaicia.com. You can also read my bio here to learn more about me.
Why Do I Need Life Insurance?


We have life insurance because it gives us peace of mind that if anything happened to us, our future income would be replaced for a period of time. It would also allow for the grieving spouse to have funds to make decisions and hire help where they no longer have a partner to assist.
Below are some of the top things that I make sure to tell my clients about life insurance.
How much life insurance do I need? A good rule of thumb is 10 times your annual salary.
Evaluate your financial situation…Consider what expenses you would have if you were to lose your life partner today. What do you want the future to look like for your surviving spouse and children? Do you want your family to have time to grieve, funds to hire help, funds to put your children through college?
What do you want your life insurance policy to do for you? Burial expenses? Pay off mortgage or debt? Advance payment if you are considered terminally ill so you have funds to make memories with your family or afford treatments that may prolong your time? Have a legacy to pass on to future generations?
Prepare to answer many questions including health and lifestyle questions. Know that if you use tobacco, have a high BMI, or have pre-existing conditions it would be much more difficult or expensive to get insurance in place.
Insurability. If you are in your 20's and healthy you may think you don't need insurance yet. What would happen if you developed a disease that would eliminate your eligibility to get life insurance?
Affordability. It's much more affordable to lock in a 30-term policy for someone in their 20's or 30' s than in their 40's or 50's, and you can have the same premium for the life of the policy.
Want to talk to me more about life insurance? I am ready to assist you! You can contact me by phone at 602-607-2283, or by email at Marcy@mosaicia.com.
Also, there is something else that might interest you or someone you know—I sell Medicare Insurance! Whether you are new to Medicare or have been enrolled previously, let me make sure you have the right plan for you. We have Medicare Advantage and Supplement Plans, and we have multiple carriers in Washington, Oregon, Nevada, and Arizona.
Important Life Insurance Facts from Some of Our Insurance Carriers:
Let's highlight some hard facts about life insurance from some of our carriers, shall we?
Some Other Tips for You to Save:
1. We can help you with all kinds of life insurance, including personal life insurance, key person life insurance, and child life insurance. Ask us about how we can help you get life insurance with "full living benefits," disability income insurance, "tax-free" retirement income savings plans, annuities, and long-term care insurance. You can also ask us about how umbrella insurance can help you!
2. "How much life insurance do I need?" We get that question a lot, and we are ready to help! You can either call or email us right away, or first do the insurance calculator below and then contact us. You can also get a printable PDF of our calculator with more information on the A-D variables here.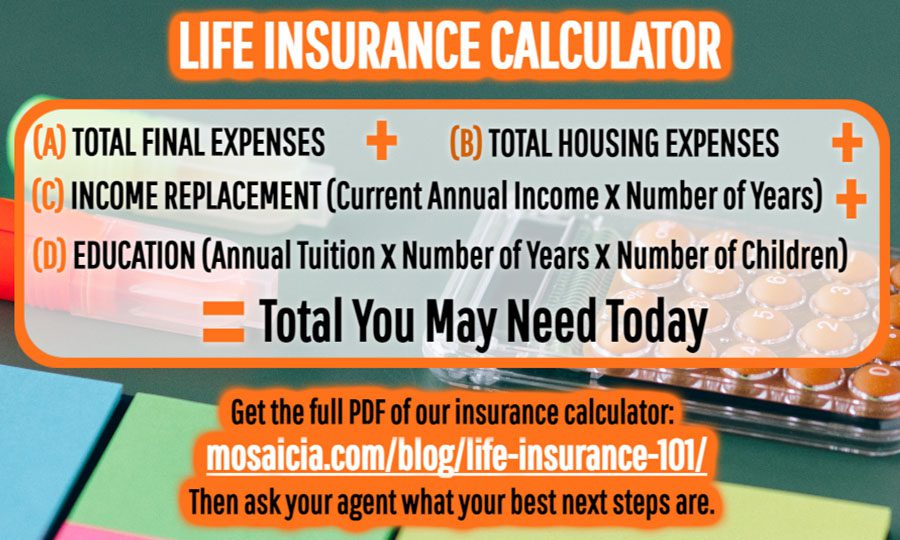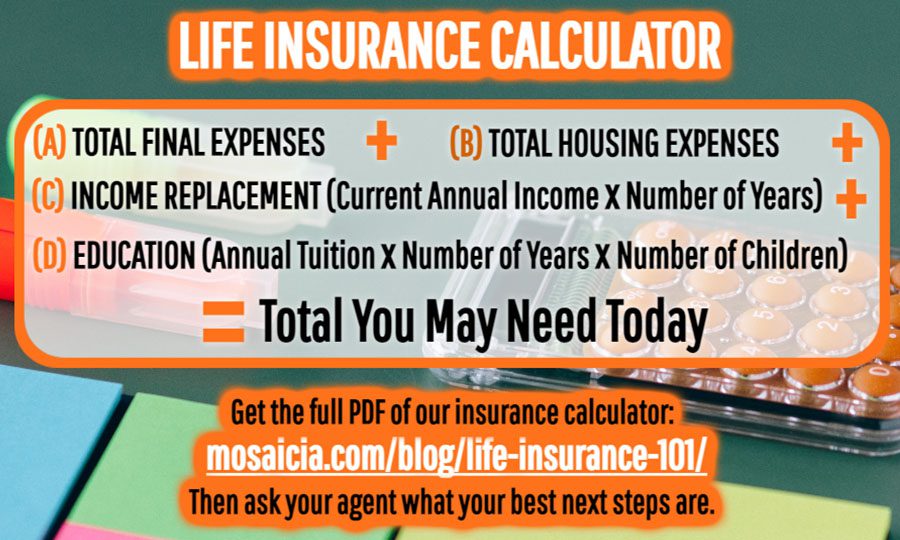 3. In addition to providing an insurance calculator PDF, our Life Insurance 101 blog also discusses different types of life insurance plans and how to help decide which one is best for you. For example, what is the difference between term and permanent life insurance? Read our blog and find out!
4. Since 2004, September has been dedicated Life Insurance Awareness Month to help educate the public about their options and debunk common misunderstandings and stigmas. For example, a common viewpoint is that life insurance should be called death insurance since it is something you are paying into that is reaped after you die… Well, that does not have to be the case. Life insurance can help with expenses during your life—such as if you were to develop cancer down the road and you needed help with things like medical bills and nursing care.
5. Other common life insurance myths:
It is always EXPENSIVE.
As you go up in age, your premiums will go up too.
Life insurance is only for the elderly, parents, and those who are married.
People with existing health issues cannot get life insurance, period.
How much do you really know about life insurance? Are you a myth buster kind of person? Well, our blog here talks about additional life insurance myths and then presents the facts. Go and find out if you know the main myths! Afterwards, let's have a call or email chat.
6. Are you a business owner? Even though we recommend our clients to get personal life insurance policies, having an additional policy through their employer adds an extra safety net. If you are looking into broadening your employee benefits to include life insurance, we are ready to provide you with a free quote and answer any questions that you might have. You can read more about key person life insurance for your company here.
Are You a Life Insurance Expert Yet?
Don't worry! You don't have to be! That is what your Mosaic independent insurance agent is here for. We are ready to give you a free life insurance quote today. We are also ready to answer all of your questions (which are free too!).
In the meantime, you can save this PDF of key things that this blog post talks about. Also, feel free to share this blog post and PDF with your friends, family, students, and more. Knowledge is power!
We are "Stronger…Together," as we always say. So, if there was anything in this blog that we did not cover that you are wondering about, let us know! Our team has many years of experience that cannot be summed up in a blog post!