Lynnwood independent insurance agency, Mosaic Insurance Alliance, raised donations for local domestic violence shelter

Thank you to each and every one of our clients who helped us raise $770 for Lynnwood senior facility, Homage! For each referral you sent to your loved ones, Mosaic Insurance donated $10. Thank you so much for taking the time to give kudos to your favorite independent insurance agent and giving us the opportunity to help those you care about get protected.
October is Domestic Violence Awareness Month, so now is the perfect time to announce our quarter 3 referral program results for 2020! Thanks to our awesome clients, Mosaic Insurance was able to donate $630 to Domestic Violence Services of Snohomish County (DVS)!
We are super grateful to everyone who sent their loved ones a referral to do business with us. When you sent your family member, friend, coworker, neighbor, etc. to your favorite Mosaic agent to get a personal and/or business insurance quote, we donated $10 to DVS.
How will your referrals help the DVS shelter?
DVS has numerous programs, events, and additional resources throughout the year that help their clients in all areas of their lives. Our donation will go towards those items, like the client event pictured below. Each year, DVS throws a Fall Harvest and Halloween party for the women and children in their Snohomish County shelter. A local farm usually donates pumpkins, while other local organizations donate food, candy, and supplies for games, decorating pumpkins, and more. You can view some of DVS' other client support items here, and their community functions here.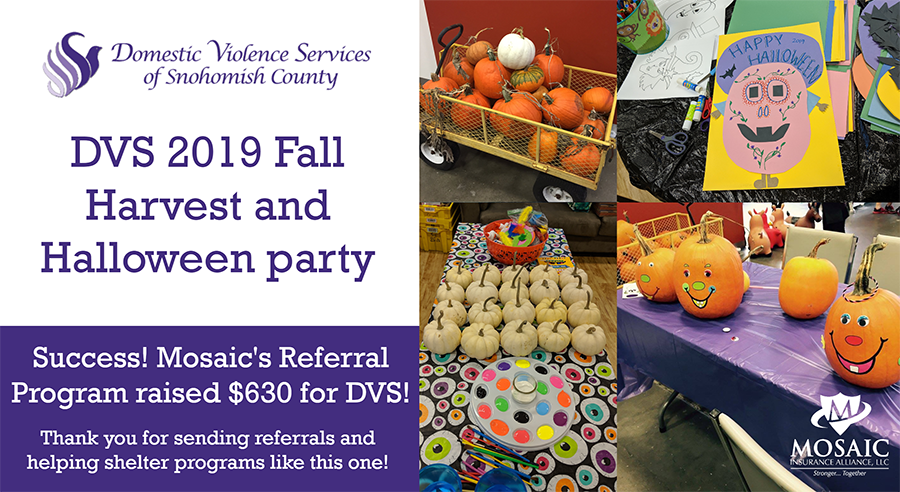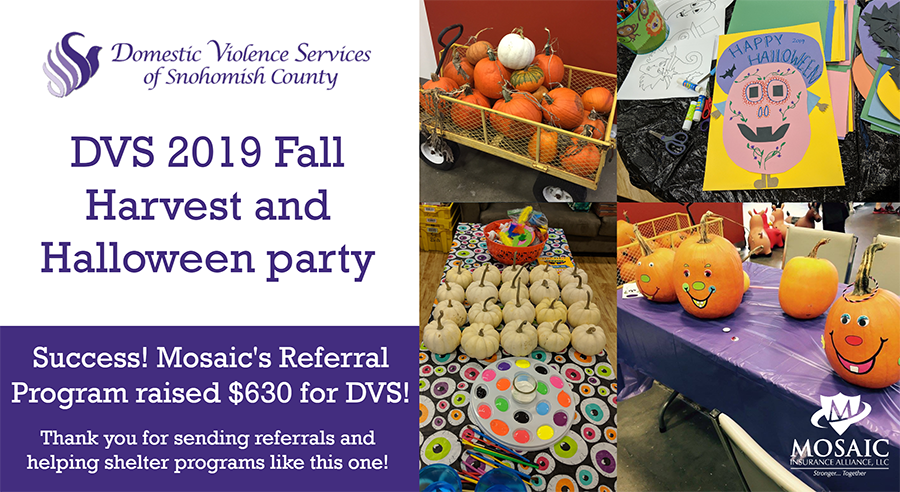 Are you passionate about helping people who are impacted by domestic violence?
For ways on how you can help those in the Snohomish County area, visit DVS' volunteer and donation page. You can also stay connected with DVS on Facebook and Instagram. If you want to contact DVS, you can reach out to them here.
What is next for Mosaic's referral program?
Quarter 4 started October 1 and ends December 31, 2020. For the last quarter of the year, Mosaic has chosen The Marysville Community Food Bank! The food bank has had some rough times due to the coronavirus—more people in need, needs have increased for pre-existing clients now that kids are being homeschooled, there are less donations and limited volunteers, hours have been shortened, etc. The Mosaic Insurance referral program donation will help them with needed items like food, diapers, pet food, toilet paper, body soap, laundry soap, feminine hygiene products, etc.
The more referrals Mosaic receives, the more money we can raise for the food bank! Sending a referral is fast and easy:
1. Give us the contact information of the person you want to refer
2. Or, give the person you want to refer our contact information. When they reach out to us for a free insurance quote, all they need to do is say that they were referred by you.
Do you have ideas on how we should start the new year?
We still need a local charity for the first quarter of 2021! We will be choosing a charity sometime in early December 2020, so if you think there is a Snohomish County charity that really needs help and would be interested in being a part of our referral program, please let us know. The first quarter is from January 1 to March 31, 2021. You can contact our Marketing Manager, Meagan Baron, at (425)-247-0208 or Meagan@mosaicia.com.
Thank you again for helping us pay it forward one referral at a time! Our saying "Stronger…Together" holds true! If it weren't for you, we would have not been able to spread awareness about DVS' great cause.