Mosaic Insurance Alliance in Lynnwood thanks Dawson Place for last quarter's journey and the opportunity to donate $510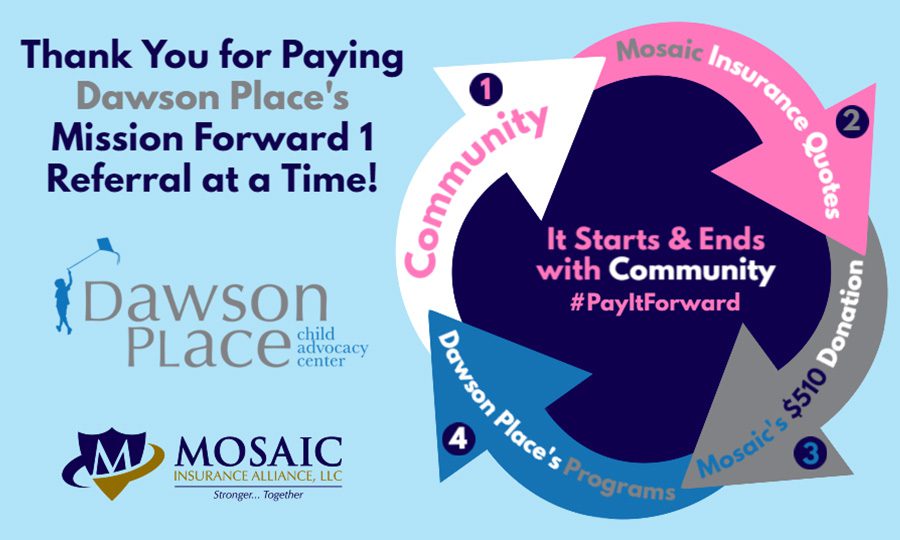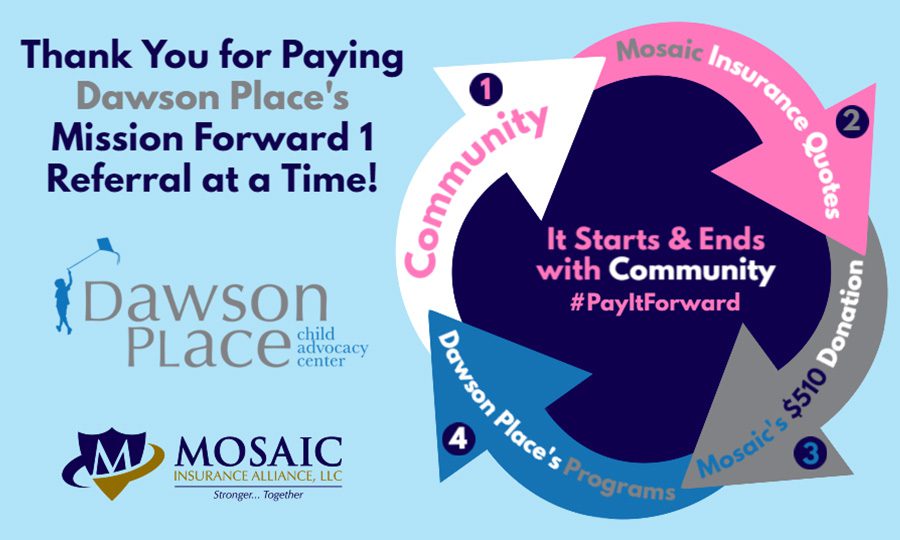 "Achieving your goals is an ongoing journey. Always remember on the path to progress there will be down days, days where you feel you are going backwards, and bumps in the road," said our last quarter charity for 2021, Dawson Place Child Advocacy Center in Everett, WA.
Last quarter's journey was an experience that Mosaic Insurance Alliance will never forget, and we want to thank those who sent us insurance referrals! Thank you for trusting Mosaic Insurance to help your parents, sisters, brothers, neighbors, coworkers, best friends, old college classmates, your favorite local diner, and more with their personal insurance and commercial insurance needs. With your help, we were able to donate $510 to Dawson Place!
Donations like ours help nonprofits like Dawson Place give needed resources and services to the community. In other words, paying it forward one referral at a time helps local support come full circle, and we couldn't do it without you!
Sharing Dawson Place's 2021 Journey
Over the course of 3 months, we had the opportunity to get closer to the Dawson Place team and share their excitement for their goals, journeys, and progress throughout 2021. After all, the fourth quarter of the year tends to reflect not just October through December, but the entire year as a whole.
Through social media posts and monthly postcards, we were able to help spread awareness about Dawson Place and services they provide. We enjoyed sharing with our clients and followers the unique items that make Dawson Place who they are, such as inspirational quotes that they share regularly, their therapy dogs who help provide comfort to children during forensic interviews and while attending court, local events and workshops that help people get all kinds of education and support, hands on the ceiling that allow kids to physically let go of their worries and show them that that they are not alone, and community donations that help children feel loved and get items that help them cope with trauma such as journals and coloring books.
Through Dawson Place's nurturing involvement, expansive departments, and endless determination to help everyone achieve their own success story, our followers were able to learn more about different rights that every child, teenager, and adult deserves, such as:
The right to file criminal charges
How to report abuse and get help from law enforcement
The ability to seek protective services
The means on seeking out healthy medical and mental wellbeing
In addition to legal help and abuse advocacy, uplifting community spirits is a core element that Dawson Place makes sure to incorporate as part of their daily mission. For example, if you are wondering how to kick off the new year and set yourself up for success, check out their 2022 action plan blog. Additionally, you can follow them on these social media platforms for more inspiration throughout this year and many years to come:
What Do They Have Planned Next?
As part of their 2022 action plan, Dawson Place will be continuing their yearly Incredible Years Parenting Program in mid-February, expanding the curriculum and looking forward to new attendees!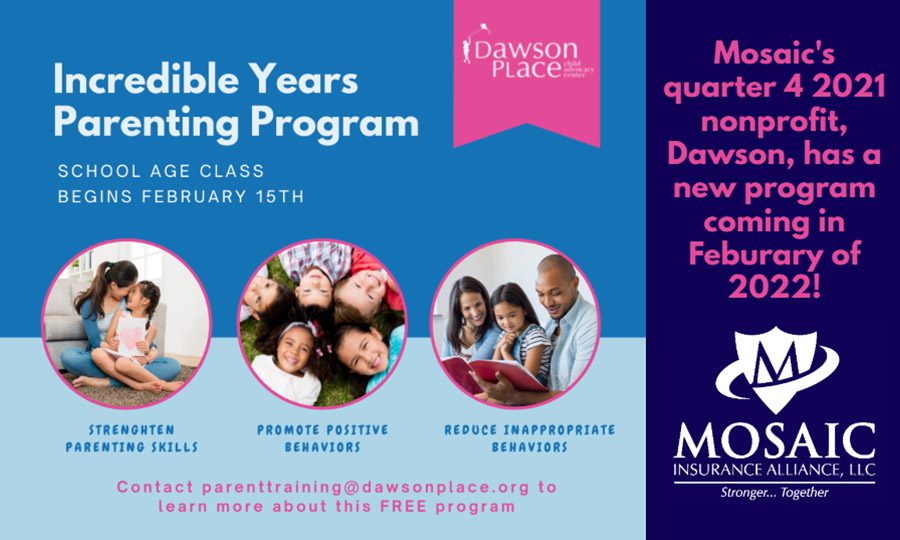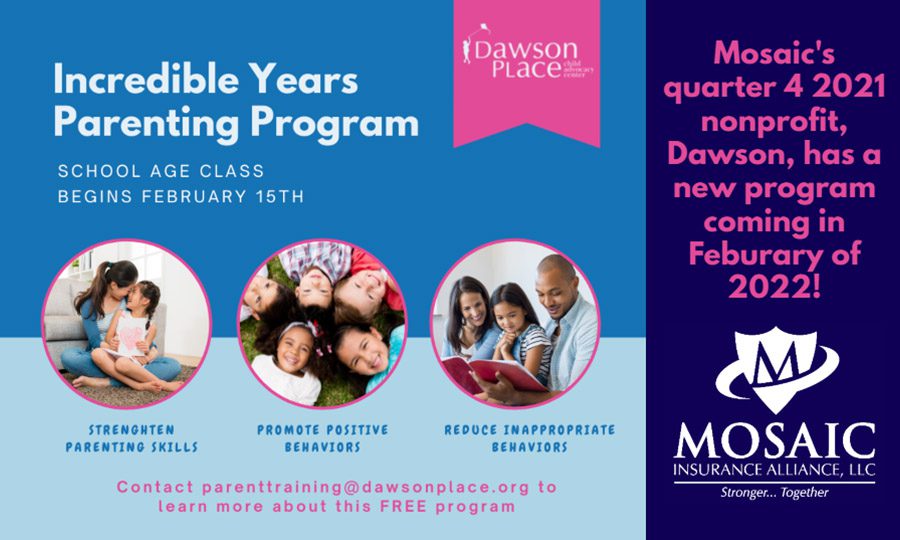 Incredible Years is a free 16-week program for families with children ages 3-12. In the program, families will be guided by professionals through hands-on training. Once a week from 6 pm to 8 pm, there will be group discussions, practice exercises, and/or workshops on problem solving skills.
As one parent said after taking the class: "'The Incredible Years' parent training gave our family a tutorial on recognizing what we need in ourselves to become more than a well-meaning confused spectator. This class taught us how to implement what we learned and impact the lesson by being able to share it with one another so we 'get' it. By sharing our combined challenges and experiences, we helped each other learn to grow. Shared stories evolved from challenges to successes."
If you are interested in signing up, you can email their program department at parenttraining@dawsonplace.org.
Sherwood Kickstarts Our 2022 Referral Program!
Each and every time you refer a loved one to Mosaic Insurance for a free insurance quote, we will donate $10 to our current charity of the quarter. Referring your favorite insurance agent to someone you know means that we exceeded your expectations. We enjoy helping your family, friends, neighbors, coworkers, and favorite local business owners like we helped you, and we thank you for the opportunity to do so! When you trust us with your insurance needs, and the insurance needs of your loved ones, it puts a big smile on our faces.
Our nonprofit for the first quarter of 2022 is Sherwood Community Services in Lake Stevens, WA! Sherwood exists to make a difference in the lives of children and adults with disabilities throughout Snohomish, Skagit, Island and San Juan County. Each day, they aim for an inclusive society by helping children meet their developmental milestones; educating the community on respectful language and inclusive hiring practices; and supporting individuals with disabilities to live full, independent lives. Every child deserves an equal start in life and every adult deserves equal access to their community. Sherwood is always there to help, whether it is by spreading awareness about common roadblocks, providing guidance in different areas of life, supplying vocational and early intervention support, or giving access to resources like how-to videos and tip blogs.
In addition to visiting their website and joining their e-newsletter (via a form at the bottom of their homepage), you can follow them on…
Sending a referral only takes a few short minutes and it is really easy!
(1) You can give us the contact information of the person or business you want to refer by calling us, emailing us, or filling out our website referral form.
OR
(2) The person or business you want to refer can reach out to us directly and let us know that you referred them. They can call us at 425-320-4280, or email us at info@mosaicia.com.
Then we do the rest! We will get in touch with the person your referred to us and talk to them about their insurance needs. During the quoting process, one of our insurance agents will explore coverage options, see which carriers are ideal based on financial needs and coverage needs, and look into what insurance discounts may be available.
I would love to help Sherwood get noticed, but who can I send a referral to?
Most people have insurance in one form or another, whether it be car insurance, home insurance, business owners insurance, boat insurance, or life insurance. Therefore, anyone that you know might be interested in getting a free insurance quote. The insurance quoting process allows us to explore options and see if your loved ones are where they want to be, or if they would rather make a change. Common changes we see include increasing insurance limits, switching to a new carrier, adding an endorsement, looking into additional coverage, etc.
Our team is great at making conversation, evaluating needs, and answering questions! We are ready to help anyone in your life, such as:
1. Friends
a. Including those who speak Spanish! We have two fluent Spanish speakers on staff!
b. We also have connections with those who speak other languages.
2. Parents
3. Grandparents
a. Ask us about what options are out there for older drivers!
4. Siblings—including teen drivers!
5. Neighbors
6. Coworkers
7. Local business owners and specialized businesses, including but not limited to:
a. A favorite restaurant, mom and pop shop, etc.
b. Boutiques
c. Nail salons
d. Barber shops
e. Clubs and bars
f. Contractors
g. Churches
h. Auto repair shops
i. Landscapers
j. Hotels
k. Veterinarians
l. Delivery services
m. Rideshare services
We look forward to what the new year will bring! If you ever need anything, you know where to find us.