Tips for avoiding car prowlers, what do to if it happens to you, & understanding car theft insurance claim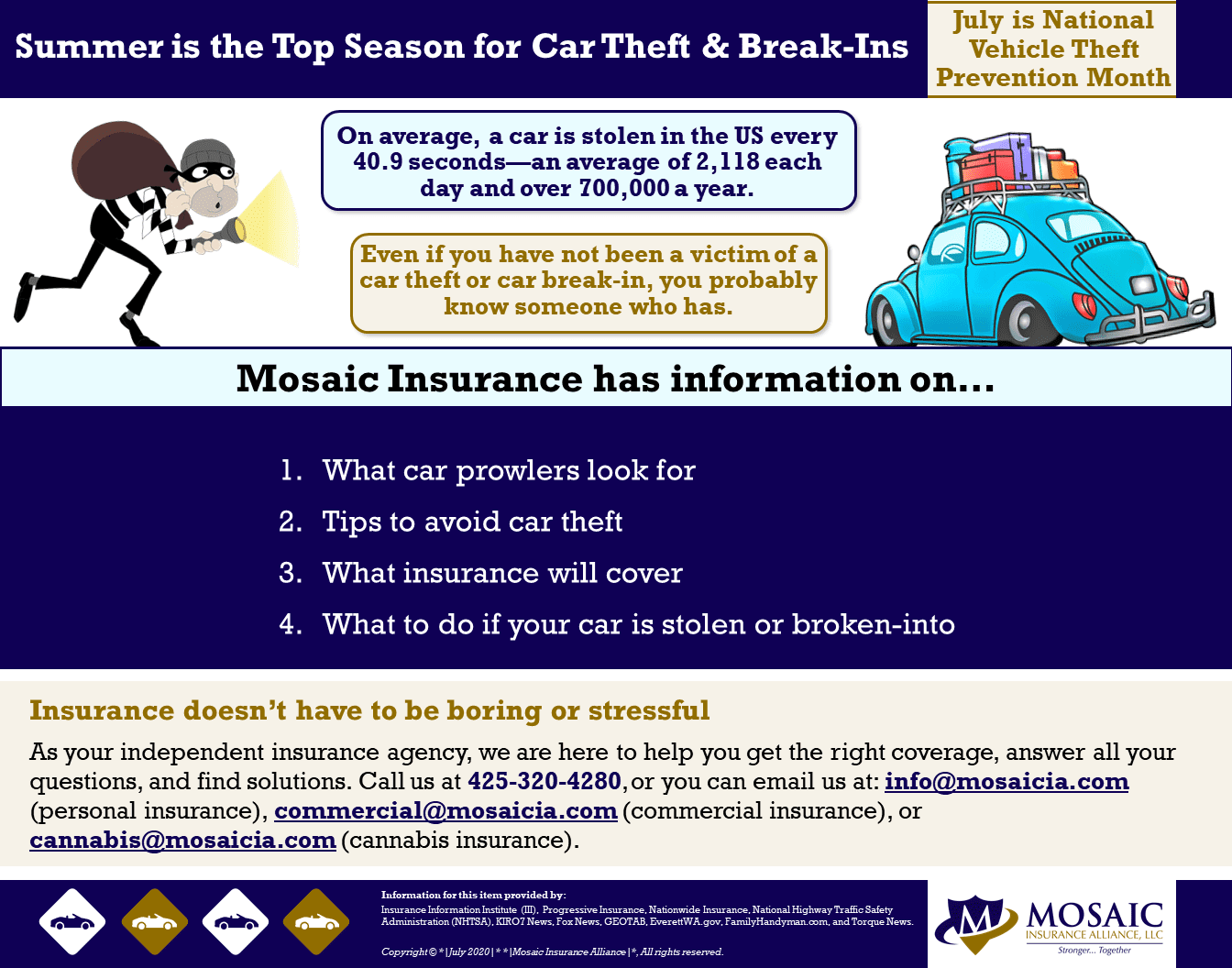 Summer has proven time and time again to be the top season for car theft and break-ins. July is National Vehicle Theft Prevention Month to bring awareness to this trend, and to give tips to help avoid it in the future.
According to the Insurance Information Institute, car theft has decreased each year over the last 3 decades, and between now and the early 1990s, it has decreased over 55%. But, even with that decrease, we are still seeing a significant number of cars being stolen in the United States—averages of one car every 40.9 seconds, 2,118 each day, and over 700,000 yearly. Also, Washington has been on the list of top 10 states with the highest number of motor vehicle thefts since at least 2008. Furthermore, with each passing year, Washington state moved higher up the list until 2013, where it reached top 4 and has stayed since. It is also important to know that with the coronavirus, the FBI states that there has been a significant increase in theft of all kinds, and news stations across the country (like Fox News), have reported that motor vehicle theft has skyrocketed.
What solidifies the statistics even more is the observation that even if you have not been a victim of a car theft or car break-in, you probably know someone who has.
Criminals will always exist, but is there something that you can do to help keep your car from being targeted by them? YES! Knowledge is power. Read below for some tips to avoid being noticed by car jackers and help keep your car protected against theft. You can also download a PDF of our infographic for a condensed version of the below information—it is a great guide for new drivers and car owners!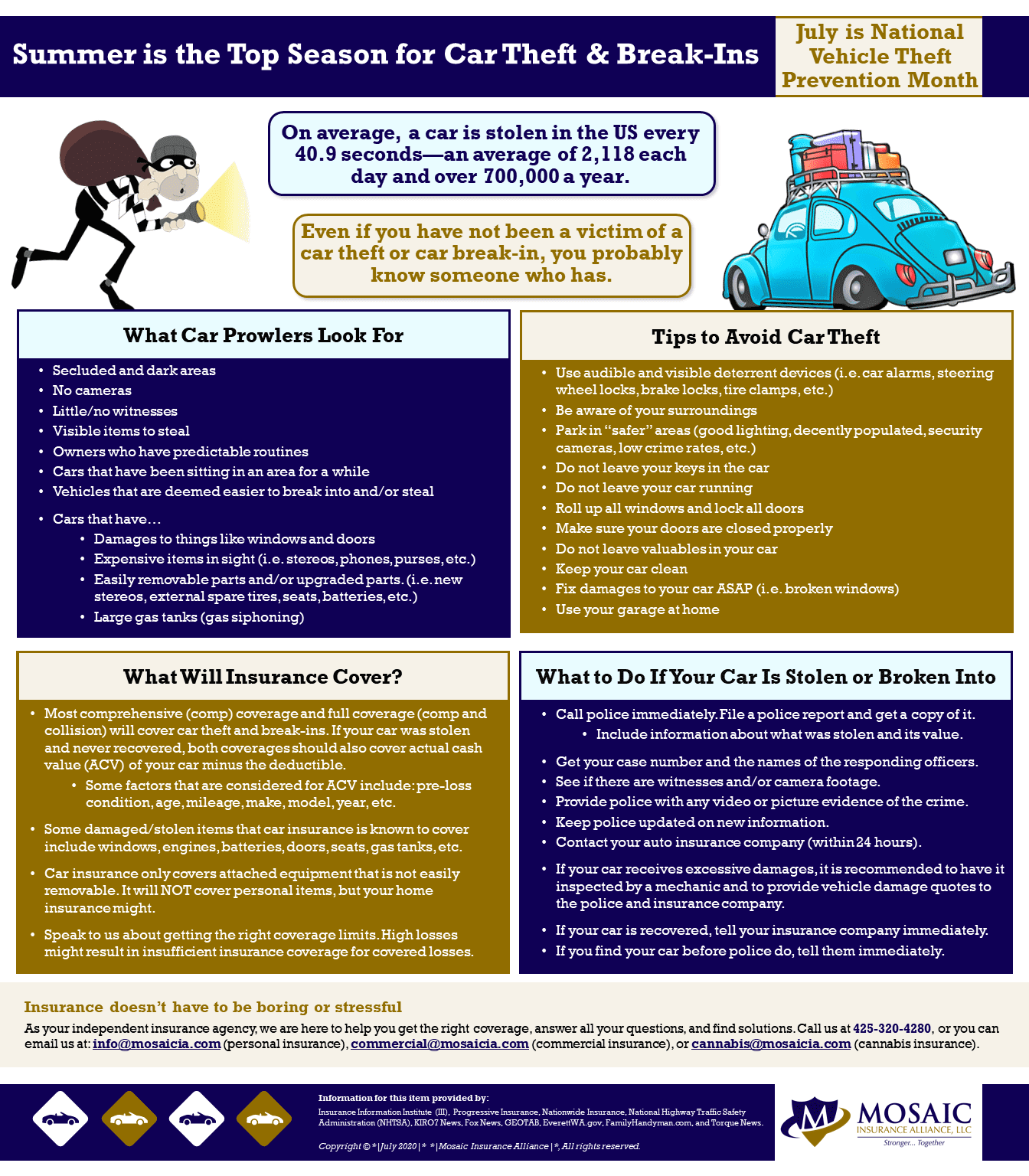 Common things that car prowlers look for:
Cars that are parked in secluded and dark areas.

 

Cars that have been sitting in one area for a significant amount of time.
Owners who have a predictable routine and park at a place often for long lengths of time.
Automobiles that have damages, particularly in areas like windows, trunks, and doors.

 

Parking places with little/no witnesses.
Camera-free areas.
Cars with lots of visible items to steal.
Vehicles with expensive items in sight—stereos, phones, wallets, purses, tools, jewelry, full shopping bags, etc.
Vehicles that are deemed easier to break into (typically older cars). Click here for a list of top cars stolen in 2014-2018.
Vehicles that are easy to hotwire or start with a similar key or makeshift key (like cars without key chips).
Cars that have easily removable parts and/or upgraded parts.

Examples: new stereos, external spare tires, batteries, water pumps, doors, engines, transmissions, air bags, seats, etc.

Cars with large gas tanks. Gas siphoning is not as big as it was in the 1970s, but it is not as uncommon today as you might think. When gas prices rise, like in the summertime, there is typically a rise in gas theft. If you have a large gas tank, and/or you visit places frequently that are known to have siphoning issues, investing in a locking gas cap might be a good idea. In addition to avoiding losing money from the lost fuel, you can avoid expensive damages to your car—both outside of the car and inside the gas tank. Also, other vandalism to cars is not unheard of—in addition to keying and damaging tires, another common thing is to put something damaging in the car's gas tank, so a gas cap lock will help avoid that issue as well. Keep in mind that there is also a newer method of gas theft that the locking caps cannot hinder—thieves are drilling holes in gas hoses and tanks. That damage is very expensive to fix and can cause serious injury due to resulting explosions or fires. Read more about that here.
What you can do to avoid being a victim of car theft:
As noted by the National Highway Traffic Safety Administration (NHTSA), statistics show that "nearly half of yearly thefts are due to driver error." Read below for ways you can help protect your car.
Use audible and visible deterrent devices: horn/light car alarms, steering-wheel locks, brake locks, tire clamps, theft-deterrent decals, car tracking devices, etc.
Be aware of your surroundings

Your gut feeling is usually correct. If you do not feel safe parking in an area, try parking somewhere else, or make it a very quick stop.
Pay attention to local news so that you are aware of common issues occurring.
Observe the state of other property nearby—are there closed/condemned buildings, is there another car nearby with busted windows, is it secluded, etc.?

Whenever possible, park in areas that…

Have good lighting
Are decently populated
Have security cameras
Have low crime rates

Before leaving your vehicle…

Make sure all windows are rolled up.
Make sure that all doors are locked.
Do not leave your keys in the car.
Do not leave your car running.
Engage your car alarm if you have one.
Secure your steering wheel/brake lock if you have one.

When at home…

Try to park all or most of your cars in your garage. If you have limited garage space, park the car that is more vulnerable in the garage.
If you have more than one car in your driveway, keep vehicles a good distance apart so that thieves don't have a place to hide.
Engage a porch/driveway light that comes on when there is movement, or that has a timer set to turn on during dusk hours.

Don't leave items out in the open.

Avoid leaving things in your exposed truck bed/trailer.
Avoid leaving items like bikes on your roof rack

Don't leave valuables in your car if you can help it.

Examples: phones, purses, wallets, laptops, GPS devices, etc.
If you find that you must leave items in your car (like when visiting multiple stores), conceal them in your trunk. For vehicles that do not have concealed trunks (like vans, SUVs, and trucks), you can try concealing items in other areas like under seats, in the center console, in the glove box, and in a lock box attached to the vehicle (commonly seen in truck beds).
Also, if you have a new radio that has an easily removable radio face, you might want to take it with you.

Be mindful of what might appear to be valuable to strangers.

The more items you have in your car, the more likely thieves will be tempted to investigate.
It could be something as simple as empty boxes, or something like a backpack that only has gym clothes in it. Bottom line: leave as little items as possible in your car.

Keep up with your car maintenance.

Cars that are not taken care of can stick out and look like easier targets.
Keep your car clean to avoid clutter that attracts car prowlers.
Repair broken windows ASAP—easy entry attracts criminals.

On a related note, make sure that when you close your car doors and trunk, that they close all the way and completely latch.

Make sure that your hood lock is working properly. It is common for thieves to pop hoods and steal things like batteries and engines.
Consider…

Changing your key locks for your doors and/or ignition if you have a car that is commonly stolen and/or is easy to break-into.
Installing a vehicle recovery system that help police find stolen vehicles.
Installing an alarm system if your car doesn't have one.
Will car insurance cover a stolen car or car break-in?
Yes, some insurance policies will cover car theft and break-ins. As noted by two of our numerous carriers—Progressive and Nationwide—most comprehensive (comp) coverage policies, and full coverage policies (comp and collision), will cover damages to your car from a break-in or theft. Comp coverage should also cover actual cash value (ACV) minus the deductible of your car if it was stolen and never recovered. Some factors that are considered for ACV include: pre-loss condition, age, mileage, make, model, year, etc.
Examples of damaged/stolen items that comprehensive coverage is known to cover:
Windows
Stereos
Engines
Car batteries
Catalytic converters
Doors
Seats
Steering wheels
Gas tanks
It is important to know that…
Car insurance will only cover equipment attached to the car that is not easily removable. (Keep in mind that there may be insufficient coverage for covered losses, especially if the after-market part is much more expensive.)
If you have personal items that are stolen out of your car, your auto insurance will

not

cover that loss, but your home insurance policy might. So, look into filing a claim with both your auto insurance company and your home insurance company if you experience car theft where personal items are involved.
You might have insufficient insurance coverage for covered losses under your auto insurance and/or home insurance policies. For example, if there was extreme damage to your vehicle, and/or personal property that was extremely expensive in your car (like jewelry), then your insurance policies might not cover all the damaged sustained. Talk to your independent agent to confirm that you have adequate coverage. The last thing you will want is to have to pay out-of-pocket. Mosaic can help you get the coverage that you need for your situation.
What to do if your car is stolen or broken into:
Contact police immediately and file a police report.

While talking to police, they might ask you for information regarding…

Your car—license plate number, make, model, year, VIN number, color, identifying characteristics like window stickers, etc.
What was in your car—items and value.
Time window—when you parked and approximate time of the crime.
The physical description of the thief if you caught them in the act.
If you saw anyone suspicious today or this week.
If there were any witnesses.

If someone else saw the crime, ask them to talk to law enforcement and fill out a report.
Before police leave, ask them for business cards with their contact information and your case number.
Ask for a copy of all police reports and complete the necessary steps to obtain them (some jurisdictions require an in-person visit to the police station or courthouse).
As the investigation progresses, you can continue informing law enforcement on new information that you did not have/remember at the scene—photos of stolen items, eyewitnesses, camera footage, etc.

Contact your auto insurance company ASAP—you will want to file a claim within 24 hours of your vehicle being stolen. If your car was broken into, and expensive items were taken and/or your car was damaged, you should also contact your auto insurance company and/or home insurance company right away. Your insurance company might want your case number so that they can obtain the police report and other details.
Ask around to see if there were any witnesses or if companies/homes nearby have camera footage that might have caught the crime on tape. You can also inform police that footage does or might exist and they can get the footage directly from the source.
If your stolen car is recovered…

 Tell your car insurance company immediately.
If you find your car before police do, inform them immediately.
Take lots of pictures of your car in the state that it was in when it was found. Also, if you have before pictures of your car, provide them for comparison.
Do a police report, noting items that were stolen/broken and damages to your car. Give this information/report to the insurance company as well.
If you have stolen/damaged personal property and/or vehicle damage, provide the cost of that loss in writing to both the police department and insurance agency.It is recommended to have your car inspected by a professional mechanic and then give vehicle damage quotes to the police and insurance company. It is also recommended to do this if your car was not stolen but still sustained excessive damages from a break-in.
As your independent insurance agency, we are here to help you get the right coverage. And, if you ever have a claim, we will be here to answer your questions and help you find solutions so that the process will go as smooth as possible.  Don't hesitate to reach out! At Mosaic, we are dedicated to making sure that insurance is not a boring or stressful process. To contact us, you can call our main line at (425)-320-4280, or you can email us at: info@mosaicia.com (personal insurance), commercial@mosaicia.com (commercial insurance), or cannabis@mosaicia.com (cannabis insurance).
Sources: Insurance Information Institute (III), Progressive Insurance, Nationwide Insurance, National Highway Traffic Safety Administration (NHTSA), KIRO7 News, Fox News, GEOTAB, EverettWA.gov, FamilyHandyman.com, and Torque News.