The summer activities will soon be in an uproar—are you ready to have fun & keep your family safe?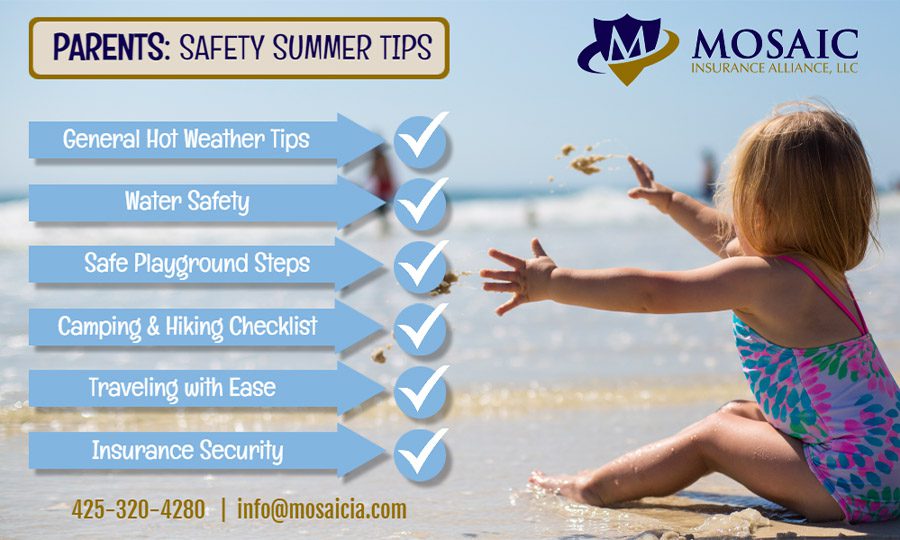 Bullet points are an easy way to get the hard facts. When you are a parent, you want to know what you are up against ASAP. To help you get ready for that summertime fun, take a quick read below.
Safety First
Wherever there is fun, there is safety gear that some people might feel cramp their style. A helmet for a bike, a life jacket for fishing, seatbelts for cruising backroads, safety nets and pads for the trampoline, floaties for the swimming pool…the list goes on and on. These items aren't mood killers. They exist so that fun can continue to exist!
Other safety tips:
Kids grow fast and they play hard. Do they need updated gear that might be too small or worn out for another season?
Make sure that your safety kits are well-stocked and that everyone knows where they are if they need them. Also, take a mini one with you on the road so that you can use it at public parks and elsewhere.
How is your sunscreen supply? Expiration dates matter! Also, do you have aloe for after treatment?
Learning CPR can be really helpful. The American Red Cross has classes.
A list of emergency numbers should be accessible in different areas—hardcopies in places like on the fridge, and electronic copies in cellphone address books and on speed-dial.
Teach your younger kids your names and phone numbers. An address would be good too. Lost children who can repeat phone numbers from heart and who know your first and last name (not just "Mommy" and "Daddy"), have an easier time being found if they get separated from you. Also, consider a bracelet that is like an allergy bracelet—but it has your contact information on it instead.
Make sure that you have insurance for your summer toys and that your home insurance is ready if you have an accident during a BBQ, party, playdate, etc.
Playground Safety:
The Centers for Disease Control and Prevention (CDC), has a few heads up for parents during the summertime. How to prevent a concussion, what to do if a child hits their head, various optional training courses, and more is on their website.
1. Scan the area before go time. Some parks are not up to code. Is there some sort of soft material under the playground like wood chips, sand, or mulch? Is the playground rotten, rusty, cracked, or slippery? Also, parks are unfortunately a common place where drug deals and littering happen. You do not want sharp or dirty objects in the play zone.
2. Stay active. Getting lost on your phone, talking to another adult, reading a book, or the like can take your eyes off your kid(s) for too long. You could miss a chance to (1) avoid an accident, (2) immediately know of one so that you can help ASAP, (3) not notice bullying, or (4) see someone approach your child who shouldn't be. If you can be hands-on, that is even better. Push your kid on a swing, stand by the monkey bars or at the bottom of a slide, play catch, play tag, etc.
3. Educate your kids. We get it—older kids are going to want to spend time with their friends and not want you too close, or not want you at the park at all. Teach your kids from a young age what stranger danger is, how to listen to their guy instinct, what to do if they do not feel safe, and how to deescalate common situations.
4. Pay close attention to the top 3 concussion toys. If your kids like playing on monkey bars, climbing equipment, and swings, make sure that you are watching them extra closely. Those are the items that they are likely to get a concussion from—or other serious brain injury—according to the CDC.
5. Know the signs of a serious injury. The CDC says that some danger signs are:
One pupil is larger
Drowsiness and/or weakness
Feeling numb and/or having decreased coordination
Inability to wake up/nonresponsive (even a brief spell should be taken seriously)
A headache that continues to worsen or will not go away
Slurred speech
Ongoing vomiting or nausea
Repeated convulsions, seizures, shaking, or twitching
Unusual behavior
Increased confusion, restlessness, or agitation.
6. Children should play on items that are in their age range. If your child is too young, and even too old, to play on a certain toy, they can get hurt or hurt someone else in the process. Weight limits are especially important to be aware of. For example, some swings are not meant for older kids—the chains can break under their weight, or the structure could give away. Also, the last thing you want is your 10-year-old to think it is funny to sit in a toddler swing and get stuck, only to have to be cutout of the swing by the fire department.
7. For more playground safety, the CDC has a PDF here that you can read and save.
Water Safety:
Never swim alone.
Alcohol and water activities DO NOT mix.
Install a tall, locked gate around your home pool and make sure that there is good lighting.
Keep your pool clean.
Children need constant supervision.
Make sure that children know to avoid tricks and rough play.
Teach children to also stay away from drains.
Sign-up children for swimming lessons.
Have age-appropriate items in the pool—floaties, life jackets, etc.
If a child goes missing, The National Safety Council (NSC) says to check the water first.
Make sure that the boat drain hole is plugged before you put your boat into the water.
If you will be operating a powered watercraft of 15 hp or more in Washington, you need to take a boating course. Courses are also good for those who are newer to boating.
The NSC says that if you get caught in a current, float with it instead of trying to fight it, and swim parallel to the shore until you can swim free.
Learning CPR and water safety techniques can be a very helpful life tool.
When you are on a boat, make sure that everyone has a life jacket.
Other good things to have on a boat are licenses and registrations, throwable floats, anchors, flashlights, buckets to bail out water, and first aid kits.
We can help you get watercraft insurance for your boat, yacht, and jet skis! Also, we can help you review your home insurance to make sure that you are allowed to have a pool and/or trampoline, and what you need to do to ensure that you will have a covered claim in case an accident occurs.
Camping and Hiking Safety:
Read preparation tips like the ones here and the ones below before going on your trip.
Build backpack survival kits.
DO NOT go in places that have been posted as dangerous, off-limits, closed, or private property.
Make sure that you are going to a public place that allows hiking/camping.
Know the weather forecast for the entire trip—including travel time there and back.
Know what to do if you encounter wildlife.
Always keep a close eye on your pets and children.
Keeping your dog off-leash or out of your tent at night is probably not a good idea.
Insect repellent can be a huge lifesaver.
Don't forget the sunscreen and hand sanitizer either!
Also, it is not all about the toilet paper. You'll be grateful for the wipes!
How do you plan on cooking your food? Make sure that you have what you need—matches, charcoal, full propane tanks, working BBQs, tinfoil, etc.
Pack enough food and store it safely. You want to make sure that you have enough to eat, you do not want food to go bad, and you do not want to attract animals.
Eat food as you prepare it to help limit bacteria growth.
Have multiple flashlights and backup batteries.
Make sure that you will be warm and dry at night.
Know which plants are poisonous so that your kids know not to eat dangerous berries or roll in poison ivy or poison oak. Bring anti-itch cream just in case!
Discard of cigarettes in a safe manner to avoid wildfires.
Have tame campfires in designated areas.
For some places to hike in Washington, view our hiking blog post.
Travel Safety:
Have a talk with your bank. Some banks will lock your card and freeze your account if you all of a sudden make a purchase in a state or area that you do not live. Same thing can happen if you make huge purchases out of nowhere—like for a train ticket, plane ticket, or hotel stay. Have a conversation with them so that they know that it is you beforehand. Also, chat with them about what to do if you lose your card.
Keep an eye out for pedestrians and bikers.
Know what to do if you encounter wildlife on the road. (Tips here.)
We have extra animal and wildlife tips if you want to check them out.
Make sure that you have backups of protective eyewear—especially if you have a prescription.
Avoid distracted driving. For example, cellphone mounts can be very helpful, tell your passengers when you need help, and make time for eating before or after driving (not during).
Take breaks. Have a plan to take turns driving if that is an option. Stop at places like gas stations to walk around a little bit at least every couple of hours. Also, make sure that you are awake and alert—do not drive drowsy or fatigued.
Know the driving laws of all areas that you go. Different states have different driving laws—and things will definitely change if you go to a different country.
Be extra alert in places that you have never been. You never know if a turn is misleading or if a certain area is known for hazards like landslides. If you can, research the area first and see what you might encounter during this time of the year and certain weather conditions.
Do a maintenance check on your car. In addition to checking fluids and tires, make sure that your turn signals, brake lights, headlights, and high beams are working. While you are driving, listen to your car and pay attention to the gauges—ask yourself how the battery juice, temp gauge, fuel gauge, RPMs, etc. are looking. Take note if your car is having difficulties braking or driving at certain speeds or on hills—or with shifting in general.
Know when and when not to use your high beams. For example, it is advised to not use your high beams when it is raining or foggy. Read more here.
Teach children at a young age what is and is not safe in a car. For example, car drivers need to be able to pay attention to the road.
Traveling with children can be stressful and attention demanding. If you are a driver, your attention needs to be on the road, but your kids can still have safe fun. To help the ride go smoothly, here are general parent preparation tips, and here are additional ways that you can entrain your kids on road trips. If you are looking for fun car games, read this here. You also might need to remind your children that if you are driving you cannot look at stuff and that they can ask whoever is not driving to help them with something. (If you are traveling by plane instead of car, read this.)
Ask us about RV insurance. We are also more than happy to review your auto insurance to make sure that you are ready for all the extra driving!
Have a Blast!
After you have a safety plan, it is time to have fun! We wish you all the best of summers. Go out there and build wonderful memories, and, if you ever have any questions, don't hesitate to reach out to us.