Congratulations on an impactful 2022 & thank you for being a part of our< referral program! ~ The Mosaic Insurance Alliance Team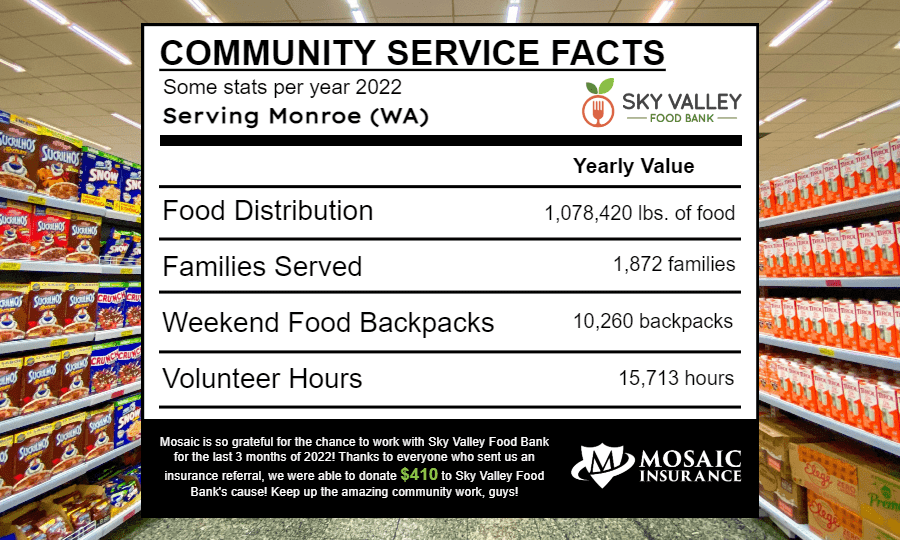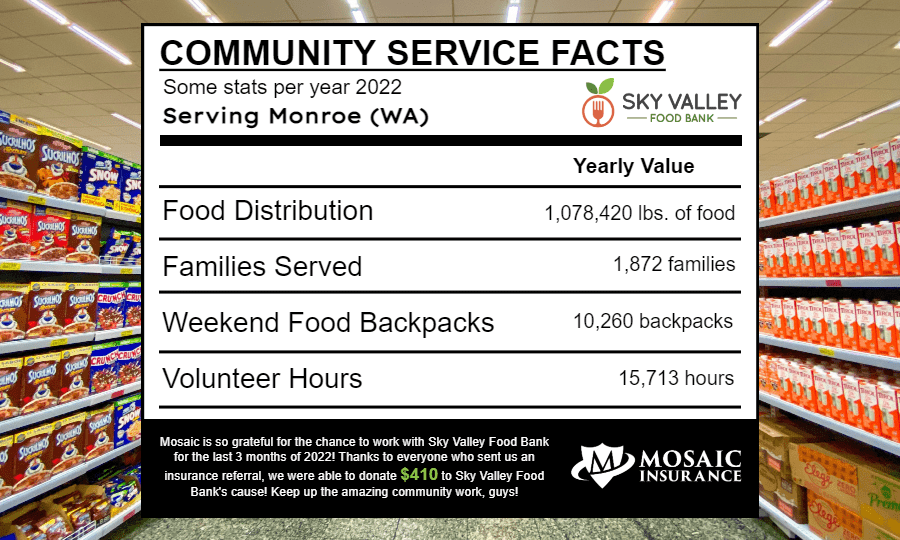 121,449 more pounds of food donated in a year is no easy feat, especially when it's being compared to the high amount donated the previous year.
When the last quarter for 2022 started, we knew that the Sky Valley Food Bank team were rock stars. All you have to do is see their prior stats in our blog post, PDF, or video to know what we're talking about. In 2021, their team donated an amazing amount of food to their community—956,971 pounds. 2022 proved to be even more amazing with a total of 1,078,420 pounds. Breaking a million is outstanding, especially since the average US adult citizen eats 3-5 pounds of food a day—about 1,996 a year—according to the United States Department of Agriculture.
Together, every pound of food, every individual item, and every individual who donated items and/or their time, resulted in helping many families. Together, they make more than a million reasons to continue the mission year after year, decade after decade.
For 45 years and counting, Monroe's food bank has been about neighbors helping neighbors get items that every individual deserves to have. "No person should go hungry," says Sky Valley Food Bank. "It is our mission to kindly and respectfully provide equitable access to nutritious food in our community."
A mission that Mosaic is so grateful to have had the opportunity to experience the last three months. Working with their team and being able to provide something towards their cause was truly a wonderful way to end the year and makes us even more excited to see what 2023 will bring. We wish Sky Valley Food Bank the best of luck to their cause, their volunteers, and the people that they serve in the community that we call home.
Do You Also Live Around Snohomish County? Make Some Community Connections!
Connecting with the community and being dedicated comes in many forms to say the least. If you would like to stay connected with the Sky Valley Food Bank cause, below are some easy ways to do that.
Get newsfeed updates by following their social media:
Do you have some free time or want to give back to the community in another way?
1. Ask to join their volunteer team
Do you or someone you know do construction work? The food bank has been undergoing some reorganization and improvements to their building and property. More details on that can be found on their Facebook page here and here.
Cleaning help—mopping, vacuuming, wiping down door handles and light switches, cleaning bathrooms, etc.
Some common volunteer positions are distributors, warehouse stockers, grocery pick-up drivers, and customer service personnel.
Learn more about their volunteering opportunities via their volunteer handbook!
2. See about donating food
Current needed foods: flour, sugar, cooking oil, and shelf-stable meals and sides.
The basic staples for ongoing food needs can also be found here.
Additionally, here are some can't-go wrong options that are easy to find: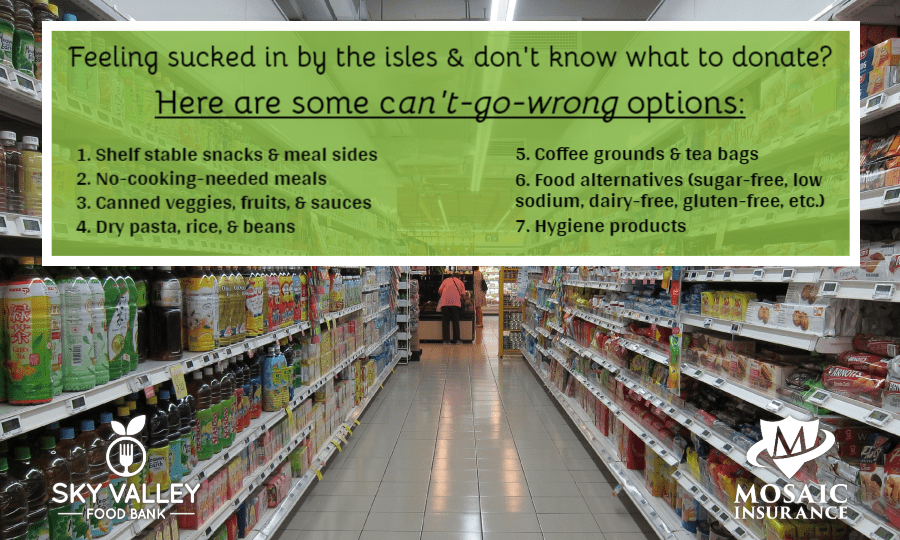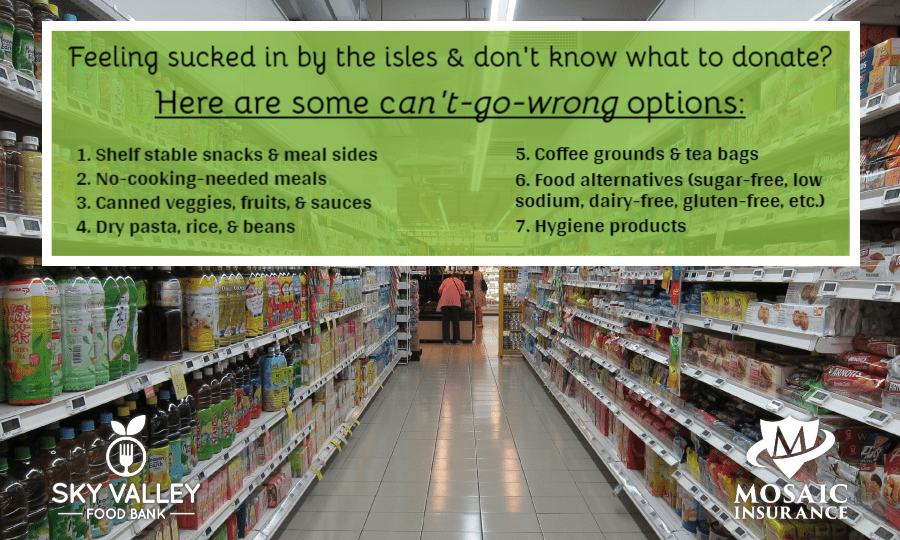 3. You can also donate other needed items
4. Have you always wanted to start a food drive? Here's your chance!
5. See about how you can send an online gift
6. Do you shop on Amazon? You can view the Amazon Wishlist for holiday toys and/or select them as your charity!
Do you need help? Sky Valley is ready to hear from you!
1. Information on your next steps to get some food
2. They have answers for you on their page of frequently asked questions
3. Read about how their weekend food backpacks work
4. Also, learn about their mobile food bank!
Clothes: Just a Fashion Statement, or Also a Means to Eliminating Non-Academic Barriers?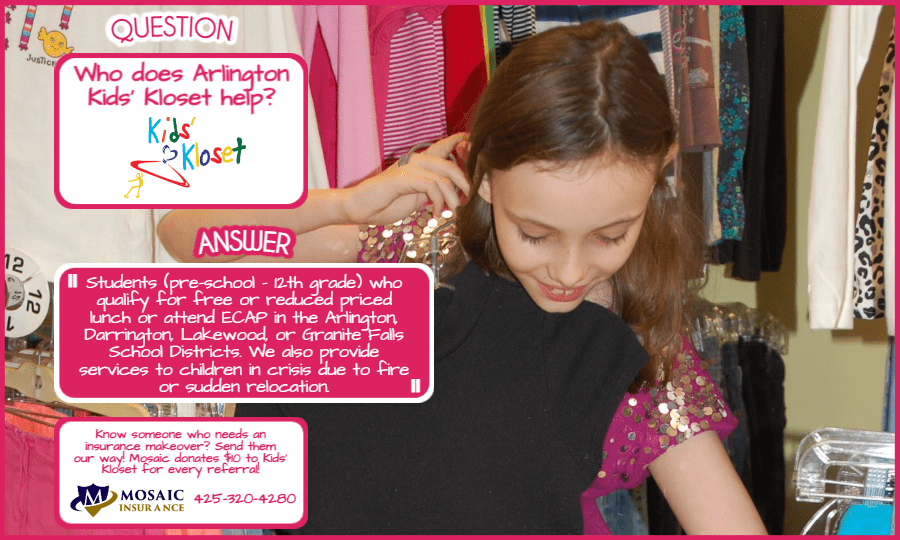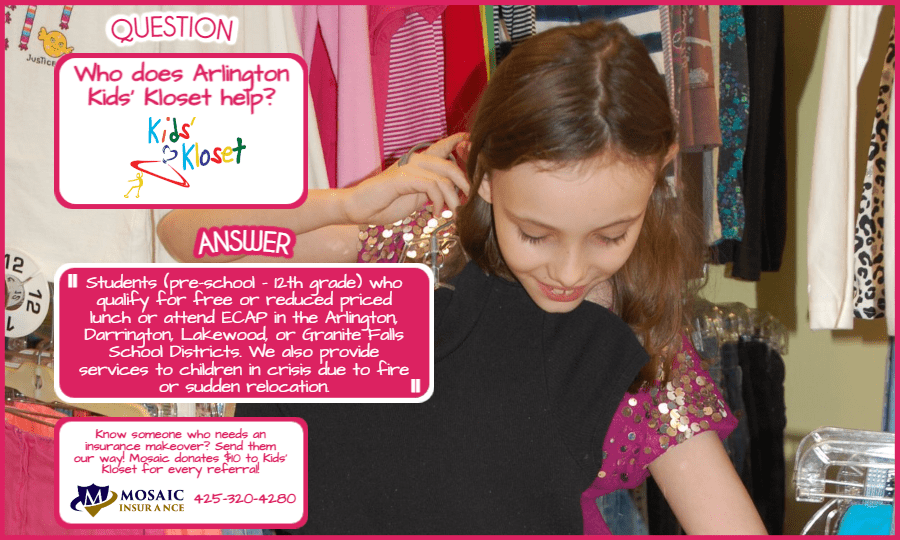 For 17 years, our first charity of 2023 has been making a fashion statement, alright. But it's not the typical clothing statement about what styles are making a grand debut, or an intriguing comeback. It's so much more than an exclusive feature about denim escaping out of an 80s magazine and welcoming us on our smartphone screens in 2023…Or how scrunchies are making a buzz like in the 90s, hanging out in Hollywood within the new shows on Hulu and Netflix.
What do we mean? There is no doubt about it—clothes are a way for youth to connect. And, as you probably remember while thinking back to high school and middle school—and maybe even grade school—making healthy connections during that part of your life can make a BIG difference in your success.
"Our goal is that every child has the opportunity to be healthy, happy, confident in their appearance, and secure in their abilities," says Arlington Kids' Kloset. "Students who are uncomfortable at school and disconnected with their peers due to their appearance can often struggle to succeed academically and are more likely to fall behind or even drop out. By eliminating the non-academic barriers these youth face every day, we can strengthen peer relationships, create opportunities of growth and discovery, and affect positive sustained change. Arlington Kids' Kloset meets a fundamental need in the lives of low-income students, through the provision of clothing and hygiene essentials, so that they may remain focused on their continued education and academic success."
Success. That key word that all of us like to hear as often as we can. And, what can Mosaic and the public do to help spread some success down the community chain? Bring awareness to common stigmas youth face daily; read more about their community impact on The Herald and share their contact information with someone you know who needs clothes for their kids; share tips you see on our social media so that more people know how they can help their kids, grandkids, nieces, nephews, students, and neighbors feel confident; and tell those you know about our referral program!
Mosaic loves to donate money to local charities, and each quarter, people like you help make that possible. Between January 1 and March 31, 2023, if someone you know gets a free personal or commercial insurance quote because you referred them to us, we will donate $10 to Arlington Kids' Kloset. Everyone can afford free, and it does not hurt to get a second opinion and explore options at no cost.
Quick Steps to Get Involved!
If you want to help our community cause, it only takes a few minutes.
A few short minutes a week for a BIG impact on social media:
Follow us and our nonprofit on social media. Every like, comment, tag, and share that you make on a post about our referral program helps us spread the word about the great work that the Arlington Kids' Kloset does.
A few minutes a week can…
Help those who are in need know of the resource in their area
Help find volunteers for Kids' Kloset
Help us funnel donations of much needed items to the clothing bank racks
Spread awareness about our free personal lines and commercial lines insurance quotes so that we can donate more money to Arlington Kids' Kloset in March
Arlington Kids' Kloset is on Facebook, and Mosaic will advertise their cause on our Facebook, as well as on our:
Once you follow our platforms, updates will be in your newsfeeds throughout the quarter. We tend to post 1-2 posts a week, talking about feel-good stories, volunteer pictures, upcoming events, current needs, and available resources.
You can easily send a referral in just a few minutes:
Just call us at 425-320-4280, email us at info@mosaicia.com, or fill out our quick referral form. All we need is the name of the person or company you think would like a free insurance quote, as well as a way for us to reach out to them (their email, and/or phone number).
Or, if you are not comfortable with that, you can tell them to reach out to us directly for a free insurance quote and have them let us know that you referred them when they talk to us.
We are sure someone you know could benefit from an insurance makeover!
If you are not sure who to refer, here are some referrals that we tend to get:
Friends
Parents
Grandparents
Other family members
Neighbors
Coworkers
Classmates
Professors
Local business owners from places that you love to go to, like your favorite restaurant, barber, nail salon, coffee shop, small mom and pop business, etc.
If they want to know some more about us first, you can send them to our website—this page is a good opening to who we are and what we do! Also, let them know that when we get referrals, common reasons that people want to talk to us include:
They are having issues communicating with their current provider.
They want better rates. (The average person who switches to Mosaic Insurance Alliance saves between 15% to 20%!)
They want the ability to easily change carriers and get quotes from carriers.
They want someone who is up-to-date with discounts and other important industry information.
We do not work for the insurance companies—we work for our clients. This means that we will go up to bat for our clients whenever they need us, and we can help them get stable insurance at competitive prices.
They want someone who has experience. (Mosaic was founded in 2010, many of our independent insurance agents have more than 15 years of experience, we write with and understand many top carriers in the country, we know the regulations or multiple states, etc.)
They have a teen driver, so they need some important questions that needed to be answered yesterday, and important needs that need to be met ASAP.
They themselves are a young driver who is getting their first policy on their own, so they would like to have someone who: (1) knows this industry, (2) will be in their corner, and (3) is friendly and more than happy to help them.
We know that people have questions, and we love getting them! (You can view some frequently asked questions and the answers here.) Also, if there is an instance where we do not know the answer to someone's question, we will look deeper into it and reach back out to them with an update.
They want insurance all in one area (we are a broker—we do personal lines and commercial lines, write in multiple states, and write with 50+ insurance carriers. Frequently, business owners will also do their personal lines with us, and it is common for us to have multiple policies for individuals—some of which are with different carriers.)
They do not like to wait on hold, they hate being transferred, and they want one point of contact who will remember them.
We do the footwork, research, and investigating. All that our prospects and clients need to do is spend a few minutes with us here and there, talking to us about their needs and giving us some background information. Afterwards, we will do the quoting and touch base with them again to go over what we found and what steps they would like to take next.
They have a complicated setup and want someone who knows the ropes to help them get what they need.
They want someone who is like them and who has their best interest in mind. (It is our daily goal to provide people with service that we would want for ourselves and our own friends and family.)
We are open Mon-Friday, 8:30 am to 5:00 pm Pacific, so people can easily call us on their lunchbreak. We also have teammates in multiple states and time zones so that we can better find a time that works for all kinds of people and businesses.