Mosaic's referral program exists so that we can help nonprofits like NWBB with their community missions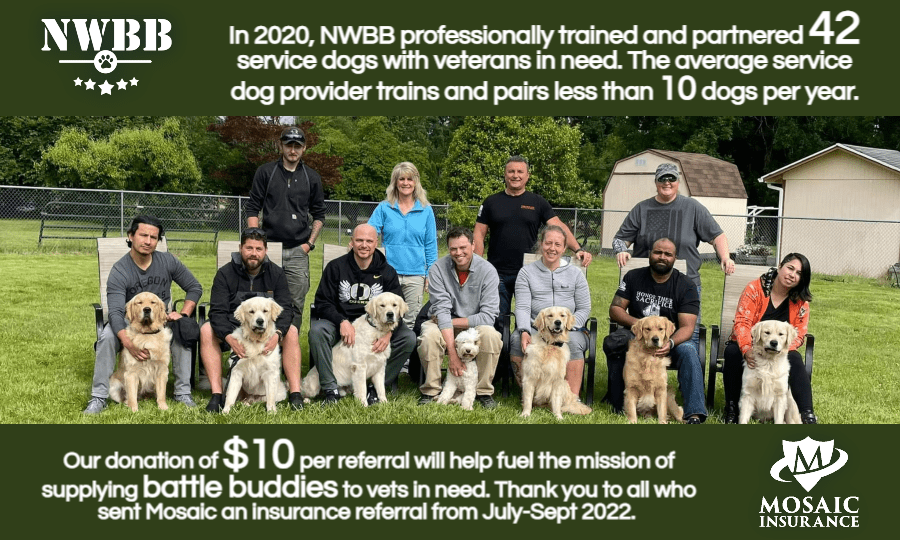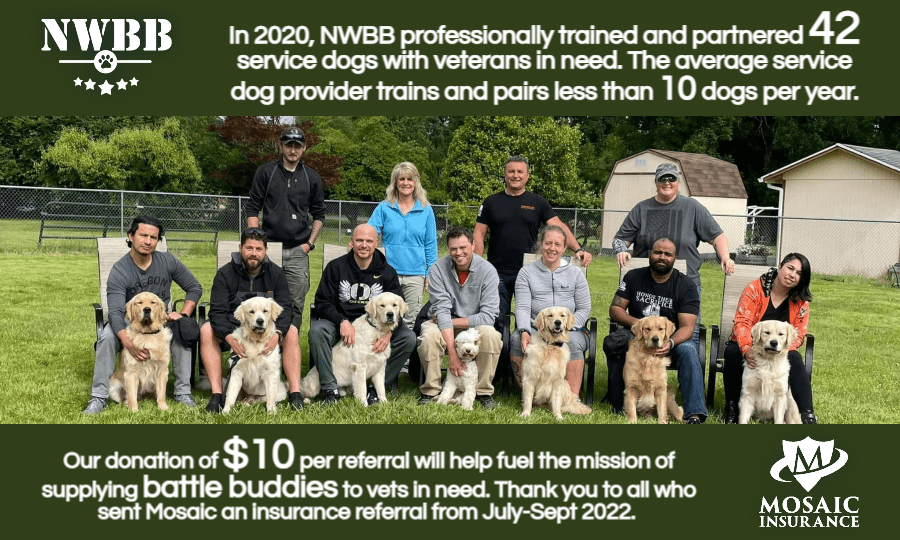 Northwest Battle Buddies gifts professionally trained service dogs to veterans battling PTSD, helping them regain their freedom and independence."
"Our goal is that veterans only have to wait 6 months. We want dogs trained and ready to go so that when veterans come and they qualify, we can provide that dog in a timely manner."
As you can see from the above statements, missions are what a company is all about. They are their purpose for existence. Who they are. What they do everyday to impact the community. Where they see themselves in the future. How they want to grow. What keeps them going over the years. Why they do it.
What keeps Northwest Battle Buddies (NWBB) going so that they can continue helping veterans in the community? They make sure that year after year they have a supportive atmosphere in place by having constant gratitude for all those who help them make their mission possible; one-on-one and group conversations with veterans before, after, and during the pairing process; information about coping with PTSD for veterans and their families; the foster puppy program to make it possible to train more dogs; professional dog trainers to ensure that each dog is ready for their mission; and success story videos and pictures that they post whenever they can.
Resources like the ones above are what Mosaic Insurance Alliance's referral program is all about. Thank you to everyone who referred someone for a free insurance quote! Because of your word of mouth, Mosaic was able to donate $570 to NWBB. These funds will help fuel their mission and supportive atmosphere so that they can continue helping veterans in the community.
A supportive atmosphere is crucial. It creates structure and gives veterans back some control in their lives. Coming home from field battle turns into a home battle for many, so tapping into control is a big first step to learning how to cope. "Many American heroes return home to find their greatest battle still awaits," says NWBB. "For a Veteran with post traumatic stress disorder (PTSD) the battle is never over. They come home and find everything has changed…because they have been changed."
Change is a natural way of life, but not all change is the same. Some is not easy to confront and should not have had to happen in the first place. But sometimes bad things happen that are out of our control, and we are thrown into a battle we did not want. A service dog helps a vet address change by providing a safe place for him or her with emotional support during emotional combat, and encouragement to try new things once they are feeling a little better. That is why NWBB calls their service dogs battle buddies, a nickname that comes from the US Army that signifies a bond between two soldiers who are assigned to one another for assistance in and out of combat.
Dogs love new beginnings, and they seem to welcome it with open paws. Trying something new every day is heaven for them. Think about a dog that you have been around who sees a new toy, treat, person, or place to smell…You've probably seen their tongue hanging out as their tail whips uncontrollably. Corky mannerisms like that help people regain some of that childlike nature themselves—innocent happiness and not a care in the world. Excitement is contagious, and dogs help make change something to get excited about. Also, for some of NWBB's dogs, their vet hooman is their second chance at a new life and that excitement is not something that they are going to hold back. Many of NWBB's dogs are veterans in a matter of speaking, having come from animal shelters as rescues. 65 and counting, in fact. In other words, new beginnings are plentiful in the NWBB network.
As NWBB has shown us the last three months, there is no cure but there is still hope. Their numbers help back them up: "22 veterans a day—over 8,030 a year—commit suicide on American soil. NWBB has a 100% success story—181 teams in ten years and not one suicide."
PTSD is basically like a scar from a bad accident—the body heals the open wound, but there aremarks on the skin and some pain either constantly (if treatment is not sought out), or every now and then (if there are steps taken to address the pain). Physical therapy can help that area get stronger and regain more movement—as you stretch that leg that you hurt in a car accident years ago with daily yoga and weekly massages, you open the door to regaining more control over the hurt joint and ease the pain and numbness. There might still be some pain here and there, but you move better now, and you know that the pain will have moments of dormancy as you focus on selfcare. Each dog that is specifically paired with a veteran knows the pain is there and gives emotions a daily stretch—stretching the comfort zone and introducing more control to venture out, whilst also being there to listen, play, and protect against bad days that will sometimes happen.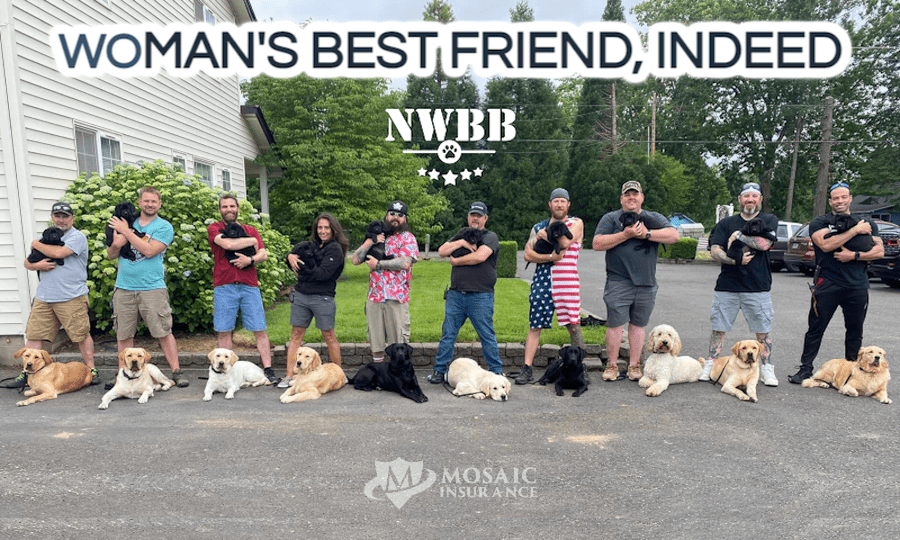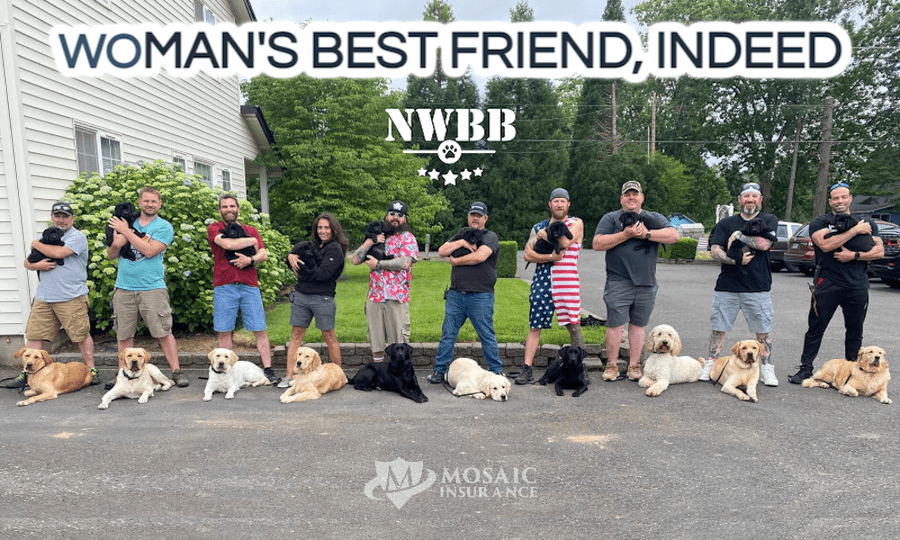 Stay Connected
with NWBB
Via Community Channels
With a decade worth of service under their belt, NWBB is really tuned into community channels. That means that it is easy staying connected to their cause and community impact.
Follow them on social media:
Want to connect even further?
If you or someone you know is a US veteran in need of a service dog, here are some items that you might want to check out:
Sky Valley Food Bank's Numbers Also Talk for Themselves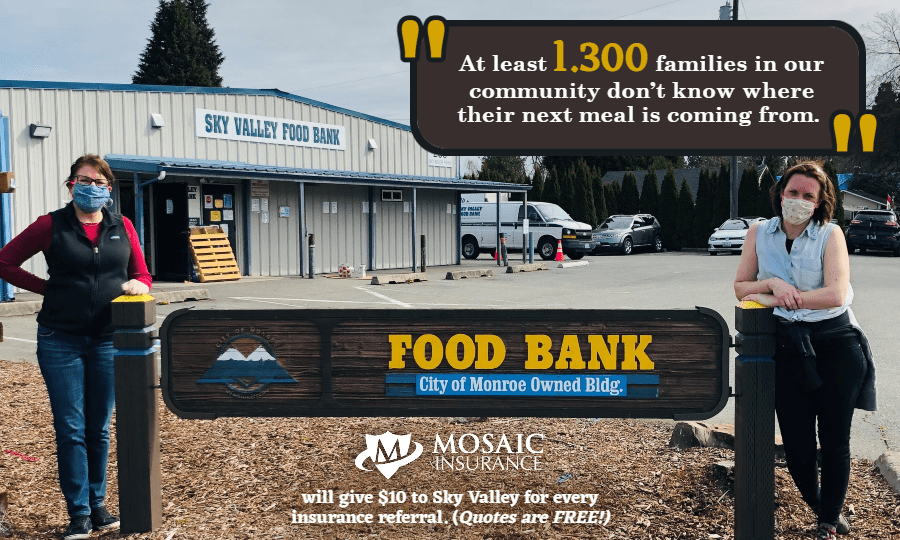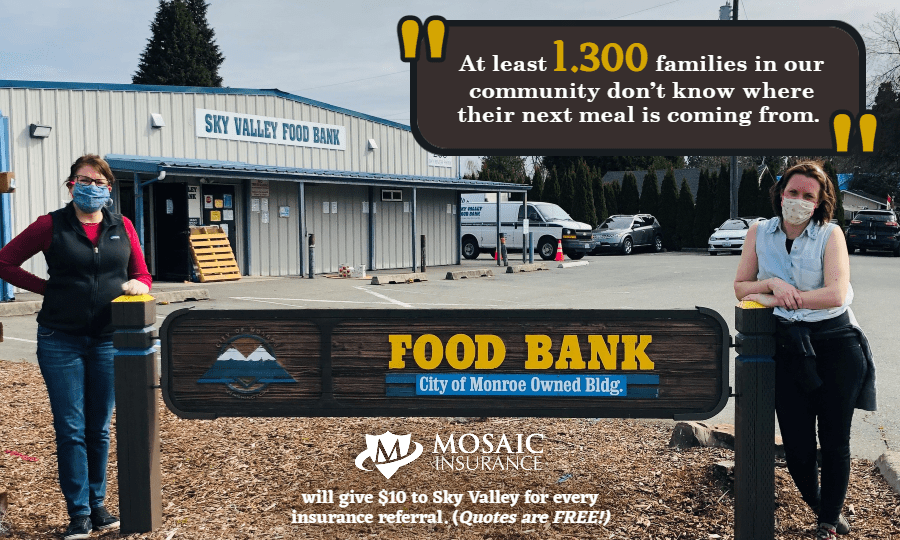 300+ families a week; 40,0000+ meals per month; 1+ million pounds of food per year; 12,622+ Christmas toys handed out; average of 574 children getting toys per year; 1,500+ pounds of food per weekly delivery truckload; and 1,250+ pounds of food delivered amongst 7 schools over the years.
162 volunteers; 14,664 service hours; mobile food banks distributed 121,984 pounds of food to 1,906 people; 956,971 pounds of food distributed; 412 children received holiday toys; and 3,168 children received emergency weekend food bags just in 2021.
If you think that was difficult to read, imagine how difficult it was to accomplish! As you can see, the stats of our next charity of the quarter speak for themselves. A mighty impressive voice they have too. We wouldn't want to say the above 10 stats times fast…And that is not all—there are even more accomplishments than what we have listed! You can view more impact numbers for 2021 here, and Sky Valley Food Bank has additional stats scattered throughout their website.
Sky Valley Food Bank has a weekly mission to "kindly and respectfully provide equitable access to nutritious food in our community." And that is no small task. After all, "within Snohomish County, nearly 90,000 residents are not sure where their next meal is coming from, and 1 out of 5 children are at risk of hunger."
Yet, their team never seems to cease working hard to help lower those hunger numbers. "Every week we provide food for an average of 322 families, enough for 10 meals per person," says Sky Valley Food Bank. "This amounts to more than 75,000 pounds of food distributed every month—almost one million pounds per year! About 65,000 of those pounds are donated by our community and our business partners but the remaining 10,000 plus pounds we distribute every month are purchased with donations from our community."
Community spirit is definitely seen in the pictures that Sky Valley Food Bank loves posting ontheir Facebook, Instagram, and Twitter—we think that you will like them just as much as we do! After you check out their pictures, see if any of the below items are something that you might be interested in learning more about.
Resources:
2. Get answers to frequently asked questions
Opportunities:
2. Donate food
Current needed foods

:

canned peaches, peanut butter, spaghetti noodles, chicken noodle soup, tuna, canned corn, tomato sauce, flour, sugar, veggie oil, and canola oil.

3.

Start a food drive
5. View the Amazon Wishlist for holiday toys
Now that you know who our next charity is, don't forget to follow us on social media! It only takes a few minutes to follow our different social media platforms. Once you follow, you will be able to see updates throughout the quarter of how our referral program is doing and what new resources and opportunities Sky Valley Food Bank has for the community. Follow us on Facebook, Twitter, Instagram, LinkedIn, Pinterest, Yelp, and Google.
Referrals Take Only Minutes & Agents Do the Footwork for Free
Quot
es
!
It all starts with a connection that turns into a bond. You have the connections, and we are ready to make the bonds!
You know a…
1. Friend who wants better rates,
2. Parent who hates waiting on hold,
3. Business owner who has a complicated setup,
4. Neighbor who is tired of repeating what they need, and/or
5. New driver who doesn't know where to start.
Or perhaps you know someone else in this big wide world who is having another problem with their current insurance situation and would like guidance and to get an insurance makeover. Whoever they are and whatever they do, we are ready to see if we can help them!
The referrals themselves…only take a few minutes! All you do is call us at 425-320-4280, email us at info@mosaicia.com, or fill out our quick referral form and give us the name of the person or company, their email, and/or their phone number. Or, if you rather that your referral reaches out to us directly, that works too! All that takes is a phone call or email from them letting us know that you referred them and that they want an insurance quote.
Why would someone you know want to work with us?
We all do it now and again—we drag our feet on doing something if we think that it will take a long time or is not really worth it. "I'll do it tomorrow" can become a big crutch. If someone that you know would like some reasons to snap out of the "tomorrow" procrastination, here is what you can tell them:
1. The average person who switches to Mosaic Insurance Alliance saves between 15% to 20%!
2. Each person or business that gets insurance from us is assigned to a specific independent insurance agent. This means that there is no more waiting on hold with bad music, pushing robot menus, and telling the story over again to another person as you get your call redirected.
3. Because Mosaic is an insurance broker, we have access to various top insurance carriers.
4. We work for you, not the insurance companies, so we will go up to bat for you if the need arises and we can help you acquire stable insurance at competitive prices.
5. You also get that one-stop-shop experience. We can help you get car and home insurance, as well as other coverages like boat insurance, Medicare, life insurance, etc. Also, if you are a business owner, we can help you get commercial insurance for your company as well as personal insurance for your life outside of work.
6. We love frequently asked questions, and if we happen to not know the answer, we can look into your question for you and come back with an update.No more looking things up on Google for hours on end!
7. We write insurance in multiple states. Visit our personal lines, commercial lines, and cannabis business lines landing pages for state lists.
8. We do the investigating. You just spend a little bit of time chatting with us to give us some information, and then we do the quoting. Also, quotes arefree, so it does not hurt to give it a shot!