Mosaic Insurance Alliance in Lynnwood, WA has raised $520 more dollars for ChildStrive in Everett with their referral program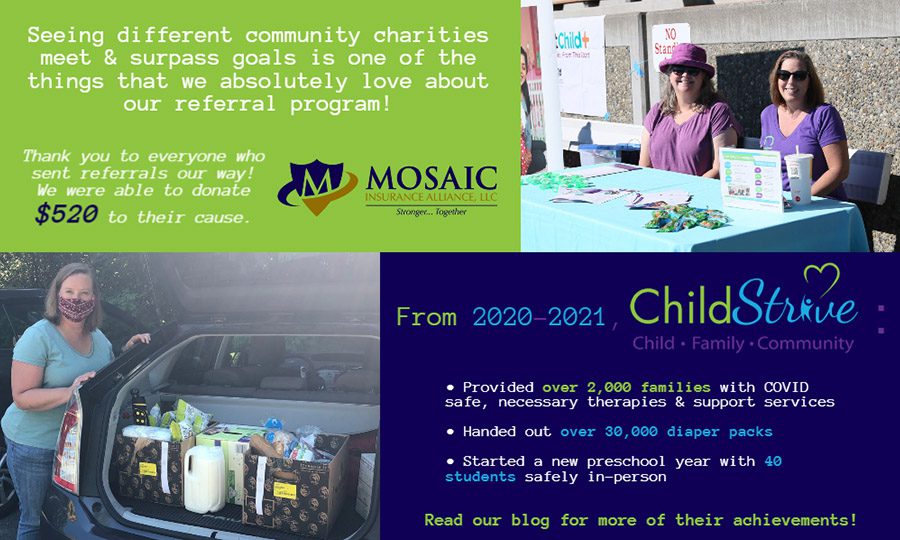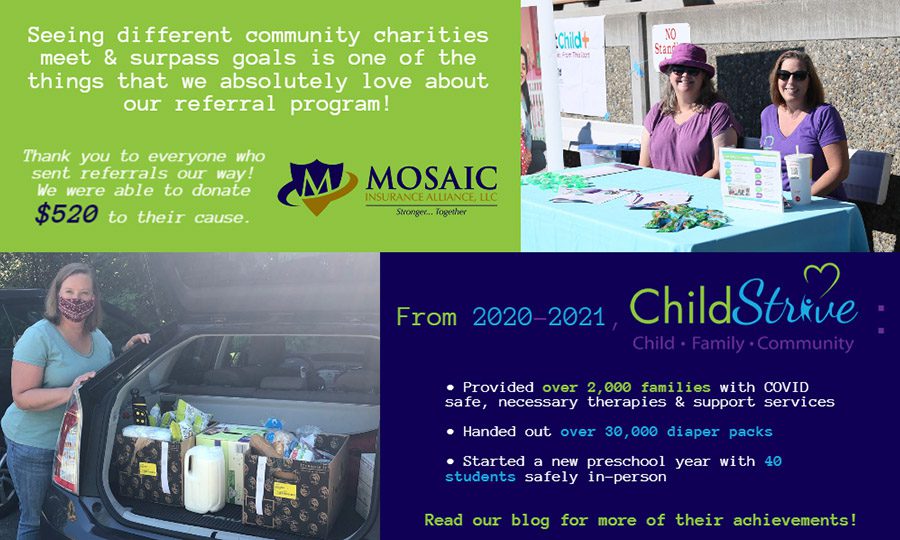 Where does the time go? We recently completed another quarter of our referral program with our friends at ChildStrive. With 2022 right around the corner, it is hard to imagine that the last time the ChildStrive team was our charity it was the start of 2020!
We appreciate all those who sent insurance referrals to our team of independent insurance agents! Thanks to your positive feedback and you trusting us to help your friends, family, neighbors, and coworkers with their personal insurance and business insurance needs, we were able to donate $520 to ChildStrive. This donation will go towards important community needs and efforts like essential resources (such as diapers and formula), public educational events, classes, and counseling. Knowing how important these items are to the community, Mosaic is so grateful for the chance to work with the ChildStrive team again. We have also enjoyed seeing them overcome obstacles and encounter new experiences since the first few months of 2020.
During the first quarter in 2020, ChildStrive had big changes to make with COVID sparking in the United States for the first time. ChildStrive had also recently changed their location to Everett from Lynnwood. As we all know, each and every one of us had a lot of changes to make in our personal and work lives from the coronavirus. Being a hands-on charity in a new building, ChildStrive had all kinds of hurdles and challenges.
We could not be happier for getting the chance to watch ChildStrive programs adapt and grow in this always-changing world. Since we first had them in our referral program, ChildStrive has…
Provided over 2,000 families with COVID safe, necessary therapies and support services
Distributed over 30,000 diaper packs
Expanded their Early Supports service to include Vashon Island, WA
Started a new preschool year with 40 students safely in-person learning
Launched a new co-op childcare partnership at The Village on Casino Road
Benefited from over 7 community-driven fundraising drives
Created new sponsor relationships for fundraisers and other events
Being able to see different community charities meet and surpass goals is one of the things that we absolutely love about our referral program. With each referral we gather during the three months of a quarter, we donate $10 to the current local charity. Mosaic's quarterly donation and marketing exposure over this time period allows us to help local charities like ChildStrive with funds and public exposure regarding their wonderful cause, needed items, important programs that help those in need, and resources that are available.
Mosaic Insurance is Working with Dawson Place for the Last Quarter of 2021!
Dawson Place Child Advocacy Center exists because EVERY child abuse victim in Snohomish County deserves safety, justice, and healing. Mosaic has been honored with the chance to work alongside them this quarter, and we are excited to discover new ways we can tell everyone about their great community cause before the new year.
Dawson Place combines services from five other agencies so that children and families in crisis from child abuse can go to one location for all the services they might need. Located in Everett, Dawson Place has over 50 professionals who serve child abuse victims and families from all of Snohomish County. For more information on different resources provided by Dawson Place, visit their website here.
Whether you love to follow pages for inspirational quotes, or you are looking for life tips on dealing with things like anxiety, Dawson Place is a great resource! They also share posts to help followers with important and helpful life education like child abuse prevention and information for parents and caretakers.
You can follow them on…
How to Send Referrals to Your Favorite Mosaic Agent:
Referring your favorite agent makes us all here at Mosaic ecstatic. Getting a referral means that we exceeded your expectations, and you cannot wait to tell your friends, family, coworkers, neighbors, and local business owners about us. We are so honored that you not only trust us with your insurance needs, but also the insurance needs of your loved ones. We are ready to help them like we have helped you!
If you have never sent a referral before, but are interested, here are the easy steps to do so whenever you have a few minutes!
Call us, email us, or fill out our website referral form and give us the contact information of the person you want to refer. You can also ask your contact to reach out to us and let us know that you referred them. Our phone number is 425-320-4280, and our email is info@mosaicia.com.
We do the rest! We will get in touch with your friend or family member and get some information from them about their insurance needs. Then, like we did for you when you got your free insurance quote from us, we will hit the ground running on their quote—exploring coverage options, seeing which carriers are a good match for their financial and coverage needs, and looking into what insurance discounts may be an option.
Want to send a referral, but not sure who to refer?
Insurance is a universal need and there are many kinds out there. Being an insurance broker for personal and commercial lines means that we can help your…
1. Friends
2. Family
3. Neighbors
4. Coworkers
5. Owners of local businesses that you love
6. Someone you know who speaks Spanish and is having a hard time finding an insurance agent who can help them. We have two fluent Spanish speakers on staff!
7. Others in your life who you think would benefit from…
Reviewing their insurance
Exploring new coverage options
Looking at different insurance carriers in one place
Talking to an insurance broker with knowledge in the field
Having someone to answer confusing insurance questions