Full-service catering, cooking classes, in-home dining, pickup orders, holiday meals—what's not to love?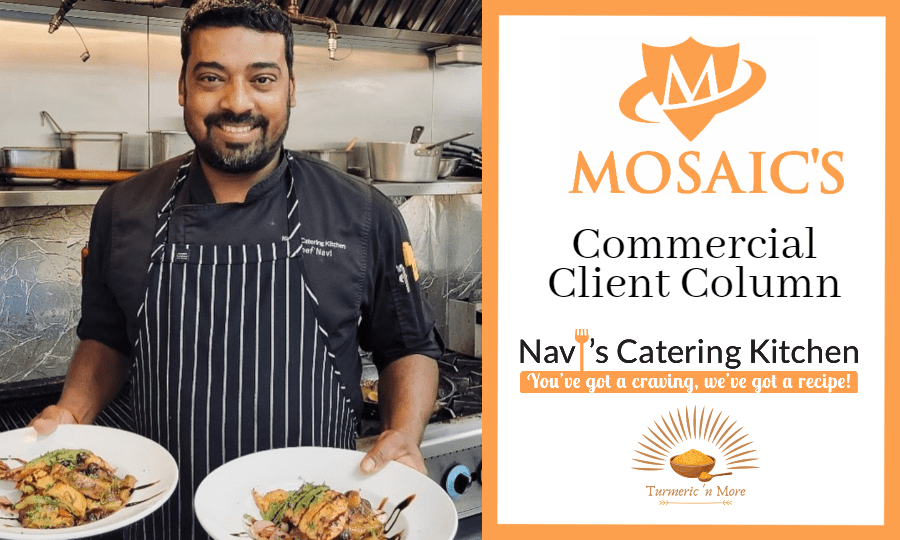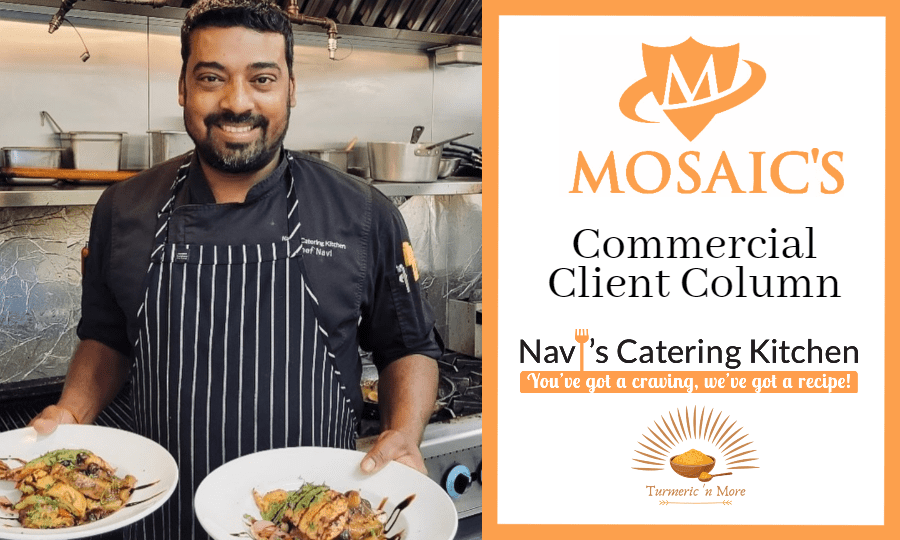 Pictured Above: Chef Navi preparing some catering dishes in his kitchen at 5903 196TH ST SW SUITE #102, LYNNWOOD, WA 98036.
"We are very transparent. We are very community focused, cultivating relationships in the community. Our food is top-notch," said Chef Navi in an interview last week with Mosaic Insurance Alliance.
The Mosaic family thinks that "top-notch" is the perfect word to describe the creations that we have seen in Chef Navi's food pictures! Take a look for yourself at the bottom of this page. We have an electronic Chef Navi scrapbook full of hors d'oeuvres, weddings, other types of events, and holiday meals. Also featured are community service donation pictures and photos of Chef Navi's awesome team!
Chef Navi is the owner of Navi's Catering Kitchen (NCK) in Lynnwood, WA where the community can hire him to cater any type of event! Such as weddings, corporate parties, social gatherings at personal homes or an in-home dining experience for a smaller intimate group. If you are not planning a full blown event NCK even offers other services like, pick-up dinners, multiple different types of cooking classes, and holiday meals that are hot and ready to serve your family to eat during different festive times of the year.
Their kitchen is located at 5903 196TH ST SW SUITE #102, LYNNWOOD, WA 98036 and houses both the catering kitchen company that focuses more on pacific northwest (PNW) and Polynesian infused American staple foods, and the other company that Chef Navi owns called Turmeric 'n More, which specializes in authentic Indian and Pakistani meals. Turmeric n' More (TNM) is a very heart healthy food delivery service in the greater Seattle area. TNM uses only fresh hand ground spices, and all organic halal meats. Food orders for pickup for both companies are at their Lynnwood kitchen (no dine-in services).
Mosaic has had the wonderful opportunity of taking care of Chef Navi's insurance needs since 2016. When he opened NCK back in 2018, we were ready to help him get the right business insurance up and running so that he could focus on kickstarting his new career path and have one less worry. When he created his second business earlier this year in 2021, Chef Navi gave his Mosaic agent, Jill, a call for another insurance policy.
"Jill is amazing," Chef Navi commented. "We click very good. She always knows what customer service means. When I reach out to her, she always jumps and helps me out. We appreciate someone who is going the extra mile."
Mosaic's Commercial Assistant Account Manager is not the only one who goes the extra mile. When the COVID pandemic hit, Chef Navi's team found their own way to let the community know that they were not alone.
"During the pandemic, we cooked up in our kitchen 8,565 meals to healthcare workers, first responders, and fire departments on the house for 5 months straight from Tacoma to Marysville. Also, we had kids eat free for every dinner from our location pick up. That is the best memory I have. Every day we did that. We cooked every meal from scratch. People enjoyed it. We saw tears in nurses' eyes. They were tearing up because nobody thought about that," said Chef Navi.
Community Cooking Classes
Teaching cooking classes has always been something that Chef Navi knew he wanted to do.
"Since I'm big on community," said Chef Navi, "we focus on single parents and busy workers who come home after work and they're like, 'Oh my God. What's for dinner?' And, you know, they don't want to cook, or they don't have all the products. So, my cooking classes teach cooking from the pantry, basically.".
Chef Navi continues talking about what students will learn from his class, including how to shop. "You will always have staples in your pantry you can work with—rice, beans, pasta, some sauces, and stuff," commented Chef Navi. "And you will always have meat. And know how to prepare a few days ahead of time. How to pull your proteins. Instead of just buying one chicken breast or two chicken breasts everyday, you can buy a 10 lb. bag, get it all marinated nicely, and portioned out into those individual bags. Then, you would just pull out an individual bag and throw it in the oven, on the grill, sauté it—whatever you do. Really easy techniques. It is a timesaver."
In this busy world, time saving is a must if you want to eat healthy and hearty meals more than just on your day off. Fast and easy meals are a nice staple in everyday life. But, what about variety? Chef Navi's classes go over various types of food and how to use your leftovers. Leftovers can help you get a homecooked meal fast on the table, as well as reduce food waste and save you money. Who wouldn't want that? Also, leftovers do not have to mean eating the same thing for days on end.
When you take his class, Chef Navi says that "you also learn how to cross utilize leftovers into creating another dish," including "how to make soups." "Some people choose to eat the same thing for 10 days," said Chef Navi "But, you have another option to make the food into something new."
Having a passion for cooking his entire life, and teaching more than 150 students, Chef Navi knows all about cooking something new. He may even get you to eat something that you swore you would never eat again!
"When I was doing a fun cooking class event with a group of ladies, two of the ladies go, 'I don't eat broccoli,'" said Chef Navi. "And, I had pan seared broccoli, so I said, 'Well, why don't you give it a shot?' She said, 'I have a very bad memory of eating broccoli as a kid.' I told her, 'You probably have never had good broccoli.' She, from that day, had a different perspective about eating broccoli. She was not cooking it in the right way. It was mushy and she always hated it. I gave her a few tricks about how to blanch it, ice bath it, and sauté it with a little bit of olive oil in a pan. That will give it a nice crunch. She was like, 'Oh my God. I have never had anything like this before!'"
Laughing, Chef Navi continues, "That was fun because I made people eat things that they said they would never eat again. Usually when people say 'Oh, I don't like that,' it is because they didn't have it right. Your perspective was bad and now your mindset is telling you 'I don't like it.'"
What food do you hate that came to mind when you read the broccoli story? Perhaps Chef Navi can teach you some new tricks and change your mind about food with his variety of classes. You can sign up by yourself, or in a group up to 6 people. This is great for a fun night out with friends, giving your teenager a culinary class experience, or helping your employees learn new skills if you are a boss at a restaurant. Classes are $100 per person for each class.
Three Course Meals Class
Dietary Cooking Course—vegan, vegetarian, and keto
Pasta Making Class
Marinating Lesson
Catering Cooking Class
Kitchen Skills Course—knife techniques and other basics (perfect for people new to cooking!)
Catering
Events big and small, whether in your personal life like a wedding, or your business world like a Christmas office party, all have one major thing in common—FOOD! Social grazing is in our human nature. Good food and great company are things that make events memorable.
Event food is great when it comes time to eat it. But it can be a lot of work to get it to the table. Letting a professional chef worry about transporting, cooking, and setting up helps lower stress, gives you more time to focus on other tasks, and gives you and your guests the opportunity to try new recipes.
Below is a handout that Chef Navi shared with us, highlighting different ways that his kitchen is ready to cater your upcoming shindig. To learn more, visit his website and click on "catering" in the top menu bar.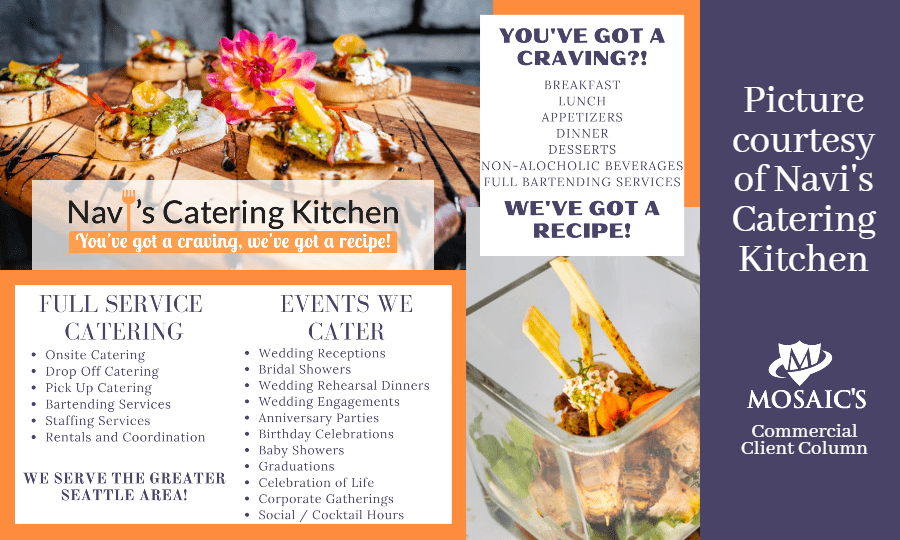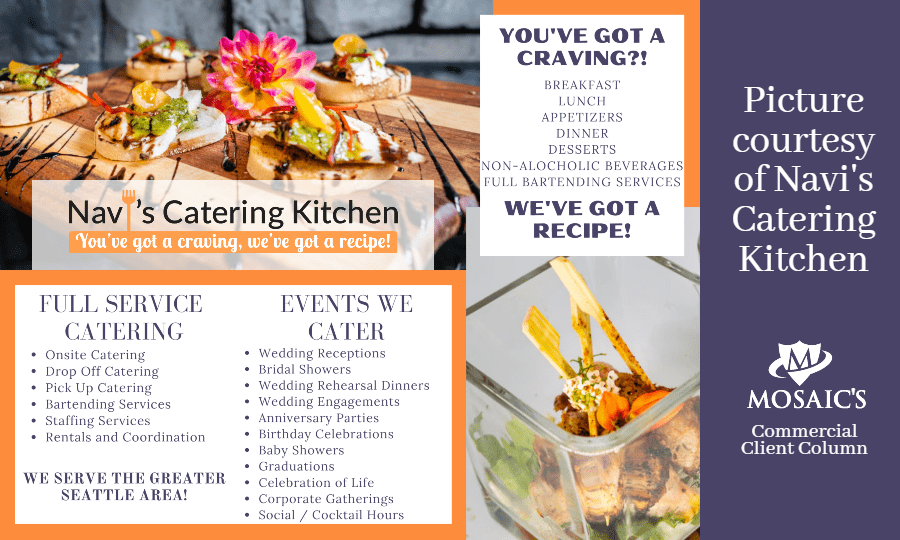 Thanksgiving is On the Menu!
Like event cooking, holiday meals are time-consuming to say the least. That is why, for the last two years, Chef Navi's company has been creating holiday meals and hors d'oeuvres that families can pickup and dig right into.
"You don't have to work. You set your tables up, take the food, put it on your platters, and dinner is ready. It creates so much ease on families," said Chef Navi, "especially for the person who usually gets stuck with a few days of cooking in the kitchen. Always that person is the one who doesn't enjoy Thanksgiving. He or she will say 'I'm looking forward to Thanksgiving,' but inside, he or she knows that they're the only ones who will work. When you sit at the dinner table with our food, you'll still feel like your mother cooked a Thanksgiving meal for everybody."
A little closer to Thanksgiving, Chef Navi's team will have time slots available to sign up for the dinner (11 am – 6 pm at the pickup window). The time slots ensure your turkey gets cooked on time and is fresh. To find out what is included in the rest of the meal, take a look at their 2021 Thanksgiving menu here. They also have their Christmas menu available now! If you are interested in ordering a holiday meal, or finding out more about this service, checkout this page!
What Should You Invest in If You Are a Business Owner?
"Invest more time researching. Invest more time structuring. I'm a chef," said Chef Navi, "and I've always been a chef. But I was not a business person. Running a business, especially a food business, comes with a lot of different responsibilities. Sometimes when you look at one area where you excel the most (your main strongest point), the others slide and fall. My advice is look at the overall picture instead of looking at the areas that you are excelling. Spend more time on the other areas. At the end of the day, you are a great chef. You will always be a great chef. You need to spend more time on bookwork."
Bookwork is not very fun for most of us. But having the skill to do it correctly and efficiently definitely pays off in the end. And, Chef Navi says that is not the only thing that does.
"Invest in your employees," Chef Navi continued. "Take care of them because they are here for your business. They are the ones taking the weight. With a small business, they take everything on their own. They don't want to give up. Let them have control. Empower them. Empower your employees and they will succeed—and you will succeed very quick with your investment."
Want to Stay in Touch with Chef Navi? He Loves to "Get Social"!
You can get in touch with Chef Navi on social media. (Warning, though—when you see his delicious looking food on your newsfeed, get prepared to drool and experience hunger pains!)
What about trying the food that you see in the pictures on social media? Give NCK a call at 425-712-0312, or email them at info@naviscateringkitchen.com, to schedule a dinner, event, or class. For Turmeric 'n More services, call 206-627-0885, or email info@turmericnmore.com. You can also visit his two websites to setup a pickup order, sign up for his newsletter, read online reviews, submit a catering request, and catch up on some food blogs.
It Has Been a Pleasure Talking with You About Your Passion for Cooking, Teaching, and Being a Boss, Chef Navi!
Thank you so much for chatting with us. We are very excited to have you in our Mosaic family, and we look forward to seeing all the goals that you will surpass in the future! We cannot wait to also see more of your tasty looking meals on social media, even if they do make us hungry and crave Indian food like crazy! If you ever need our help, dial up Jill on speed dial and we will get you what you need.
Are You a Mosaic Commercial Insurance Client?
Spreading awareness about your business and helping you get noticed is so exciting for us. To have your business featured, reach out to our Marketing Manager, Meagan Baron. We can spread awareness about you and your products in a blog like this one here, as well as through social media posts (Facebook, Twitter, Instagram, Pinterest, and LinkedIn).
Not a Commercial Insurance Client Yet?
Let's talk about your business insurance needs. Mosaic can help you with a free business insurance quote! If you would rather do a free insurance consultation talking to us directly instead of filling out the form, you can also call us at 425-320-4280, email us at commercial@mosaicia.com, or reach us by the chat feature here on our website (bottom right corner). We also have a new video call option you can schedule with one of our agents after you touch base with them by phone or email.
We look forward to talking with you! Cheers!
Pictures That Are Delicious Enough to Eat!
Below is a sneak peek at Chef Navi's cookbook—see the entire book here in this PDF! Thank you, Chef Navi, for sharing these scrumptious looking snapshots of the various cuisine you prepare in your kitchen.