What you need to know about having a house mortgages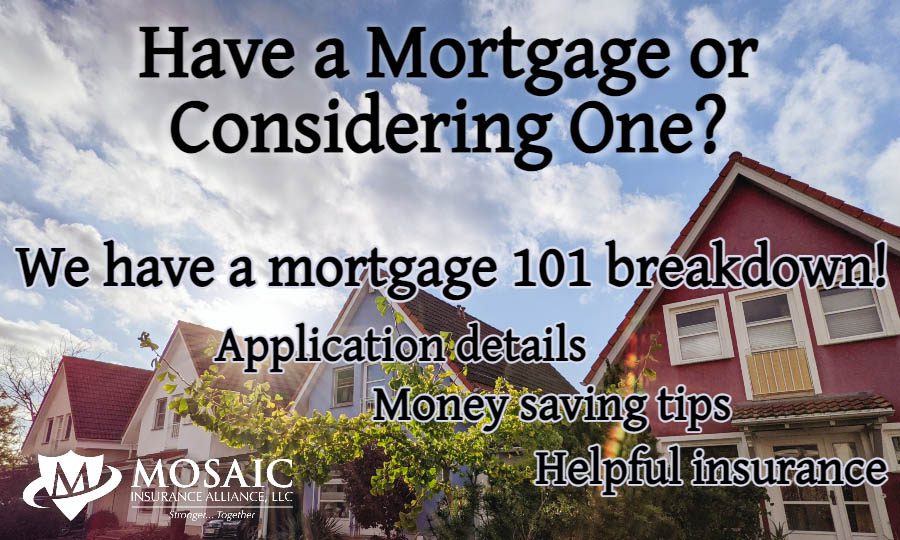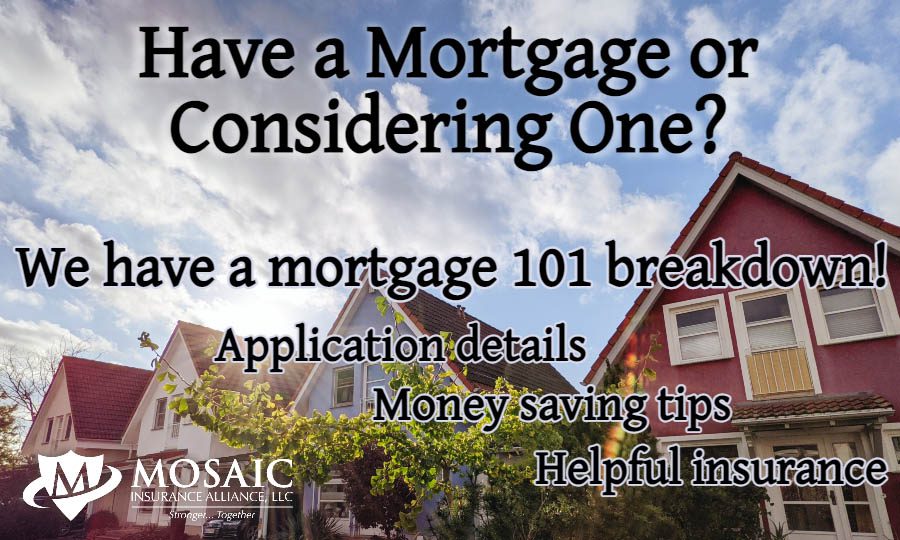 September is National Mortgage Professional Month, and to celebrate, Mosaic Insurance Alliance in Lynnwood, WA gathered some things that are important to know about owning a house. Read on for mortgage facts to keep in mind, tips on how you can save money, and what insurance coverage we can help provide you with to protect this big life investment!
What Do I Need to Know About a Mortgage?
The mortgage industry is always changing. It is best to consult with a professional in your area on what you need to know when you are applying for a bank loan to buy a house, or when you are thinking about taking a new/additional mortgage out on your current home. Despite constant changes, there are some solid facts that don't tend to change much.
We gathered top mortgage tips here for you to help get you started as you search for specific information for your particular situation:
1. Items vary by location. Mortgage rates, foreclosure laws, redemption laws, approval qualifications, etc. can vary a lot by state. Ask a professional in your location what you need to know for your specific area.
2. Credit qualifications. Understand the minimum credit score you need to be approved for a mortgage and see if it would be in your best interest to first build up credit even if you meet the minimum requirement.
3. Debt qualifications. Is your debt-to-income ratio doing good? A percentage of 36% and lower is usually preferred, and one of 43% is usually the highest accepted, according to Investopedia.
4. Important paperwork to bring when you apply for a loan. As a general rule, when applying for a loan, paperwork that both you and you spouse (or co-loan applicant) will want to have include…
Most recent tax returns
Employer letters stating current employment
At least two months worth of paystubs
Credit histories
Renting histories
Two months of bank statements
People have also been known to have recommendation letters from current/past employers, coworkers, and landlords to show their good character and dependability.
5. Don't stop at one lender. Apply for a mortgage with different lenders. For starters, lenders set their own rates. It is kind of like when you shop around for something like a computer—you check online and at different retail stores to see which one has the item for the best price and/or service perks (such as a good return policy and warranty options). The same principles apply here. You want to see what your options are—lenders are not the only ones who choose who they want to work with.
Also, you might not be approved by the first lender you apply to, and it is nice to know that if one lender did not approve you, you at least have some others currently considering it. You don't want to waste time starting back completely at the bottom. Continue to apply frequently with other mortgage companies to keep you on top of things.
6. You have a better chance of getting approved for a mortgage if you have a steady job. Highlighting factors that show you have a steady source of income will help you. For example, talking about how you have worked at your job for more than 2 years, and how you have been promoted more than once in that time, can cast you in a good light. It also indicates that you are likely to remain at your job, or at least have the skills and experience to get decent future employment elsewhere.
7. Being able to pay a down payment can be huge. Not only does it earn you brownie points with a bank because it shows that you can save money, but it means that you will have less to pay off. Remember, the faster you pay off your mortgage, the less interest you will have. That's HUGE!
8. Have a house that is practical for your budget and living situation. You want a house that fits at least your basic needs, while also not breaking the bank.
9. Choose the loan term that makes the most sense to you. You can choose to pay back your house in different increments, such as 30 years, 20 years, 15 years, and 10 years.
How Can I Save Money at Home?
Who doesn't like saving money? Mosaic has some money saving tips in some of our old blogs, including one on how to cut energy usage down, and another on how to save money in the winter. For National Mortgage Professional Month, we decided to gather some more home-specific tips that you might find useful as you continue to make your house a home!
1. Before buying a home, talk to a professional. A housing counselor or your real estate attorney can help you…
Understand what you can and cannot comfortably afford
Understand loan prices and fees
Understand the risks and benefits of loans
Compare homes
Compare loan options
Being educated will help you know what to expect, avoid biting off more than you can chew, and get things paid in the best, most-affordable, way possible.
2. Save bill dates and set reminders on your phone. You want to make sure that you pay your mortgage and all your other bills on time to avoid late fees and a drop in your credit. Also, balance your checkbook. Sometimes you catch a bill before it is due…but you will not have the money in time because you did not budget quite right. To help avoid this, assess bills and due dates throughout the month and before a big purchase and/or spending fun money. Furthermore, a paper calendar/log on your wall or your kitchen fridge can be a nice extra reminder of due dates and expenses.
3. Mortgage payment tips:
Look into refinancing your mortgage
See if you can modify your loan—more information here
Save money when you can so that you can make bigger/more mortgage payments and pay off your mortgage faster. For example, you can look into paying your mortgage bi-weekly. (View the tips below for some money saving examples.)
4. Keep your current furniture/household items or buy them used. Bargain shop whenever you can, especially in the begging and during financial struggles. Look at local thrift shops, yard sales, and deals online. You don't want to waste money on getting new furniture, kitchenware, entertainment consoles, etc. when you are on a strict budget and/or before you can really understand the cost of living at your new home. See what your expenses are for at least 6 months in a new home.
5. Put mental roadblocks up to minimize impulse buys.
Give yourself a max spending amount on certain items (food, fun money, etc.) each paycheck/month. And, if something you really want is not within that budget at the moment, you have something to look forward to buying in your next paycheck!
It is harder to hand over physical money than a debit/credit card for many people, so paying store purchases and restaurant bills in cash might help you spend less and/or not go over a set amount you have given for yourself.
If you pay yourself first with every paycheck (putting funds into your savings account), you can avoid unneeded purchases. (It is mentally harder to take from your savings account!)
6. Keep a list of costs for your home and see where you can make cuts. For example:
Do you have a bigger garden at your new house? Your water bill might be a lot higher.
Ways to lower your water bill:
Keep in the loop on weather forecasts and focus on watering less during rainy days and more during dry spells.
Consider avoiding automatic sprinkler systems—they can really eat up water usage.
Set a timer when you are taking a shower. Also, turn off the water while you lather, and turn it back on when you are ready to wash off.
Run the dishwasher and washer machine when they are full, not half empty.
Is temperature not as regulated in your new house? You might be using the AC or heater more than you have in the past.
Ways to keep comfortable temperatures in your house:
Keep blinds closed, and use as little light as possible, in the summer.
Closed blinds and curtains are also good in the winter because they can help trap in air and create a barrier between the warmth of the house and the cold glass outside.
Cook for the weather. Avoid cooking hot meals when you can in the summer—salads, fruit, cold veggies with dip, etc. are great for the hot months. When it comes to wintertime, cooking warm food can help heat up your house as well as make you feel warmer after eating—soup, pot roasts, and casseroles are perfect for winter.
Close doors in rooms that you are not frequenting to help hold in the heat or cold where you want it.
Have good seals on the windows and doors—you don't want hot air coming in during the summer or going outside in the winter.
Use seasonal bedding—thinner sheets and light blankets in the summer and heavier bedding like flannel sheets and thick quilts in the winter.
Set your ceiling fans to rotate counterclockwise in the summer and clockwise in the winter.
If you have hardwood floors, breaking out thicker rugs in the colder seasons can help insulate your house. Then, when the nicer weather comes along, you can trade them out for some thinner ones!
Have you noticed that your food budget is going up? Take a look at how much is being eaten—is it just inflation or is something else happening?
Each year, many families throw out so much bad/expired food that could have been eaten because it was hidden, became blind noise, and/or was not stored properly. How to eat food on time:
Perhaps the way that your pantry is designed makes it harder to analyze what there is to eat. Think about rearranging things in a more organized way—i.e., snacks on this shelf, easy lunches on the next shelf, etc.
Keep a "easy meal" snack, breakfast, lunch, and dinner list on the fridge for you, the kids, and your spouse. That way "There is nothing to eat!" might turn into "Oh, yeah, I can make that!"
Look up storage techniques like these for different fruits and veggies.
Freeze meat immediately and thaw it when you are ready to eat it.
Ways you can save money food shopping:
Download store apps and use coupons.
Do a big grocery run each month—less gas, less opportunity to do impulse buys, and you get the chance to build better rationing skills.
Do inventory before you shop. Make sure you know what you do and do not need right now (or ever again). The last thing you want is to waste money on something that (1) you already have, or (2) your family won't eat. Also, keep in mind that if you forget something important, you will end up back at the store…You don't just waste more gas or open the possibility of buying more things that you did not go to the store for.
Go to the store with a physical list. That can help you stick better to getting just those items.
Use a calculator as you shop. You might decide that instead of buying 5 different bags of snacks, you will stick to buying just 2 and you will try the others later.
Trying things later…Determine if things are seasonal/stocked often (so you don't miss out if you do not get them now). If you can see that there will be no problem getting them later, you can spread the cost of those items on future trips. Make a list and if you really do want it, you can get it next time.
Don't shop hungry. When you have food on the brain, everything sounds good when you shop, and you really want it!
Stores like to rearrange things. The more time you spend looking for something that is now on the other side of the store, the more likely you are to make impulse buys. Instead of wandering, ask an employee for help!
Take ration steps so you do not have a "snacksident." Pour chips, cookies, and other snacks in a bowl—eating out of the bag can be dangerous. Also, during meals go for smaller servings and finish what is on your dinner plate first—then you can see if you really want seconds or if you would like to eat leftovers for lunch or dinner tomorrow instead.
Cook more and eat out less.
When you do eat out, keep track of cost. You can use this list to (1) get a better understanding on how much it costs to eat out, (2) highlight the places that are cheaper, and (3) note which places have discounts regularly, such as lunch specials, discount days, and coupons. You can also make note of the places that you really like and see if you can recreate the type of food in your own kitchen instead.
How Do I Get the Right Insurance?
Let's be honest: owning a dream home is not always a dream. There are certain stresses that come with owning a home. When you have a big investment, you want to make sure that you have the right coverage that will meet your financial needs, as well as help protect you if you ever need to file a claim.
Getting the right insurance means talking to an insurance professional and deciding what your coverage and financial needs are. Some important questions that are considered in a free quote evaluation are:
What risks are homeowners like you likely to face in your situation?
What is your insurance budget?
What claim limits are stable and practical?
Do you have specific items that need to be considered? (i.e., pool, trampoline, home office, home daycare service, pets, etc.)
What is covered and what is not?
What insurance endorsements should you consider?
Are there any savings opportunities?
Are you interested in life insurance?
What does life insurance have to do with a mortgage? If you have a mortgage and pass away, having a life insurance policy in place can help protect your loved ones. Funds from the life insurance policy can help pay the mortgage off, giving them one less financial burden.
Our Mosaic Family is ready to help you with home insurance! You can also ask us about a free life insurance quote to help keep your family in the home if something were to happen. You can view our different personal lines insurance here as well, in case you are interested in other coverage like boat insurance, motorcycle insurance, and RV insurance.
Give us a call at 425-320-4280, email us at info@mosaicia.com, use the chat feature at the bottom of your screen, or fill out our get a free quote form. Questions are what we look forward to, and professional service is what we do best! When you are comfortable with your insurance, we know that we did our job. Remember, insurance doesn't have to be confusing!