It was a pleasure working with Beautiful Soles and donating $780 to their impactful non-profit
That's a wrap! Mosaic Insurance Alliance cannot believe the year is more than half over. With the second quarter for 2021 ending on June 30, we have our numbers in for the donation to local charity, Beautiful Soles!
As many of you know, our quarterly insurance referral program highlights one local charity every three months, giving the charity $10 for every referral received during the quarter. From April 1 to June 30, 2021, we had a great time working with Beautiful Soles, highlighting the huge impact they make while helping low-income and homeless children and families in the area. They have made a big difference in the city of Lynnwood and cities around Lynnwood, including but not limited to Everett, Marysville, Snohomish, Kenmore, Mill Creek, Seattle, and Edmonds.
You can follow Beautiful Soles on Facebook to keep in the loop on how others are doing and what needs are currently at the top of the list. You can also visit their website for things like:
We want to give a huge thank you to all of you who referred your parents, siblings, coworkers, neighbors, business partners, favorite local store owners, etc. to Mosaic Insurance for a free insurance quote! We could not have donated the $780 to Beautiful Soles without you. Thanks to you helping us spread awareness about Mosaic and this wonderful charity, Beautiful Soles will be able to use these donation funds to buy much-needed items like hotel stays for homeless families, and shoes and socks for children and teenagers in need. Donations like ours result in families like this one getting what everyone in this world deserves—basic necessities like shelter, stability, showers, food, clothing, etc.
Thank you, Beautiful Soles, for all your hard work and dedication. And thank you, people of Washington, for all your emotional and financial support when someone in the community is in need. When you share, like, or comment on a post, you are helping spread awareness and pay it forward. A small and fast action like that can make an eternal impression that spreads like wildfire. When you donate money or items that you no longer need or want, you are helping a family like yours get back on their feet. A passionate act like that will help those in your community in a way that they will never forget. So impactful in fact, that when they are in a position help another, they will remember how they were helped, and the cycle continues. Beautiful souls, indeed.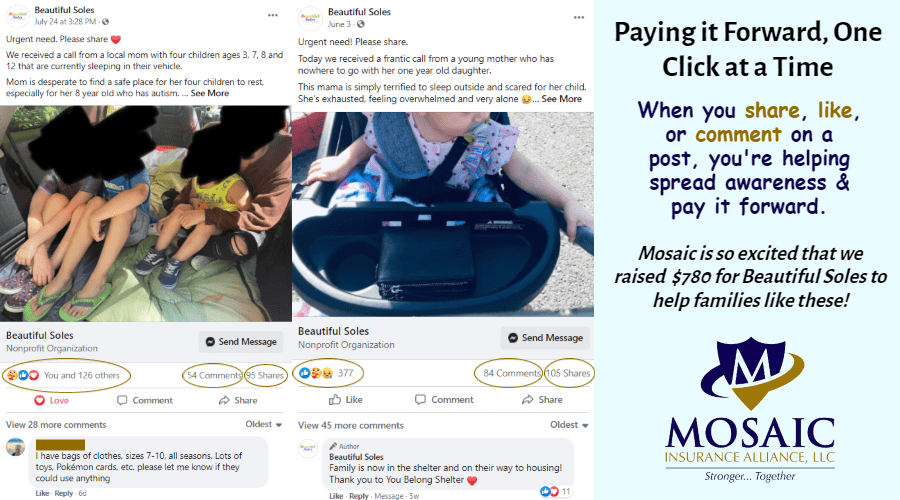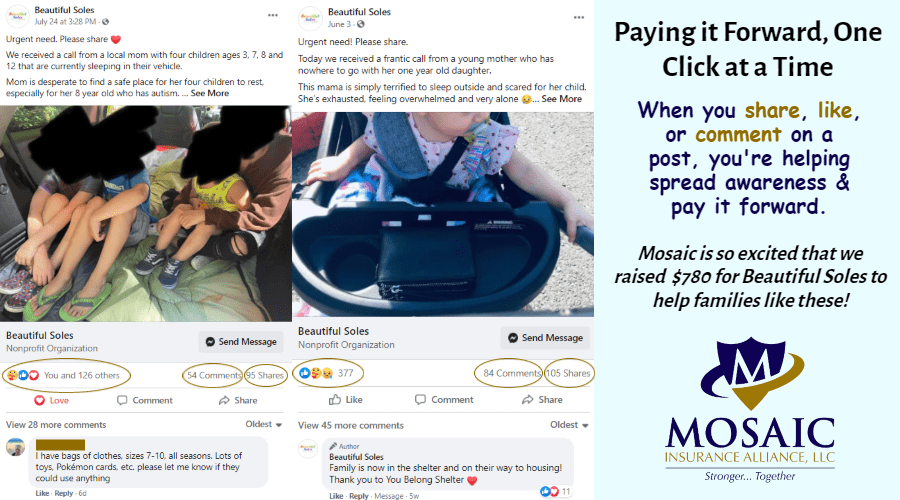 Mosaic Insurance is Working with ChildStrive Again This Quarter!
For Q3 of 2021, ChildStrive and Mosaic have teamed up again for Mosaic's referral program. Last time we partnered with ChildStrive, Mosaic was able to raise $1,150 for their cause! A little more than a year has passed since we finished that awesome quarter, and we are super excited to see how this quarter will end on September 30, 2021.
ChildStrive, formally named Little Red School House, is a non-profit that has helped families and children with all kinds of family programs for more than 50 years. They help those in the community by providing learning opportunities, development information, routine building skills, important resources, goal building techniques, special needs guidance, and more.
How Do You Send an Insurance Referral?
Sending a Referral Is Fast and Easy!
Just call us, email us, or fill out our website referral form and give us the contact information of the person you want to refer. You can also ask your contact to reach out to us and let us know that you referred them. Our phone number is 425-320-4280, and our email is info@mosaicia.com.
Who can you refer for a free insurance quote?
Friends
Family
Neighbors
Coworkers
Owners of local businesses that you love
Others in your life who you think would benefit from getting personal insurance or business insurance through Mosaic
Why would your friend, family member, etc. want to work with Mosaic?
For all the same reasons you do! For example:
Our team is a great bunch of individuals. If you have loved working with your Mosaic insurance agent, let's see if we can help your loved ones as well!
They could benefit greatly in reviewing their insurance needs and getting new coverage.
If they are looking for better protection, talking to experts in this field is the way to go.
If they are looking for competitive rates, our procedures and resources can be a big help.
We have access to many different top insurance carriers in the country
We know how to handle big life changes. (Bought a new home, just got married, pregnant/new baby at home, have a teen driver, moved to a new to a state.)
We are pros at figuring out unique circumstances.
We also have teammates who speak fluent Spanish!
We Love Hearing About New Local Charities!
We have chosen our charity for Q4 of 2021 (stay tuned!), but we still need one for Q1 of 2022. Is there a Washington charity that you think is just great and could really use the money? Tell us all about them! We are looking for non-profits in nearby counties like Snohomish County, King County, and Pierce County. You can reach our Marketing Manager, Meagan Baron, by phone at 425-247-0208 or by email at Meagan@mosaicia.com. We will choose our 2022 Q1 charity by no later than mid-December. We look forward to your ideas! Let's spread awareness for these amazing causes one quarter at a time.