Home insurance tips for homeowners in Arizona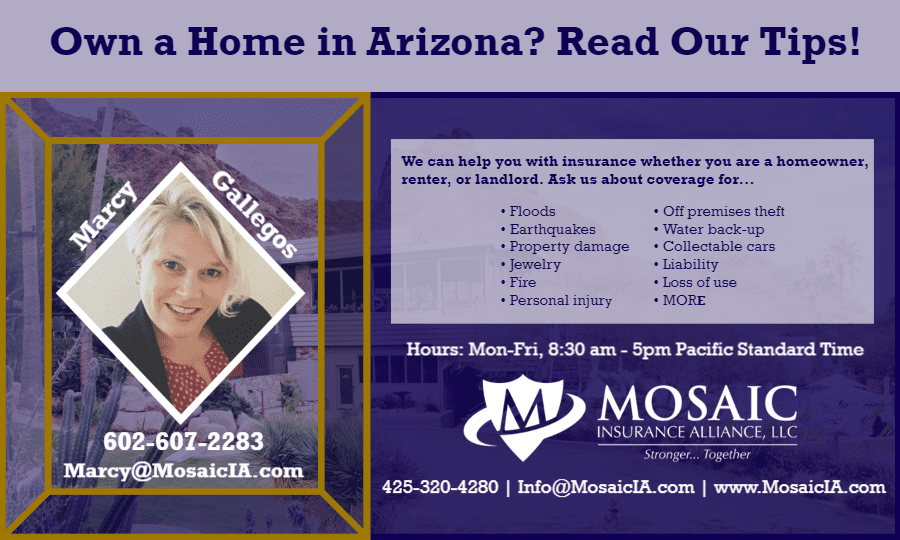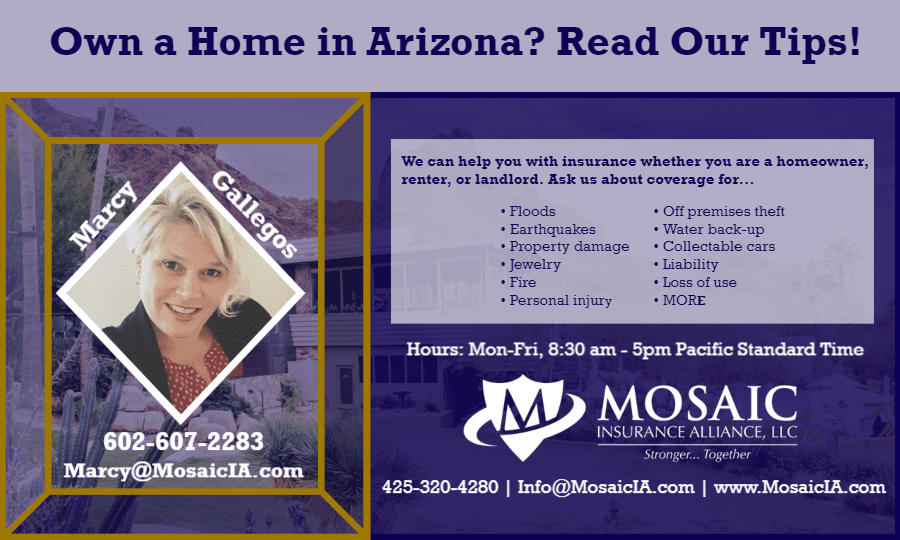 What a difference a year can make! Insurance is not always an exciting topic of conversation, but one that needs to be visited, at least annually, with your insurance professional.
As we all know, a year can make a huge difference in our circumstances and needs. Particularly, in the past year and a half, many people have completely changed the way they work! Many are working or obtaining an education from their home rather than commuting to a job location or school outside the home. Have you considered how working from home affects your insurance needs? Are you driving less? Are you remodeling to make your home more comfortable to accommodate spending more time in your home? Have you checked if your home policy covers course of construction? What happens if your home incurs damage during construction and your carrier denies the claim because you were not covered for this remodel?
Another item that is often overlooked, unless working with a professional insurance broker, is water loss. Many policies do not cover for overflow or equipment failure. What if your washing machine broke when you were not home and flooded your house and caused damage that you were not aware of until many hours later? Do you have coverage?
Additionally, another very big concern, being a recent home buyer myself, is the replacement value on your home. Many times, when purchasing a home as a first-time home buyer, we are not educated on proper coverages, but rather cost focused, to allow the home to close on time. I have seen many clients who come to us underinsured for the replacement cost of their home. This can easily happen when you are not working with a professional insurance agent who pays attention to the details at renewal, or who tells you to contact them before/after a major change. For instance, if you purchased your house in 2018, and have not updated the policy, you are not considering the cost of materials to current day prices. The cost of building materials has greatly increased since 2018, so, if you were to have a loss now, you might be underinsured for the amount needed to replace what you lost. At Mosaic, we do things like recalculate the replacement value of items for the home. We also take in consideration items that were detached from the home. If you do not do this—or have an insurance agent who knows to ask you this information and do it for you—you can easily find out that you were thousands, or hundreds of thousands, underinsured for the home that you purchased just a few years ago. Yikes! That is terrifying to me, especially knowing that many people are in that boat.
What types of things should we be concerned with here in Surprise, AZ? Many people have moved from completely different environments and have little idea what the perils that we face in Arizona are. A few things that come to mind are FIRE, WIND, and FLOODS. This year particularly, we had an active monsoon season, and often you will read in a community post that someone's pool umbrella flew away, and they are wondering if anyone has seen it. You will see that people lose trees, tiles from their roof… and that a lightning strike can cause an electrical fire. These are all items that can be covered under homeowner's insurance, however many times they are added as an addition to the policy. If you don't ask, or have a conversation with your broker, do you know if these perils are covered on your home? No.
Mosaic Insurance Alliance is an independent brokerage offering multiple carriers at competitive prices, giving clients solutions that fit their insurance and financial needs. We talk, we discover what needs to be covered, we discover what has changed or added, and we make sure you are properly insured. When you call, you speak with a person during office hours. You can reach us via email, phone, or text. We are here for you.
You can read more about home insurance on our website here. If you scroll down that page, you can see an interactive graphic that will give you some home insurance claim examples, and specific coverages that can protect you in those types of situations.
Marcy Gallegos, Licensed Insurance Specialist
Direct Phone: 602-607-2283
Direct Email: Marcy@mosaicia.com
Main Office: 425-320-4280
Main Office Email: info@mosaicia.com
You can also fill out our insurance quote form