Make sure your vacant home insurance is ready for you as the season changes!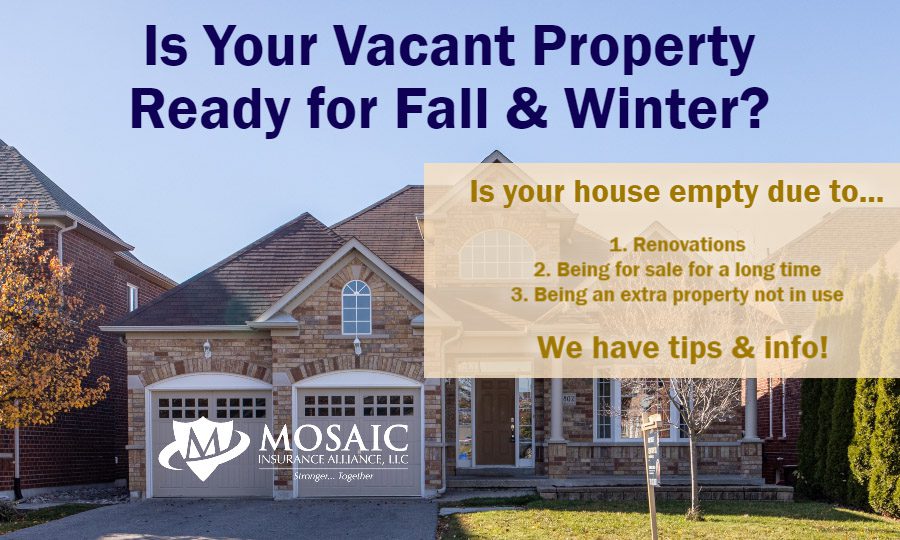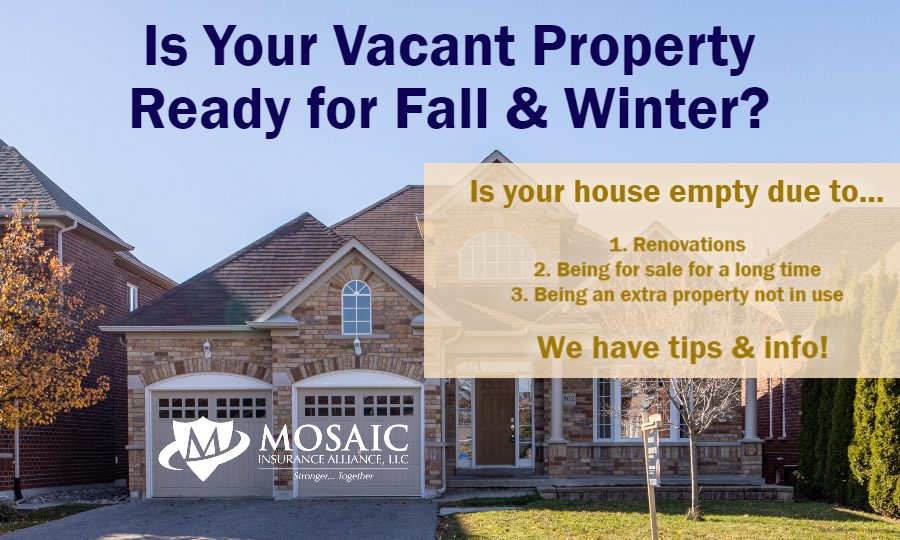 The first day of fall was September 22, making summer come to an end for the year and sparking up the excitement for Halloween. While pumpkin spice might be all the rage again, and you are happy to break out those cozy fuzzy socks, Mosaic wants to give you a little reminder that colder and darker weather means busy claim season. In addition to being extra cautious while on the road and at home, if you own a vacant home, you are going to want to review your vacant home insurance right away if you have not done so already.
The last thing we want to do is put a damper on your fall and winter groove…But, your safety and wellbeing are important to us. So, as you celebrate the end of 2021 and the start of 2022, keep the items below in mind!
Common Home Claims in Fall and Winter
Most people know that car accidents increase in fall and winter since there are wetter and icer roads, darker weather conditions, and higher chances of windstorms. However, fewer people tend to really understand—and prepare—for the fact that your house is also at an increased risk this time of year. We applaud your efforts to stay safe on the road—tire chains, new tires/brakes, slower speeds, 4-wheel drive, driving as little as possible, avoiding night driving, etc.—but, don't forget to give your house some TLC as well!
Below are some items to keep in mind…
There are higher chances of home floods due to increased rain and pipes freezing and bursting.
Roof failure is not uncommon this time of year as snow and ice builds up.
Unfortunately, ice can also leak into ceilings and walls, creating what is called ice dams.
Don't forget about those critters who are looking for a warm place to call home. The last thing you want is for your vacant home to have unwanted squatters chewing on wires and furniture, as well as using everything and anything as a personal toilet, while you are gone for weeks, months, years.
Rats, mice, racoons, etc. are not the only critters that can damage your home. Vacant homes are more of an attractive nuisance than occupied homes. Trespassers break into vacant homes to steal property, vandalize, and/or camp out because it is an easy target. Many vandals simply do it just because they can get away with it and it is an opportunity too good to pass up.
The list goes on.
We know that a house claim can be extremely stressful, and can cause a lot of damage, even when it happens at a home that you currently frequent and have daily surveillance on. What if you are doing a complete house remodel that is going to take a couple months and you cannot live there until it is complete or farther along? Or, what if your house has been empty and up for sale (or open for rent) for a long time now, and you are not able to be there very often? Perhaps you even inherited a property that is far from your home, and you have not figured out what to do with yet? Accidents or criminal activities that occur while you are not able to oversee things daily or overnight can be scary to say the least. It doesn't take long for significant damages to be made by a busted pipe, fire, septic leak, etc. Loss from a vacant property claim can be devastating in so many meanings of the word. Inadequate insurance on your vacant property can make matters 10x worse.
What about if you have a summer home, lake cabin, beach house, etc. that is empty during certain times of the year, such as fall and winter? In that case, vacant insurance is not the coverage that you are looking for, but Mosaic can still help you get coverage! It is just a different policy. Reach out to us, and we will give you a free quote whenever you are able to, Monday-Friday, 8:30 am – 5 pm Pacific. Call us at 425-320-4280, or send us an email at info@mosaicia.com.
All in all? If you have a vacant property, we advise that you…
Get the right coverage. Vacant home insurance can help protect your home in ways that standard homeowners insurance tends to not be able to.
Know the details of your policy (see next section).
Have routine checkups/maintenance work done multiple times a year by you or a professional to ensure that everything is going smoothly.
What Do You Need to Know About Vacant Home Insurance?
Mosaic is ready to answer any questions that you have about vacant house insurance. We write vacant home insurance through some of our different carriers, including Foremost, American Modern, Risk Placement Services (RPS), Allstate, and Safeco.
When having a vacant home, some important things to know include:
Policies vary, but on average, a home is considered vacant after being unoccupied for 30 days.
Most home insurance policies don't cover losses that occur while a home is unoccupied for 30 days or more. That is why it is important to specifically get vacant home coverage!
Some things your policy can cover:
– Costs to repair or replacing your home if it is damaged or destroyed.
– Specified risk coverage, common ones being fire, flooding, wind, hail, and theft.
– Liability claims if someone gets injured on your property, or has their property damaged and you are held responsible.
– Criminal acts—vandalism, theft, etc.
Carriers tend to be extra specific on vacant coverage. For example, they might have a list of items that need to be done before they'll insure you, require that you do certain things while coverage is in place, have strict rules on what is and is not covered, and/or have limits on how long you can have coverage for. It is specific, but not impossible. It is important to know the details to get the coverage that you need for as long as you need it. Your Mosaic agent knows what to do and will go through all the details with you.
Looking for More Winter Tips?
We have different blog posts on safety tips for this time of year!
Looking For a Free Vacant Home Insurance Quote?
Mosaic's team of insurance professionals are ready to help!