"It can take a big effort to find the right job for each person."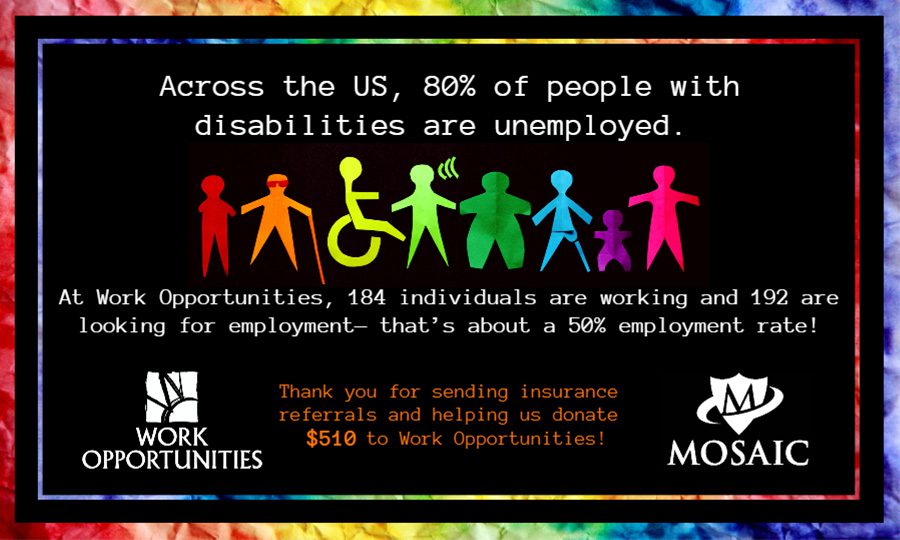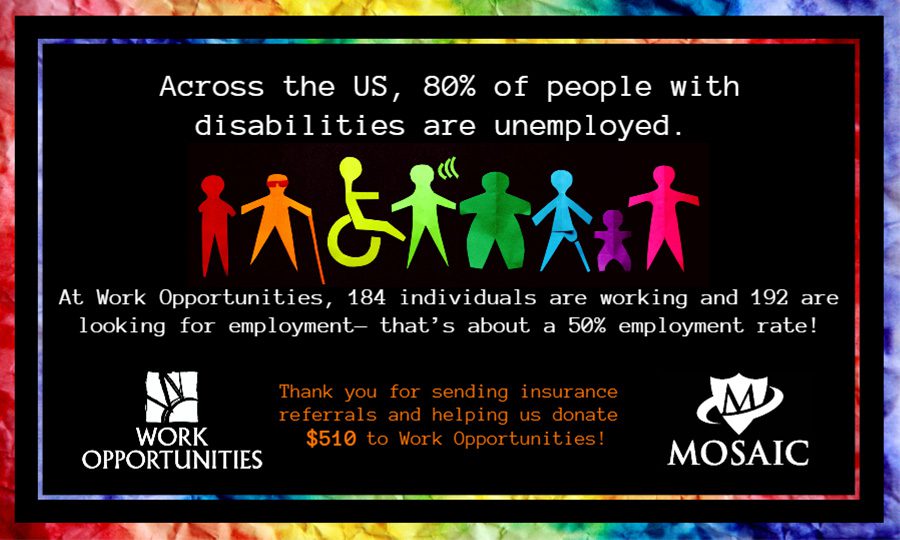 Over the last three months, you have told those in your life about your favorite Mosaic Insurance agent and mentioned to them that they should get a free quote from us. You have also been following us on Facebook, Instagram, Twitter, LinkedIn, Google, and our other social media accounts to see what Work Opportunities does for the community. Thanks to your referrals and interaction on social media, we were able to donate $510 to Work Opportunities!
Work Opportunities already knows what they are going to do with the money—get something that they have been wanting (and desperately needing) for a very long time but did not have the funds to make it happen…until now! Follow us on social media for the unveiling coming up.
Everyone here and Mosaic wants to give a HUGE thank you to the Work Opportunities family for welcoming us with open arms into their world. We also want to thank Work Opportunities' amazing clients who shared their stories and pictures that inspire not just others who are looking for work, but the entire community. Also, we cannot forget those who spread awareness and made the referrals possible. Thank you, everyone! We say it all the time, and we'll say it again: STRONGER…TOGETHER.
What Does it Mean to Find the Right Job for Each Person?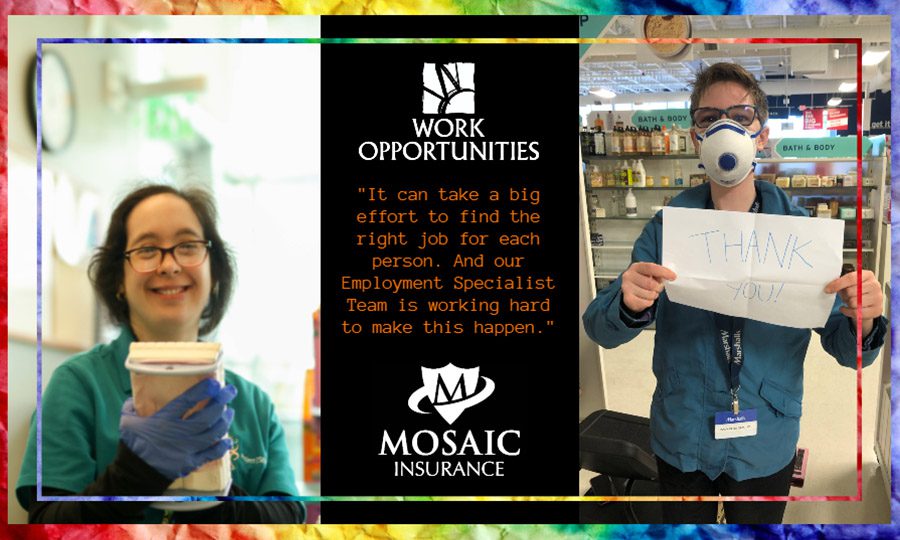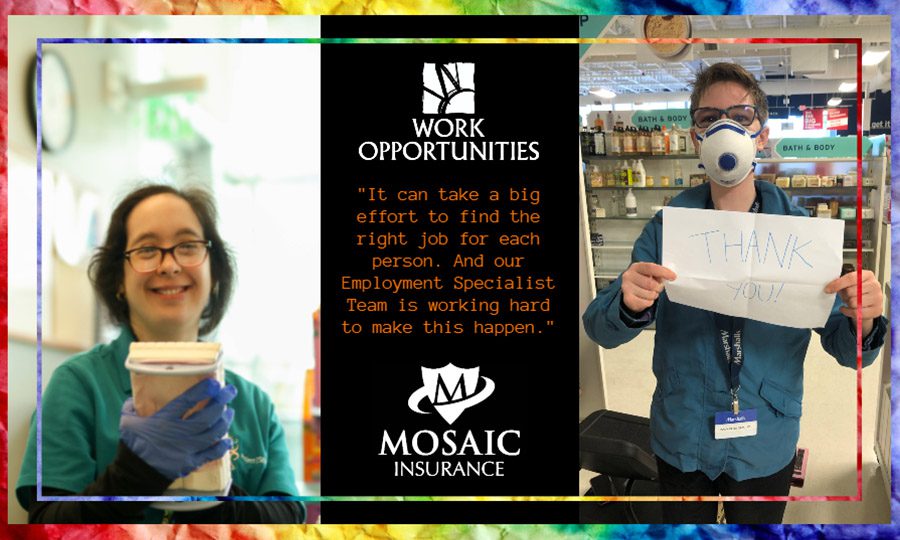 Working hard is right, Marti! Work Opportunities was founded in 1963 and still going strong. All you have to do is visit Work Opportunities' Facebook and check out some of their social media posts like this one to know that they are making an impact with their vocational services.
Like many others, Work Opportunities had to change their process and find ways to stay strong during the COVID-19 pandemic. Things are still not quite like they used to be, but things have been steadily getting better since 2020. The Work Opportunities team is determined to get back to where they were before the pandemic and then overcome even more goals.
"In 2021 our Employment Specialist Team made more than 5,000 job contacts—these include resumes and job applications being turned in, phone calls, emails, and in-person communication with employers," said Marti. "Of the more than 5,000 job contacts made, these developed into more than 200 interviews and resulted in 67 new jobs in 2021! This number is actually lower than years prior to the pandemic, but it was a strong rebound, and we are seeing even greater success this year. So far this year, our Employment Specialist Team has already helped 40 individuals find jobs!"
Interested in Work Opportunities' services? Whether you or someone you know is looking for a job, or you are an employer who is looking to hire, Work Opportunities is ready to provide information and talk to you! Work Opportunities has offices in Lynnwood, Everett, and Bellingham, WA. View addresses and directions here.
A Life-Saving Gift to Say Thank You for Freedom
Our next charity of the quarter is from Battle Ground, WA!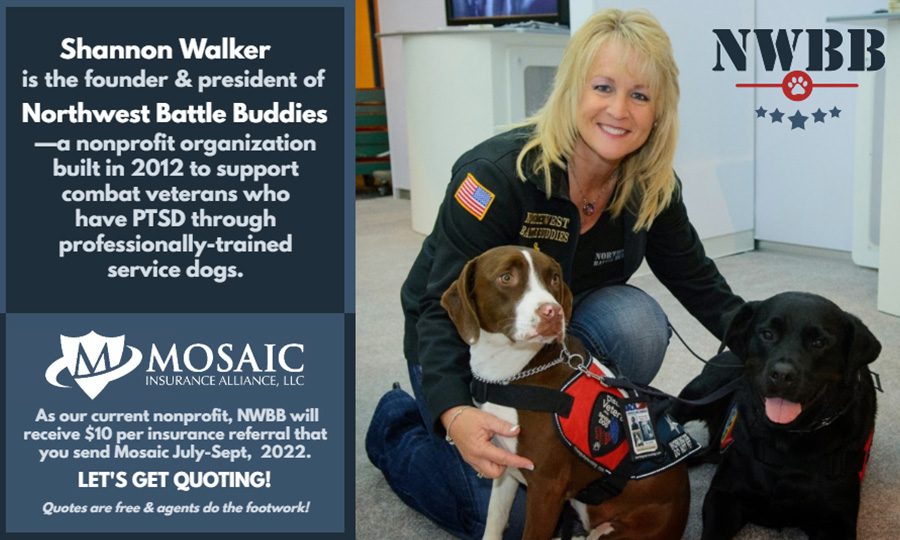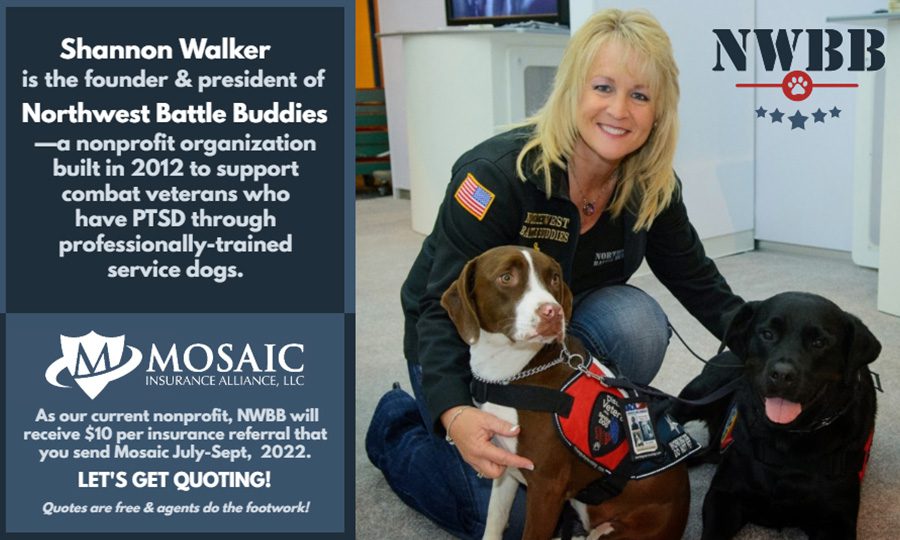 "Shannon founded Northwest Battle Buddies in 2012 after experiencing firsthand the healing and hope which can come from the partnership between a combat veteran with PTSD and a trained service dog. Herself the daughter of a Korean war veteran, Shannon's goal is battling PTSD by providing a life-saving gift and saying thank you for her freedom." ~NWBB
Each professionally trained service dog is paired up with a US veteran through a companionship process at NWBB's facility. Through the strong bonds of man's (or woman's) best friend, NWBB gives those who fought for our freedom more freedom of their very own. Freedom from anxiety, suicidal thoughts, and guilt. While PTSD is complex and triggers can happen years later, many veterans who have service dogs know firsthand that coping is possible, and that their furry friend is always ready to help. Mosaic is ready to help too. As our nonprofit this quarter, NWBB will receive $10 per insurance referral that you send Mosaic between July 1 and September 30. How many referrals do you think we'll get next?
NWBB's website has information ready for you:
Their uplifting and informational posts are also waiting for you:
Let's Start Quoting!
1. Take a moment to follow us on social media for updates throughout the quarter. After following our accounts, you'll be able to see posts over the next few months and learn more about NWBB! We have Facebook, Twitter, Instagram, LinkedIn, Pinterest, Yelp, and Google.
2. You can refer everyone that you know! For every insurance referral, we will donate $10 to NWBB. Quotes are free and our insurance agents do the footwork!
Friends
Family
 Coworkers
Neighbors
Your social media followers
Customers
Local small (and big) business owners that you love
And other people that you meet!
3. It only takes a few minutes to send us an insurance referral.
Call us at 425-320-4280, or email us at info@mosaicia.com, and tell us the name and contact information of the person or company that you want to refer for a free insurance quote.
If you rather skip the phone call or email, you can also fill out our quick referral form.
If you would like to have the person or company contact us instead, that works too! Just give them our contact information and tell them to let us know that you referred them when they reach out for an insurance quote.
Don't forget!
A quick mention of what Mosaic can do for those you are referring to us can really work wonders!
1. Mosaic is an insurance broker! That means that we have access to various top insurance carriers in the country and can help them get stable insurance at competitive prices.
2. They will get to work with their own Mosaic teammate for that one-stop-shop experience.
3. No more robot menus.
4. No more long holds.
5. No more endless hours looking things up on Google and asking around. They will have someone to ask questions to who will do the investigating!
6. We write insurance in multiple states. Current states are:
Personal lines: Washington, Oregon, Idaho, and Arizona
Commercial lines: Alaska, Arizona, California, Colorado, Idaho, Montana, Nevada, Oregon, and Washington
Cannabis commercial lines: Alaska, Arizona, California, Colorado, New Jersey, Montana, Nevada, Oregon, Texas, and Washington.
This next quarter brings new excitement! We are ready to help more people discover NWBB's support dog services and find out what it is like to have an independent insurance agent. We are ready for your referrals, quotes, questions, and more!