Mosaic Insurance donates to a nonprofit that does hands-on coaching for local children in the Pacific Northwest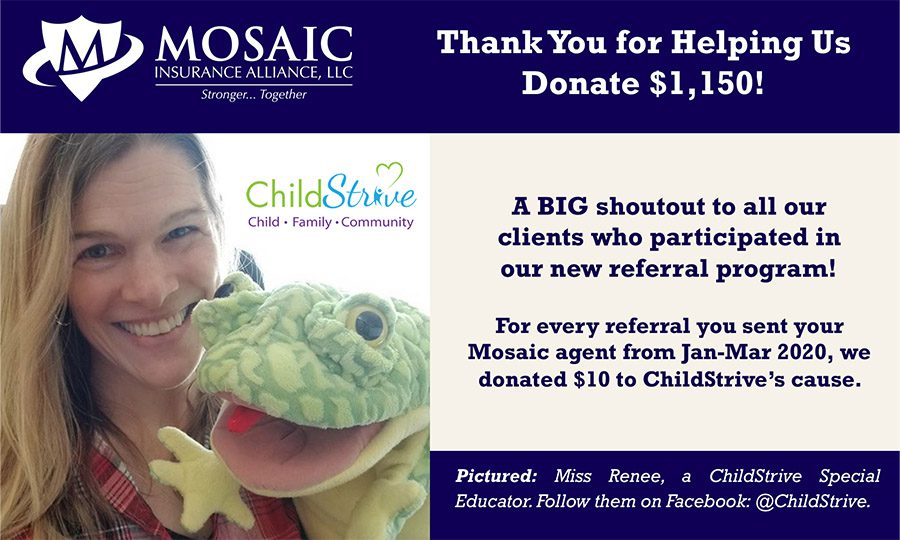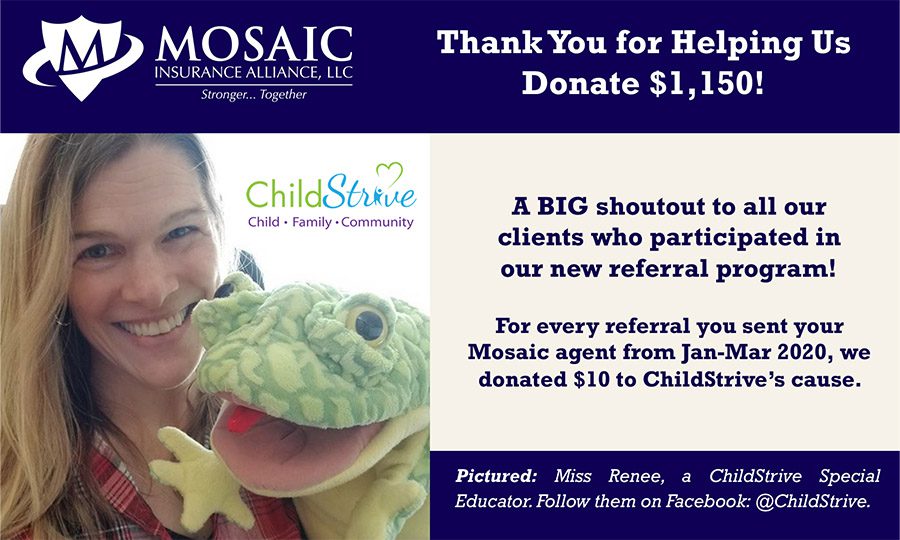 We want to thank our clients for participating in the first quarter of our 2020 referral program and helping us raise $1,150 for Everett, WA charity, ChildStrive! As ChildStrive adapts to the COVID-19 quarantine, these funds will be a big help towards their family-centered programs.
The nonprofit organization helps children by identifying learning opportunities in daily routines, providing essential early childhood development information, and helping set goals.
Knowing the importance of ChildStrive's cause from being on their charity board, one of Mosaic's founders, Amy Drewel, incorporated ChildStrive into Mosaic's 2020 referral program at the end of 2019. The referral program was established a few months before the Coronavirus outbreak, and funds to ChildStrive were donated as social distancing started really impacting Washington. For every referral received from January 1 – March 31, 2020, Mosaic donated $10 to ChildStrive. The second quarter of 2020 started on April 1 and ends June 30, and the current charity is a senior services facility in Lynnwood, WA called Homage, where Amy is also part of the charity board.
To learn more about the team at ChildStrive, you can visit their website. Also, ChildStrive's Facebook page has content that young children are sure to love — like the frog singalong video with Miss Renee, a ChildStrive Special Educator, that is pictured. Miss Renee is part of the team putting on weekly Circle Time Facebook Lives, which include songs and stories children are used to hearing at ChildStrive's in-person groups.
Do you think there is a charity that we could help? We are interested in learning about new nonprofit organizations that help the community. If anyone would like to recommend a charity in Snohomish County for Mosaic's referral program for the third and fourth quarters of 2020, please reach out. Our Marketing Manager, Meagan Baron, can be reached at (425) 247-0208 or Meagan@mosaicia.com
Thanks again to all the Mosaic clients who sent their friends and family to their favorite agent, and for the workers at ChildStrive and Mosaic, who helped pay it forward one referral at a time.